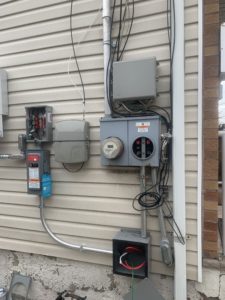 Solar energy has gained in popularity in recent years and as the technology continues to improve and the cost of solar prices decreases, homeowners are reaping the benefits of this clean and less costly energy alternative.
There are currently more than 193,000 New York residences that are being powered by solar and battery storage and thanks to state and federal solar incentives, that number is expected to go up.
Sunrun is a solar panel and battery storage provider based in Hicksville, New York. It is one of the leading New York solar companies and has been in business for over four years.
Recently, Absolute Electrical Service worked with Sunrun to deliver solar energy to a single-family home located in Brooklyn, New York.
Absolute Electrical Service technicians are trained in assessing a home and determining whether a solar company like Sunrun can effectively install solar equipment and get that home up and running with the latest in solar technology.
An Absolute Electrical Service technician visited the Brooklyn property and it was determined that the total service needed to be upgraded to a 200-amp configuration to make way for a tap box to be used for solar connections.
In order to tie in the solar installation with the service provided by Sunrun, Absolute Electrical Service found that a proper circuit box was also needed to connect and disconnect from outside the home. A pipe unique to the job needed to be cut and threaded and the extent of all of this work was completed per NYC code and is awaiting NYC DOB inspection.