Full-Scale Commercial Electrical Services on Long Island
As a fully licensed and insured company, Absolute Electrical Service, Inc. offers full-scale electrical services for Nassau and Suffolk County business owners. We're committed to helping our clients achieve the success that they desire and deserve, and to that end, we will ensure that your company has the power it needs to safely and effectively operate. Our certified, professionally trained, highly skilled technicians are experienced in all types of commercial electrical services and we're positive that we can meet your needs, whatever they may be.
The following are just some of the services we provide:
·         Safety inspections
·         Electrical consultations
·         Structure cabling systems and subsystems
·         Voice system installation and cabling services
·         Data network and security systems
·         Wireless Access Point (WAP) installation
·         Audiovisual solutions
·         CATV network solutions
·         Generator installation services
·         Power quality diagnostics
·         Uninterrupted Power Supply (UPS) services
·         LED lighting installation
·         Energy management system services
·         And much more!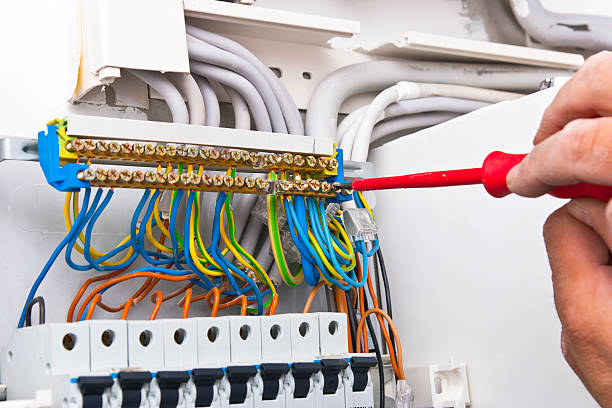 Any type of commercial electrical service is important to us, and our top priority is to solve any electrical problem on time. We also ensure that our quality work in electrical repairs, maintenance, and installation services enable our clients to get energy-saving solutions that keep their utility bills at minimum levels.
Why Choose Us to Power Your Business?
There may be a lot of electrical contractors on Long Island, but none can compare to the quality craftsmanship and commitment to excellence that Absolute Electrical Service, Inc. provides. Our certified electricians are experienced in the installation, maintenance, and repair of all types of commercial electrical components and systems. We use the most cutting-edge technologies, and advanced techniques, and we adhere to all local codes and stringent safety regulations to ensure the safest, most efficient results.
From small local mom-and-pop businesses to large regional or national companies, our team of talented electricians has what it takes to properly navigate the complexities of all types of commercial electrical projects. No matter the shape or the size of your business, or the scope and the scale of the work you need to have done, you can count on the qualified technicians at Absolute Electrical Service, Inc. to deliver the most efficient and effective results.