Electrician in Greenvale, NY 11548
When Do You Need To Hire an Electrical Contractor in Greenvale, NY?
No one wants to hire an electrical contractor in Nassau County. After all, everyone always wants their electrical systems to work without flaws. Unfortunately, electrical devices will sometimes fail, requiring repair. And when the job seems small, you may want to do it yourself.
Many people in the modern world have taken to DIY projects. You can decorate your home, make your own products, and save money when you DIY.
However, you shouldn't mess with electrical components or electrical work when you don't know the ins and outs. That's why you should always call a Greenvale, NY electrician, like Absolute Electrical Service, Inc..
An electrician's work is difficult and dangerous, so you should never risk doing it without the proper job training. You should trust an electrical contractor, like Absolute Electrical Service, Inc., who has the proper licensing requirements to do the job right and safely. Keep reading below to learn about the jobs you should always call an electrician for.
Your Circuit Breaker Trips
Does your power often go out? You may fill your home with beautiful light fixtures, but there's no point if the lights fail to stay on. If you have power outages often, you should call a Nassau County electrician.
Circuit breakers tripping may seem annoying, but they can become a larger issue if you don't address them right away.
Singed Wires
Get up and look at your fuse box. Do you notice any singed wires? If you notice any issues with your electrical wiring, like exposed or singed wires, you should call an electrician in Greenvale, NY.
Singed wires are dangerous, especially if you don't take care of them immediately. If you ignore the issue, it will worsen, posing a fire hazard.
Buzzing Sounds in the Wall
Another sign that you should hire an electrical contractor in Nassau County is if you hear a faint buzzing sound in your wall. While you can hear the sound, you haven't taken the apprenticeship programs that can help you diagnose the issue.
Call a qualified electrician if you start to hear a buzzing sound in your walls, and they can identify and fix the issue.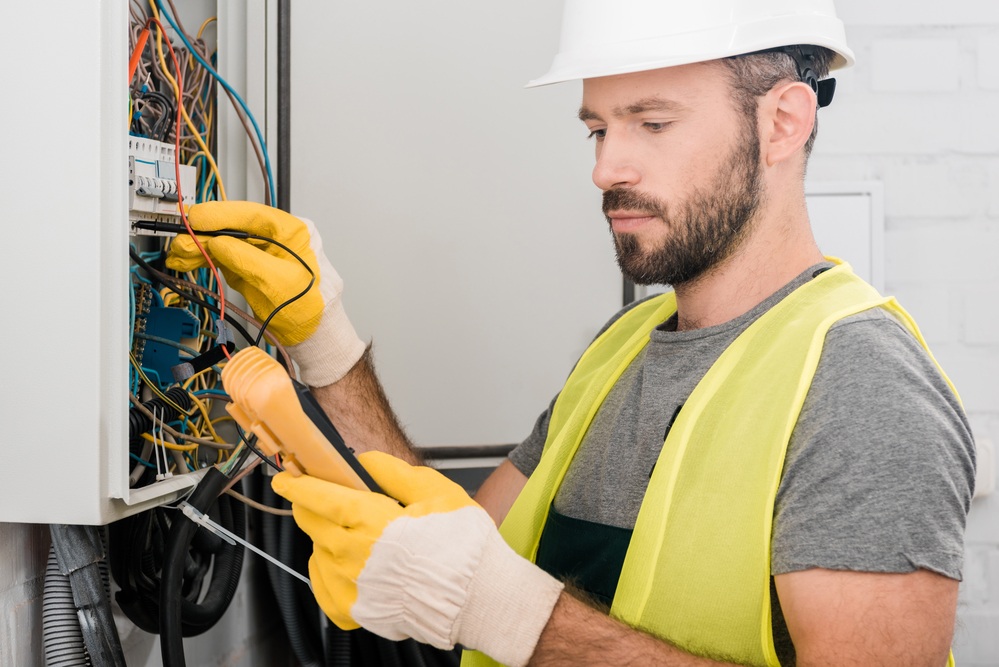 Warm Outlets
An obvious sign that you should call an electrical contractor is if your outlets feel warm to the touch. This could mean that you have faulty wiring, which can pose a major safety hazard. Never try to do the electrician work yourself, especially regarding faulty wiring. Call an electrician to install and maintain your wires.
You Notice a Burning Smell
Finally, the last sign that you need to hire a Greenvale, NY electrical contractor is when you notice a smokey smell in your home. If you notice the smell coming from your fuse box, turn it off as soon as you can and call an electrician. Putting this off can put you and anyone else in your home or local building at risk.
When you need a master electrician, call Absolute Electrical Service, Inc. at 516-520-4700. No one wants their electrical system to break down, but acting immediately will keep you and your home safe. Absolute Electrical Service, Inc. follows the national electrical code that all states require, so when you choose us, you know we'll keep your home safe.
---
Some information about Greenvale, NY
Greenvale is a hamlet and census-designated place (CDP) in the towns of North Hempstead and Oyster Bay in Nassau County, on the North Shore of Long Island, in New York, United States. It is considered part of the Greater Roslyn area, which is anchored by the Incorporated Village of Roslyn. The population was 1,904 at the 2010 census.
Located between Roslyn and Brookville, the Greenvale LIRR station is known as the Long Island Rail Road stop for the C.W. Post Campus of Long Island University and the New York Institute of Technology. While LIU Post is located to the east in Brookville, it uses the Greenvale postal code (11548). Until 1866 the community was originally known as 'Cedar Swamp', and later known as 'Bull's Head', until some point in the early 20th Century.
While many residential areas in the hamlet were developed prior to the Second World War, the 1940s and 1950s saw the development of the area adjacent to the Roslyn Cemetery and the LIRR tracks (including Park Avenue and Wellington Road); this area is known as Greenvale at North Roslyn.
Useful links for Greenvale, NY
Directions from Greenvale, NY to Absolute Electrical Service, Inc.
---
Here are some electrician-related links: