Electrician in Barnum Island, NY 11558
How To Find an Electrician Near Me in Barnum Island, NY
Working with electricity is no joke. Whether you're building a house from scratch or your power stopped working, you should never do this work on your own. That's why you need to find a Barnum Island, NY electrician. After all, you need the right power tools and job training to do the job right. If you have never taken apprenticeship programs, you may make a dangerous mistake.
That's why you need to go online and search "how to find an electrician near me." However, you may feel overwhelmed by the many results that come up. That's why Absolute Electrical Service, Inc. is here with some tips for finding the best electrician in Nassau County. Keep reading below to learn how to find a qualified electrician for your home or local building.
When You May Need an Electrician
Many people want to DIY to save money, but how do you know you need an electrician rather than doing the job yourself? Can you change light figures on your own? What electrical work should you always hire an electrician for?
Some jobs that may require an electrician include tripped circuit breakers, exposed electrical wiring, loose electrical contacts, and a rising electricity bill. All these signs show that something is wrong with your electrical components. Therefore, you need to hire someone to repair electrical devices.
Also, you will need to hire an electrician if you are custom building a home. You want to ensure everything works together, so you need to hire a Barnum Island, NY electrician to install and maintain your electrical system.
Check That They Have Licenses and Insurance
First, you want to ensure the master electrician you want to choose has the proper licenses and insurance. The electrician must follow the national electrical code, which is a set of standards to keep everyone safe when working with electricity.
Most states require electricians to have a license to work, so ensure they have taken the proper job training and courses before hiring them. The last thing you want is to find yourself in a sticky situation.
You also want to ensure the Nassau County electrician has insurance. If something goes wrong, you don't want to be reliable for it. Also, check that their licenses and insurance haven't expired. Just because they have a card doesn't mean it's still accurate.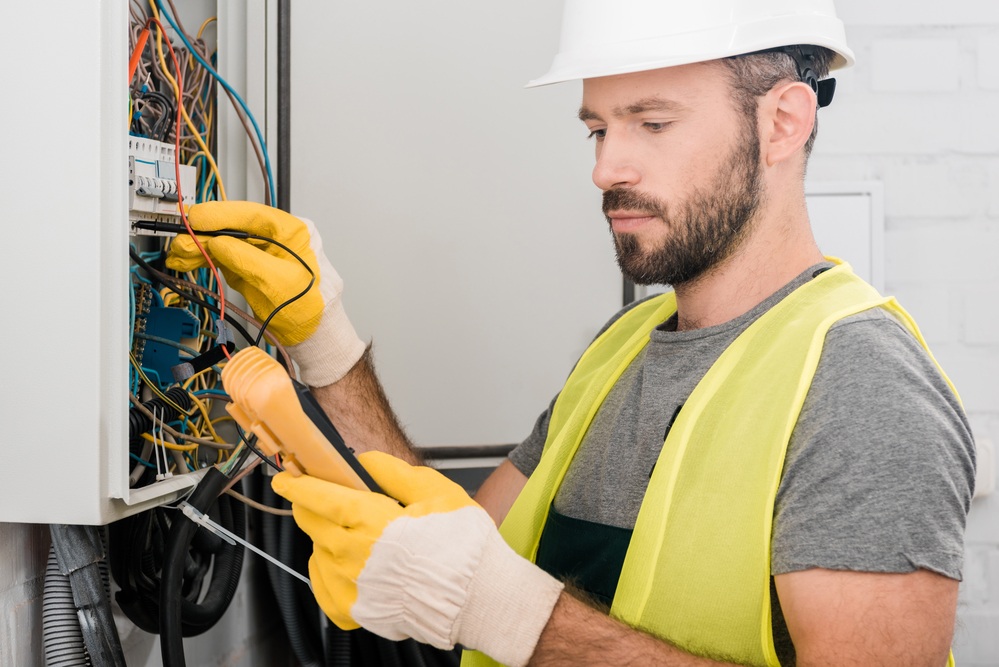 Ask for Referrals
Next, you should ask for electrician referrals around Barnum Island, NY. For example, if you work in a local building with other businesses that use electricians, ask who they use. If you are building a home, ask your contractors for referrals. They can help you find the best Nassau County electrician for your home.
What Services Do They Provide?
Finally, ask what services the electrician provides. A qualified electrician, like Absolute Electrical Service, Inc., may work with residential, commercial, and industrial locations. However, not every electrician does everything. Before choosing someone to do your electrician work, ensure they can work with your home or business.
These are a few tips to find an electrician near me in Barnum Island, NY. Ensure they have the right licensing requirements, ask for referrals, check the services they do, and more. If you want to stop searching, "Find an electrician near me in Nassau County," call Absolute Electrical Service, Inc. at 516-520-4700 today.
---
Some information about Barnum Island, NY
Barnum Island is a hamlet and census-designated place (CDP) in Nassau County, New York, United States. The population was 2,414 at the 2010 census. It occupies the eastern portion of an island situated between Long Island and Long Beach. That island, previously known in its entirety as Hog Island, consists entirely of the communities of Barnum Island, Island Park, and Harbor Island.
Previously called Hog Island, after the feral pigs introduced by early European explorers to the Native Americans, it was later renamed for Sarah Ann Baldwin Barnum. It was also sometimes called Jekyl Island, after the name of the development company that bought it from the county.
Between 1851 and 1870, Sarah Ann's husband Peter owned large parcels of land on Long Island, though his primary business was a Manhattan clothier. Sarah Ann arranged the purchase of Hog Island for use as a 'poor farm' – a self-supporting almshouse, a social innovation for that period, and the island was renamed in her honor.
Local lore connects the island's name to P.T. Barnum, the circus impresario, but this is incorrect, and likely due to confusion between 'PT' and 'PC' (Peter C.).
Learn more about Barnum Island.
Useful links for Barnum Island, NY
Directions from Barnum Island, NY to Absolute Electrical Service, Inc.
---
Here are some electrician-related links: