Electrician in Atlantic Beach, NY 11509
How To Find an Electrician Near Me in Atlantic Beach, NY
Working with electricity is no joke. Whether you're building a house from scratch or your power stopped working, you should never do this work on your own. That's why you need to find a Atlantic Beach, NY electrician. After all, you need the right power tools and job training to do the job right. If you have never taken apprenticeship programs, you may make a dangerous mistake.
That's why you need to go online and search "how to find an electrician near me." However, you may feel overwhelmed by the many results that come up. That's why Absolute Electrical Service, Inc. is here with some tips for finding the best electrician in Nassau County. Keep reading below to learn how to find a qualified electrician for your home or local building.
When You May Need an Electrician
Many people want to DIY to save money, but how do you know you need an electrician rather than doing the job yourself? Can you change light figures on your own? What electrical work should you always hire an electrician for?
Some jobs that may require an electrician include tripped circuit breakers, exposed electrical wiring, loose electrical contacts, and a rising electricity bill. All these signs show that something is wrong with your electrical components. Therefore, you need to hire someone to repair electrical devices.
Also, you will need to hire an electrician if you are custom building a home. You want to ensure everything works together, so you need to hire a Atlantic Beach, NY electrician to install and maintain your electrical system.
Check That They Have Licenses and Insurance
First, you want to ensure the master electrician you want to choose has the proper licenses and insurance. The electrician must follow the national electrical code, which is a set of standards to keep everyone safe when working with electricity.
Most states require electricians to have a license to work, so ensure they have taken the proper job training and courses before hiring them. The last thing you want is to find yourself in a sticky situation.
You also want to ensure the Nassau County electrician has insurance. If something goes wrong, you don't want to be reliable for it. Also, check that their licenses and insurance haven't expired. Just because they have a card doesn't mean it's still accurate.
Ask for Referrals
Next, you should ask for electrician referrals around Atlantic Beach, NY. For example, if you work in a local building with other businesses that use electricians, ask who they use. If you are building a home, ask your contractors for referrals. They can help you find the best Nassau County electrician for your home.
What Services Do They Provide?
Finally, ask what services the electrician provides. A qualified electrician, like Absolute Electrical Service, Inc., may work with residential, commercial, and industrial locations. However, not every electrician does everything. Before choosing someone to do your electrician work, ensure they can work with your home or business.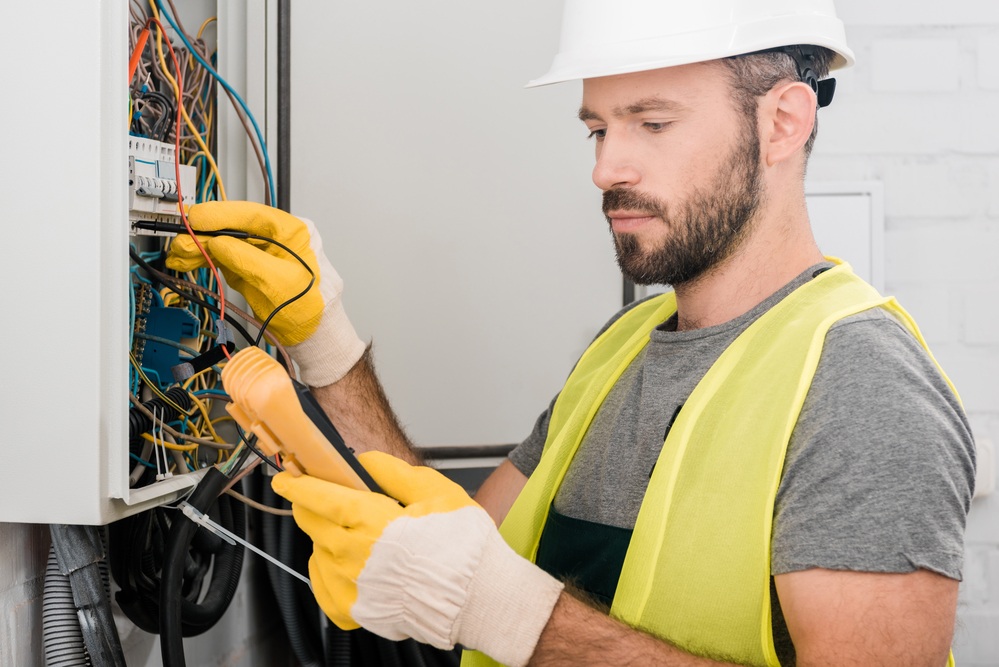 These are a few tips to find an electrician near me in Atlantic Beach, NY. Ensure they have the right licensing requirements, ask for referrals, check the services they do, and more. If you want to stop searching, "Find an electrician near me in Nassau County," call Absolute Electrical Service, Inc. at 516-520-4700 today.
---
Some information about Atlantic Beach, NY
Atlantic Beach is a village in New York. It is located off the South Shore of Long Island in the Town of Hempstead, Nassau County, New York, United States. As of the 2010 United States Census, the village population was 1,891.
The first real interest in the barrier island of Atlantic Beach came in 1922 when Robert Moses, the famous highway builder and public works czar, and Chairman of the State Council of Parks, included Atlantic beach as part of his 'State Park Plan for New York'. The blueprint, which is on file at the archives in Albany, showed a parkway from central Queens to a bridge crossing Reynolds Channel with architecturally refined facilities for thousands of beach goers; unfortunately however, cost overruns on many of Mr. Moses' other projects at the time and other factors dampened his plans which were ultimately abandoned.
In 1923, the village's first developer, Atlantic Beach Associates led by Stephen P. Pettit, a former Nassau County Sheriff and banker from Freeport, had dreams of creating a place that would rival the City of Long Beach, which was created by a Politician and amusement park operator named William H. Reynolds. He died just after buying land for 3,500 lots in Atlantic Beach.
In 1926, real estate tycoon William Austin, who graduated from Yale University with his associate, Charles N. Talbot Jr, formed Island Park Associates which purchased the land for $4,000,000. William Austin was married to Actress Josephine Sanders, better known as Irene Delroy; the wedding was officiated by Mayor James J. Walker on July 15, 1931. Austin and Talbot completed Pettit's preliminary dredging and. shoring work, and proceeded to subdivide the property. They installed gas and electricity lines, and a sanitary sewer system was installed in 1927. They began selling land and building homes; the first 45 of the 150 homes they planned on building were financed using a mortgage from The Title Guarantee and Trust Company. The. homes were all designed with seven rooms, two baths, private detached garages on 48′ x 88′ lots and were built in a wide array of styles. Mr. Austin finished Petitt's plan to build a bridge between Far Rockaway and Atlantic beach, which was opened and dedicated on June 29, 1927. A boardwalk was planned for the entire ocean side but, as constructed, it was about a mile long, stretching from west of The Plaza and extending beyond Vernon Avenue, and double the width of the boardwalk which exists today.
Learn more about Atlantic Beach.
Useful links for Atlantic Beach, NY
Directions from Atlantic Beach, NY to Absolute Electrical Service, Inc.
---
Here are some electrician-related links: