Electrician in Woodside, NY 11377
An Electrician vs. An Electrical Technician in Woodside, NY: What's the Difference?
You've probably heard of a Woodside, NY electrician before, but have you ever heard of an electrical technician? If you've just come across the two names, you may think they're the same thing. However, there are some differences between the two in what they do, the training necessary, and their licensing requirements.
But what are the differences between an electrician and an electrical technician, and who should you choose if you need electrical components installed or repaired in your home or business? Call Absolute Electrical Service, Inc. to learn all about these two careers that work with your electrical system.
When you need an electrician, call Absolute Electrical Service, Inc.. And to learn more about the differences between a Queens County electrician and an electrical technician, keep reading below.
What's an Electrical Technician?
If you need to hire someone in Woodside, NY to repair electrical systems in your home, calling an electrical technician won't help. An electrical technician works with electrical engineers to design and install an electrical system. Electrical technicians usually work in the office and sometimes in the field. While they don't design the electrical system, they can work with engineers to create the perfect system and point out any potential flaws.
If someone wants to become an electrical technician in Woodside, NY, they will need either an associate's degree or a certificate. They learn everything through their schooling and job training.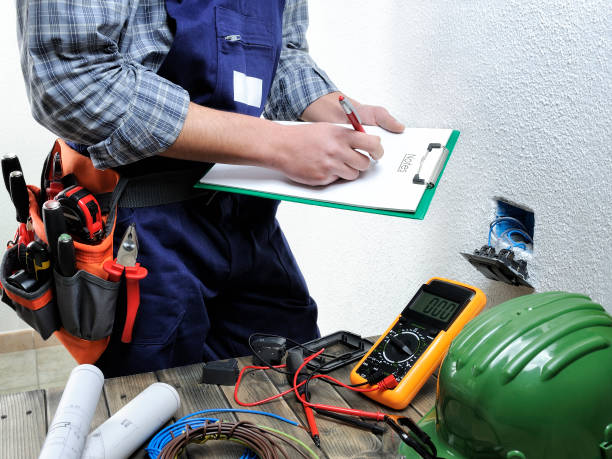 What's an Electrician?
Now, we'll look into what a Queens County electrician does. If you have an issue with your circuit breakers or exposed electrical wiring, you should call an electrician. They can come to your residence and help install and maintain your electrical system. Many electricians can work in residential, commercial, and industrial locations.
Electricians typically don't have to go to secondary school, but they have to go through apprenticeship programs to become licensed electricians. They will go through three phases: apprentice, journeyman, and master electrician. They typically need certificates for each level to progress.
Who Should You Hire?
So who should you hire if you need either a Woodside, NY electrician, or electrical technician? It depends on the work you need to have done. If you work with a commercial building that needs to have the electrical system designed, you should hire an electrical technician.
However, if you need electrical work done on your home or business's local building, call an electrician in Queens County. What's most important is you find an electrician that follows the national electrical code that all states require and have had the proper job training.
Now, you know the differences between an electrician and an electrical technician. It's important to remember that you should always call a professional whenever you need an electrician's work done. Never DIY anything with electrical devices, even if it's as simple as changing light fixtures. A qualified electrician has the proper power tools for the job.
When you need to hire an electrician in Woodside, NY, call Absolute Electrical Service, Inc. at 718-229-9300. We can help with any electrical work you need to have done.
---
Some information about Woodside, NY
Woodside is a residential and commercial neighborhood in the western portion of the borough of Queens in New York City. It is bordered on the south by Maspeth, on the north by Astoria, on the west by Sunnyside, and on the east by Elmhurst, Jackson Heights, and East Elmhurst. Some areas are widely residential and very quiet, while other parts, especially the ones around Roosevelt Avenue, are busier.
For two centuries following the arrival of settlers from England and the Netherlands, the area where the village of Woodside would be established was sparsely populated. The land was fertile, but also wet. Its Native American inhabitants called it a place of 'bad waters' and it was known to early European settlers as a place of 'marshes, muddy flats and bogs,' where 'wooded swamps' and 'flaggy pools' were fed by flowing springs.' Until drained in the nineteenth century, one of these wet woodlands was called Wolf Swamp after the predators that infested it. This swamp was not the only place where settlers might fear for the safety of their livestock, and even themselves. One of the oldest recorded locations in Woodside was called Rattlesnake Spring on the property of a Captain Bryan Newton. The vicinity came to be called Snake Woods and one source maintains that 'during New York's colonial period, the area was known as 'suicide's paradise,' as it was largely snake-infested swamps and wolf-ridden woodlands.'
Woodside was settled by farmers in the early 18th century. In time, inhabitants learned how to farm the land profitably. The marsh grasses proved to be good for grazing and grains, fruits, and vegetables could be grown on the surrounding dry land. By the middle of the 18th century, the area's farmers had drained some of its marshes and cut back some of its woods to expand its arable land and eliminate natural predators. Agricultural produce found markets in New York City, and at the beginning of the 19th century the area came to be 'abundantly conspicuous in the wealth of the farmers and in the beauty of the villas.' A late 19th-century historian described one of the area's 19th-century farms as a pleasing mix of woodlot, tilled acreage, grazing land, orchard, and pleasure garden. He believed 'it would probably have been hard to find anywhere in the vicinity of New York a more picturesque locality.' Another observer of this time praised Woodside's 'pure atmosphere and delightful scenery.'
In the 19th century, the area was part of the Town of Newtown (now Elmhurst). The adjacent area of Winfield was largely incorporated into the post office serving Woodside and as a consequence Winfield lost much of its identity distinct from Woodside.
Useful links for Woodside, NY
Directions from Woodside, NY to Absolute Electrical Service, Inc.
---
Here are some electrician-related links: