Electrician in Woodhaven, NY 11421
An Electrician vs. An Electrical Technician in Woodhaven, NY: What's the Difference?
You've probably heard of a Woodhaven, NY electrician before, but have you ever heard of an electrical technician? If you've just come across the two names, you may think they're the same thing. However, there are some differences between the two in what they do, the training necessary, and their licensing requirements.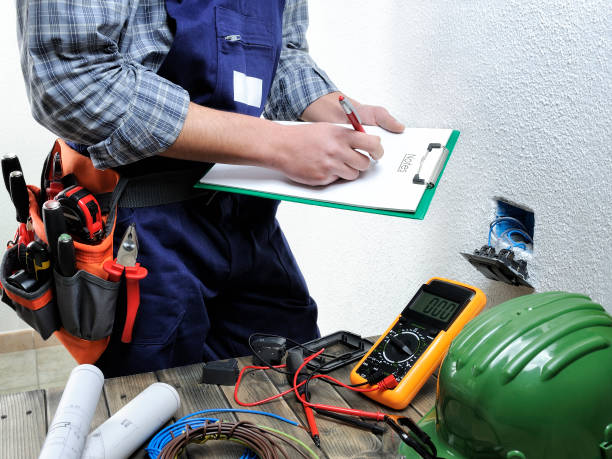 But what are the differences between an electrician and an electrical technician, and who should you choose if you need electrical components installed or repaired in your home or business? Call Absolute Electrical Service, Inc. to learn all about these two careers that work with your electrical system.
When you need an electrician, call Absolute Electrical Service, Inc.. And to learn more about the differences between a Queens County electrician and an electrical technician, keep reading below.
What's an Electrical Technician?
If you need to hire someone in Woodhaven, NY to repair electrical systems in your home, calling an electrical technician won't help. An electrical technician works with electrical engineers to design and install an electrical system. Electrical technicians usually work in the office and sometimes in the field. While they don't design the electrical system, they can work with engineers to create the perfect system and point out any potential flaws.
If someone wants to become an electrical technician in Woodhaven, NY, they will need either an associate's degree or a certificate. They learn everything through their schooling and job training.
What's an Electrician?
Now, we'll look into what a Queens County electrician does. If you have an issue with your circuit breakers or exposed electrical wiring, you should call an electrician. They can come to your residence and help install and maintain your electrical system. Many electricians can work in residential, commercial, and industrial locations.
Electricians typically don't have to go to secondary school, but they have to go through apprenticeship programs to become licensed electricians. They will go through three phases: apprentice, journeyman, and master electrician. They typically need certificates for each level to progress.
Who Should You Hire?
So who should you hire if you need either a Woodhaven, NY electrician, or electrical technician? It depends on the work you need to have done. If you work with a commercial building that needs to have the electrical system designed, you should hire an electrical technician.
However, if you need electrical work done on your home or business's local building, call an electrician in Queens County. What's most important is you find an electrician that follows the national electrical code that all states require and have had the proper job training.
Now, you know the differences between an electrician and an electrical technician. It's important to remember that you should always call a professional whenever you need an electrician's work done. Never DIY anything with electrical devices, even if it's as simple as changing light fixtures. A qualified electrician has the proper power tools for the job.
When you need to hire an electrician in Woodhaven, NY, call Absolute Electrical Service, Inc. at 718-229-9300. We can help with any electrical work you need to have done.
---
Some information about Woodhaven, NY
Woodhaven is a neighborhood in the southwestern section of the New York City borough of Queens. It is bordered on the north by Park Lane South and Forest Park, on the east by Richmond Hill, on the south by Ozone Park and Atlantic Avenue, and on the west by the Cypress Hills neighborhood of Brooklyn.
Jamaica Avenue, the neighborhood's main thoroughfare, has its beginnings in an ancient Native American trail, the Old Rockaway Trail. The northern boundary of the Rockaway territory was the terminal moraine of the Wisconsin glacier, which formed the ridges of Forest Park. According to the New York City Parks Department, Forest Park was inhabited by the Rockaway and Lenape Native Americans 'until the Dutch West India Company settled the area in 1635.' Native Americans in the area used the arrowwood stems prevalent in Forest Park for arrow shafts.
European settlement in Woodhaven began in the mid-18th century as a small town that revolved around farming, with the Ditmar, Lott, Wyckoff, Suydam and Snediker families. British troops successfully flanked General George Washington's Continental Army by a silent night-march from Gravesend, Brooklyn through the lightly defended 'Jamaica Pass' actually located in Brooklyn, to win the Battle of Long Island, Queens—the largest battle of the American Revolutionary War, and the first battle after the Declaration of Independence.
Later, Woodhaven became the site of two racetracks: the Union Course (1821) and the Centerville (1825). Union Course was a nationally famous racetrack situated in the area now bounded by 78th Street, 82nd Street, Jamaica Avenue and Atlantic Avenue. The Union Course was the site of the first skinned—or dirt—racing surface, a novelty at the time. These courses were originally without grandstands. The custom of conducting a single, four-mile (6 km) race consisting of as many heats as were necessary to determine a winner, gave way to programs consisting of several races. Match races between horses from the South against those from the North drew crowds as high as 70,000. Several hotels (including the Snedeker Hotel and the Forschback Inn) were built in the area to accommodate the racing crowds.
Useful links for Woodhaven, NY
Directions from Woodhaven, NY to Absolute Electrical Service, Inc.
---
Here are some electrician-related links: