Electrician in Whitestone, NY 11357
An Electrician vs. An Electrical Technician in Whitestone, NY: What's the Difference?
You've probably heard of a Whitestone, NY electrician before, but have you ever heard of an electrical technician? If you've just come across the two names, you may think they're the same thing. However, there are some differences between the two in what they do, the training necessary, and their licensing requirements.
But what are the differences between an electrician and an electrical technician, and who should you choose if you need electrical components installed or repaired in your home or business? Call Absolute Electrical Service, Inc. to learn all about these two careers that work with your electrical system.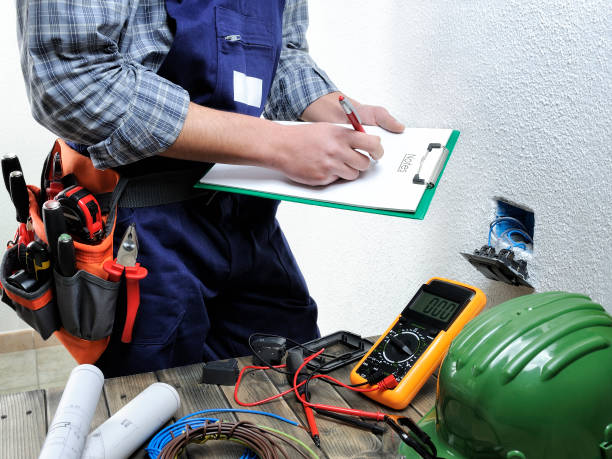 When you need an electrician, call Absolute Electrical Service, Inc.. And to learn more about the differences between a Queens County electrician and an electrical technician, keep reading below.
What's an Electrical Technician?
If you need to hire someone in Whitestone, NY to repair electrical systems in your home, calling an electrical technician won't help. An electrical technician works with electrical engineers to design and install an electrical system. Electrical technicians usually work in the office and sometimes in the field. While they don't design the electrical system, they can work with engineers to create the perfect system and point out any potential flaws.
If someone wants to become an electrical technician in Whitestone, NY, they will need either an associate's degree or a certificate. They learn everything through their schooling and job training.
What's an Electrician?
Now, we'll look into what a Queens County electrician does. If you have an issue with your circuit breakers or exposed electrical wiring, you should call an electrician. They can come to your residence and help install and maintain your electrical system. Many electricians can work in residential, commercial, and industrial locations.
Electricians typically don't have to go to secondary school, but they have to go through apprenticeship programs to become licensed electricians. They will go through three phases: apprentice, journeyman, and master electrician. They typically need certificates for each level to progress.
Who Should You Hire?
So who should you hire if you need either a Whitestone, NY electrician, or electrical technician? It depends on the work you need to have done. If you work with a commercial building that needs to have the electrical system designed, you should hire an electrical technician.
However, if you need electrical work done on your home or business's local building, call an electrician in Queens County. What's most important is you find an electrician that follows the national electrical code that all states require and have had the proper job training.
Now, you know the differences between an electrician and an electrical technician. It's important to remember that you should always call a professional whenever you need an electrician's work done. Never DIY anything with electrical devices, even if it's as simple as changing light fixtures. A qualified electrician has the proper power tools for the job.
When you need to hire an electrician in Whitestone, NY, call Absolute Electrical Service, Inc. at 718-229-9300. We can help with any electrical work you need to have done.
---
Some information about Whitestone, NY
Whitestone is a residential neighborhood in the northernmost part of the New York City borough of Queens. The neighborhood proper is located between the East River to the north; College Point and Whitestone Expressway to the west; Flushing and 25th Avenue to the south; and Bayside and Francis Lewis Boulevard to the east.
Dutch settlers derived the name of the town from limestone that used to lie on the shore of the river according to a popular tradition. This tradition is supported by 17th century wills and deeds, which may be found in The New York Genealogical and Biographical Record, that refer to 'the white stone' as a local landmark and survey reference point. Whitestone got its name because the settlers discovered that Whitestone was built on white limestone.
The area was, in large part, the estate of Francis Lewis, a delegate to the Continental Congress and a signer of the Declaration of Independence. The estate was the site of an English raid during the Revolutionary War. Lewis was not present but his wife was taken prisoner and his house was burned to the ground. For a period of time Whitestone was called Clintonville after Dewitt Clinton, the former governor of New York; this etymology is present in the name of Clintonville Street, located in the neighborhood. In the late 19th century, many wealthy New Yorkers began building mansions in the area, on what had once been farmland or woodland. Rapid development of the area ensued in the 1920s, however, as trolley and Long Island Rail Road train service on the Whitestone Branch was expanded into the neighborhood. Although this rail service ended during the Great Depression, part of the right-of-way was later used by Robert Moses to help construct the Belt Parkway, which includes the Whitestone Expressway which runs along the southeast edge of the former Flushing Airport and through Whitestone. Flushing Airport has been abandoned since 1985.
Further development came with the building of the Bronx-Whitestone Bridge in 1939. The bridge measures 2,300 feet and was the fourth longest bridge in the world at the time of its construction.
Useful links for Whitestone, NY
Directions from Whitestone, NY to Absolute Electrical Service, Inc.
---
Here are some electrician-related links: