Electrician in Wading River, NY 11792
How Do You Find Electrician Companies in Wading River, NY?
Have you ever tried to search for electrician companies online? A quick Google search will present you with so many options that you may not know what to do with all that information. You can go through pages upon pages of electrician companies in Suffolk County and only see a handful. How do you choose one for your home or business with so many options out there?
It can be hard to know what to do when you want to hire a Wading River, NY electrician. Luckily, Absolute Electrical Service, Inc. can help you find the perfect electrician for you. There are a few ways to find an electrician for your home and why you should choose Absolute Electrical Service, Inc..
So take a deep breath and read through this article on how to find electrical companies in Suffolk County.
Look Online
If you're reading this, you have probably tried out this first tip: look online. With a quick search for electrician companies, you can find a plethora of options in Wading River, NY. Start by investigating a few websites, reading testimonials, and determining what services each electrician offers.
You can easily find a few excellent options by searching online, and soon, you can have a small list of qualified electricians to call. Additionally, most electricians have an FAQ section on their website. Here, they may mention the electrical components they work on, the apprenticeship programs their electricians went through, and any other services they offer.
Ask Around
If you don't want to turn to the internet or can't find a company that works for you, start asking around. Ask your friends and family members if they have ever hired an electrician in Suffolk County and if they would recommend them. This is a great option because you can see first hand how good their work is.
Do you notice the light fixtures often flickering in your friend's house, or does their circuit breaker trip constantly? If so, you may want to choose a different electrician. Seeing their electrical work in person can help you find a master electrician.
Ask Your Home's Builders
Are you building your home from the ground up? If so, you should ask your builders who they recommend you go to. When you custom design your home, you need an electrician to design and install your electrical system.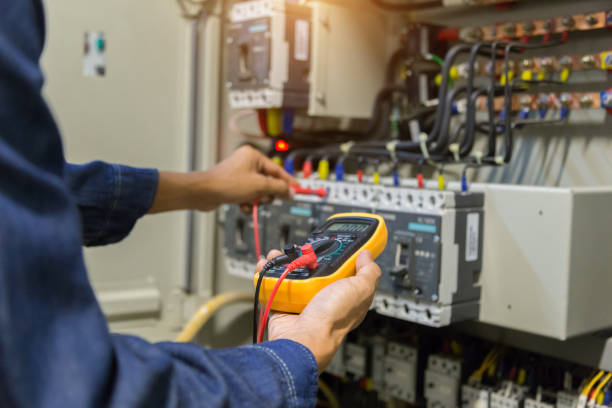 Your builders have worked with many electrician companies in the past, so they can recommend some you should go with. If you trust your builders, you probably trust their opinion, too. So instead of driving around Wading River, NY looking for electrical companies, ask your builder who to choose.
Call Absolute Electrical Service, Inc.
When you need an electrician in Suffolk County, call Absolute Electrical Service, Inc. at 631-567-1500. We follow the national electrical code that all states require, ensuring that we keep your home or business safe. No matter if you need to have us install and maintain electrical devices or repair electrical wiring, we can bring all the power tools needed to keep your home's electricity working. Don't wait; call us today.
---
Some information about Wading River, NY
Wading River is a hamlet and census-designated place (CDP) in Suffolk County, New York, United States, on the North Shore of Long Island. As of the 2010 census, the CDP population was 7,719. It is adjacent to Shoreham and shares a school district.
The earliest English records show a settlement known as Wading River was founded by eight colonial families. 'The spot for the village was chosen with care. There was a stream adequate for water power and abounding in seafood…good water for drinking…soil rich enough to grow essential crops, woodland for fuel, building material and food, topography to offer protection from the elements, meadowland for its grass.'
Between 1895 and 1938, the Port Jefferson Branch of the Long Island Rail Road extended to Wading River. It was once planned to continue eastward to rejoin the Main Line at Riverhead or Calverton. From 1905 to 1928, Wading River was also the site of an LIRR demonstration farm. Another was east of Medford Station on the Main Line. The Wading River station closed in 1938. During World War II the Benson House was used by the FBI as the site of a secret counterintelligence operation to feed the Nazis deceptive information.
The hamlet of Wading River had a year-round population of less than 500. But during the summer months, hundreds of visitors filled the town to use Wildwood State Park, the cottages on the cliffs and dunes and, of course, the beaches.
Learn more about Wading River.
Useful links for Wading River, NY
Directions from Wading River, NY to Absolute Electrical Service, Inc.
---
Here are some electrician-related links: