Electrician in Stony Brook University, NY 11733
Find Commercial Electrical Contractors in Stony Brook University, NY
If you run your own business, you know how important electricity is to making everything work. Unfortunately, your workers can't do their job properly when electrical devices don't work. Whether it's lighting, computers, or other electrical devices, power is almost essential for all businesses.
That's why all businesses need to hire commercial electrical contractors. While you may know how essential it is to find a Stony Brook University, NY electrician, how do you find one? There are so many electricians out there that it's hard to know who to choose. Luckily, that's why Absolute Electrical Service, Inc. is here.
We can help you find the perfect commercial electrical contractors for your Suffolk County business. Below, we have some tips for finding the best electrician near you. And when you're ready to hire a qualified electrician, call Absolute Electrical Service, Inc. today.
Why You Need Commercial Electrical Contractors
First, we'll touch on why you need to hire commercial electrical contractors for your business. When you do everything for your business, you can add electrical work to that list, right? However, you should never do an electrician's work yourself. While you can change light fixtures and some electrical devices, you need to call a professional for more difficult jobs.
Exposed electrical wiring is dangerous if you don't know how to handle it, so don't mess around with your electrical components. Instead, call an electrician in Stony Brook University, NY. They have the essential job training and know the licensing requirements that states require.
Plus, commercial electrical contractors follow the national electrical code, ensuring they do all electrical work safely. If you want to ensure your commercial building stays safe, call an electrician.
Ask Other Businesses Around You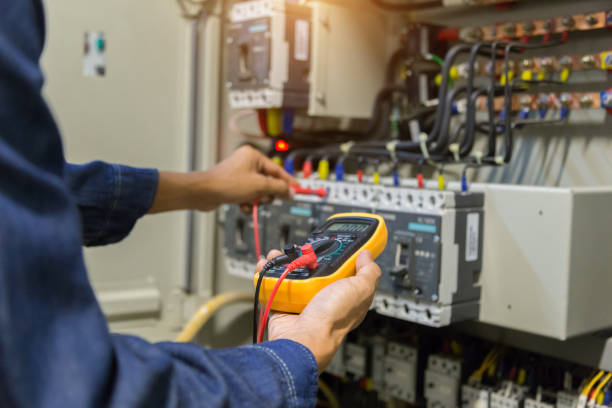 If you need to find a master electrician, ask other businesses in Suffolk County. They most likely have hired commercial electrical contractors, so ask who they went with.
Would they recommend their work? Did they help design and install their electrical system? No one knows good commercial electricians in Stony Brook University, NY like the other businesses around you, so ask around.
Interview Contractors
Now that you hopefully have a list of potential Suffolk County commercial electrical contractors, you should interview a few of them. You don't have to choose an electrician before asking them any questions. You should create a list of questions and ask them before hiring an electrician. That way, you know for sure that you made the right choice.
Find One Within Your Cost and Time Budget
Finally, you should look for an electrician in Stony Brook University, NY that is within your cost and time budget.
You don't have a lot of time and money to spend, especially when you don't expect these electrical issues. Therefore, decide on a budget before looking for an electrician. Also, determine how quickly you need the job done. This will help you find the perfect electrician.
When you need to hire an electrician in Suffolk County that has gone through apprenticeship programs and has had the proper job training, call Absolute Electrical Service, Inc. at 631-567-1500. We can repair your electrical components and get your commercial building working again before you know it.
---
Some information about Stony Brook University, NY
The State University of New York at Stony Brook, more commonly known as Stony Brook University (SBU), is a public research university in Stony Brook, New York in the town of Brookhaven. It is one of four university centers of the State University of New York system. Consisting of 213 buildings over 1,454 acres of land in Suffolk County, it is the largest public university in the state of New York by area.
The State University of New York at Stony Brook was established in Oyster Bay in 1957, as the State University College on Long Island (SUCOLI), by the governor and state of New York. Established almost a decade after the creation of New York's public higher education system, the institution was envisioned as a college for the preparation of secondary school teachers.
Leonard K. Olson was appointed as the first dean of the institution and was instrumental in the recruitment of faculty staff and planning of the later Stony Brook campus. SUCOLI opened with an inaugural class of 148 students, on the grounds of the William Robertson Coe Planting Fields estate. These first students were admitted on a tuition-free basis.
1961 was a year of firsts as thirty students were conferred degrees in the first commencement and the university was appointed its first president, John Francis Lee. Lee left later that year due to political and bureaucratic matters regarding the future of the university and the central administration at Albany. Nevertheless, Lee fulfilled his primary task of reshaping the university from a technical science and engineering college of limited degree options to a full-scale university featuring liberal arts programs.
Learn more about Stony Brook University.
Useful links for Stony Brook University, NY
Directions from Stony Brook University, NY to Absolute Electrical Service, Inc.
---
Here are some electrician-related links: