Electrician in Stony Brook, NY 11790
Find Commercial Electrical Contractors in Stony Brook, NY
If you run your own business, you know how important electricity is to making everything work. Unfortunately, your workers can't do their job properly when electrical devices don't work. Whether it's lighting, computers, or other electrical devices, power is almost essential for all businesses.
That's why all businesses need to hire commercial electrical contractors. While you may know how essential it is to find a Stony Brook, NY electrician, how do you find one? There are so many electricians out there that it's hard to know who to choose. Luckily, that's why Absolute Electrical Service, Inc. is here.
We can help you find the perfect commercial electrical contractors for your Suffolk County business. Below, we have some tips for finding the best electrician near you. And when you're ready to hire a qualified electrician, call Absolute Electrical Service, Inc. today.
Why You Need Commercial Electrical Contractors
First, we'll touch on why you need to hire commercial electrical contractors for your business. When you do everything for your business, you can add electrical work to that list, right? However, you should never do an electrician's work yourself. While you can change light fixtures and some electrical devices, you need to call a professional for more difficult jobs.
Exposed electrical wiring is dangerous if you don't know how to handle it, so don't mess around with your electrical components. Instead, call an electrician in Stony Brook, NY. They have the essential job training and know the licensing requirements that states require.
Plus, commercial electrical contractors follow the national electrical code, ensuring they do all electrical work safely. If you want to ensure your commercial building stays safe, call an electrician.
Ask Other Businesses Around You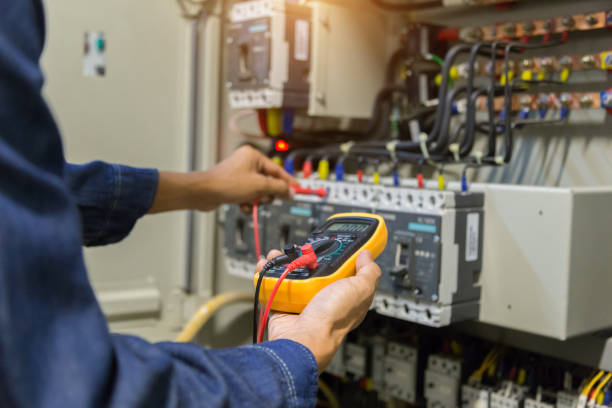 If you need to find a master electrician, ask other businesses in Suffolk County. They most likely have hired commercial electrical contractors, so ask who they went with.
Would they recommend their work? Did they help design and install their electrical system? No one knows good commercial electricians in Stony Brook, NY like the other businesses around you, so ask around.
Interview Contractors
Now that you hopefully have a list of potential Suffolk County commercial electrical contractors, you should interview a few of them. You don't have to choose an electrician before asking them any questions. You should create a list of questions and ask them before hiring an electrician. That way, you know for sure that you made the right choice.
Find One Within Your Cost and Time Budget
Finally, you should look for an electrician in Stony Brook, NY that is within your cost and time budget.
You don't have a lot of time and money to spend, especially when you don't expect these electrical issues. Therefore, decide on a budget before looking for an electrician. Also, determine how quickly you need the job done. This will help you find the perfect electrician.
When you need to hire an electrician in Suffolk County that has gone through apprenticeship programs and has had the proper job training, call Absolute Electrical Service, Inc. at 631-567-1500. We can repair your electrical components and get your commercial building working again before you know it.
---
Some information about Stony Brook, NY
Stony Brook is a hamlet and census-designated place (CDP) in the Town of Brookhaven in Suffolk County, New York, on the North Shore of Long Island. Begun in the colonial era as an agricultural enclave, the hamlet experienced growth first as a resort town and then to its current state as one of Long Island's major tourist towns and centers of education. Despite being referred to as a village by residents and tourists alike, Stony Brook has never been legally incorporated by the state. The population was 13,740 at the 2010 census.
Stony Brook was first settled in the late 17th century. It was originally known by the native name Wopowog and then as Stoney Brook, with both names likely referring to the interconnected bodies of water at the hamlet's western edge. It began as a satellite community of adjacent Setauket, New York, the Town of Brookhaven's first settlement, and its land was included in the initial 1655 purchase from the native Setalcott tribe.
The Three Village Inn, housed in the c.1751 Richard Hallock home
A gristmill was built in 1699 on the water body now known as the Mill Pond. The current structure, which replaced the original in 1751, ground grain into the 1940s and has since been repurposed for public tours. For religious services and education, the hamlet's original residents had to attend institutions in the neighboring communities of Setauket and St. James. In the latter half of the 18th century, activity began to shift from the mill area north toward the harbor as new residences, a number of which still stand, were constructed.
Stony Brook was a remote area through the 18th century aside for a modest amount of commerce near the mill at the intersection of Main Street and Harbor Road. The community's development was stalled by its poorly accessible harbor relative to nearby Setauket and Port Jefferson. In the 1840s, local painter William Sidney Mount led a call for the harbor's dredging. This was completed twice, but after the harbor filled in both times the effort was abandoned. Lacking the resources of its neighboring harbor settlements, Stony Brook based its economy on agriculture and the cordwood industry.
Useful links for Stony Brook, NY
Directions from Stony Brook, NY to Absolute Electrical Service, Inc.
---
Here are some electrician-related links: