Electrician in Springville, NY 11946
Find Commercial Electrical Contractors in Springville, NY
If you run your own business, you know how important electricity is to making everything work. Unfortunately, your workers can't do their job properly when electrical devices don't work. Whether it's lighting, computers, or other electrical devices, power is almost essential for all businesses.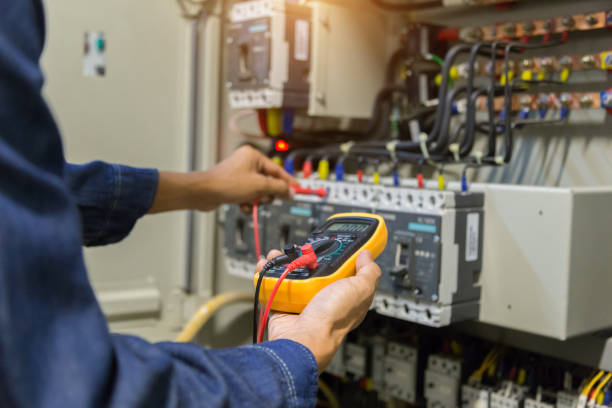 That's why all businesses need to hire commercial electrical contractors. While you may know how essential it is to find a Springville, NY electrician, how do you find one? There are so many electricians out there that it's hard to know who to choose. Luckily, that's why Absolute Electrical Service, Inc. is here.
We can help you find the perfect commercial electrical contractors for your Suffolk County business. Below, we have some tips for finding the best electrician near you. And when you're ready to hire a qualified electrician, call Absolute Electrical Service, Inc. today.
Why You Need Commercial Electrical Contractors
First, we'll touch on why you need to hire commercial electrical contractors for your business. When you do everything for your business, you can add electrical work to that list, right? However, you should never do an electrician's work yourself. While you can change light fixtures and some electrical devices, you need to call a professional for more difficult jobs.
Exposed electrical wiring is dangerous if you don't know how to handle it, so don't mess around with your electrical components. Instead, call an electrician in Springville, NY. They have the essential job training and know the licensing requirements that states require.
Plus, commercial electrical contractors follow the national electrical code, ensuring they do all electrical work safely. If you want to ensure your commercial building stays safe, call an electrician.
Ask Other Businesses Around You
If you need to find a master electrician, ask other businesses in Suffolk County. They most likely have hired commercial electrical contractors, so ask who they went with.
Would they recommend their work? Did they help design and install their electrical system? No one knows good commercial electricians in Springville, NY like the other businesses around you, so ask around.
Interview Contractors
Now that you hopefully have a list of potential Suffolk County commercial electrical contractors, you should interview a few of them. You don't have to choose an electrician before asking them any questions. You should create a list of questions and ask them before hiring an electrician. That way, you know for sure that you made the right choice.
Find One Within Your Cost and Time Budget
Finally, you should look for an electrician in Springville, NY that is within your cost and time budget.
You don't have a lot of time and money to spend, especially when you don't expect these electrical issues. Therefore, decide on a budget before looking for an electrician. Also, determine how quickly you need the job done. This will help you find the perfect electrician.
When you need to hire an electrician in Suffolk County that has gone through apprenticeship programs and has had the proper job training, call Absolute Electrical Service, Inc. at 631-567-1500. We can repair your electrical components and get your commercial building working again before you know it.
---
Some information about Springville, NY
Springville is a village in the southeastern section of the town of Concord in Erie County, New York, United States, mayored by William Krebs. Springville is the principal community in the town and a major business location in southern Erie County. The population was 4,296 at the 2010 census. It is part of the Buffalo–Niagara Falls Metropolitan Statistical Area. Springville was originally named 'Fiddler's Green' before it was renamed 'Springville'. Springville is well known for being home to Glenn "Pop" Warner, an important figure in American Football history
In 1808, Samuel Cochran became the first permanent settler in the town. The Springville Academy, opening in 1830, became the first high school in Erie County. It was given its current name, Springville Griffith Institute, in 1867 to honor Archibald Griffith, a donor. The village of Springville was incorporated in 1834 from part of the town of Concord. The Dygert Farm on Elk Street was the site of the 1866 and 1867 Erie County Fair, and also served as training grounds for Jim Thorpe.
The Springville post office contains a mural, Fiddler's Green, painted in 1939 by Victoria Hutson Huntley. Federally commissioned murals were produced from 1934 to 1943 in the United States through the Section of Painting and Sculpture, later called the Section of Fine Arts, of the Treasury Department.
Springville is home to five National Register of Historic Places-listed (NRHP) buildings (Citizens National Bank; Buffalo, Rochester and Pittsburgh Railroad Station; ; United States Post Office; Scoby Power Plant and Dam) and the NRHP-listed East Main-Mechanic Streets Historic District and East Hill Historic District.
Useful links for Springville, NY
Directions from Springville, NY to Absolute Electrical Service, Inc.
---
Here are some electrician-related links: