Electrician in Southold, NY 11971
Find Commercial Electrical Contractors in Southold, NY
If you run your own business, you know how important electricity is to making everything work. Unfortunately, your workers can't do their job properly when electrical devices don't work. Whether it's lighting, computers, or other electrical devices, power is almost essential for all businesses.
That's why all businesses need to hire commercial electrical contractors. While you may know how essential it is to find a Southold, NY electrician, how do you find one? There are so many electricians out there that it's hard to know who to choose. Luckily, that's why Absolute Electrical Service, Inc. is here.
We can help you find the perfect commercial electrical contractors for your Suffolk County business. Below, we have some tips for finding the best electrician near you. And when you're ready to hire a qualified electrician, call Absolute Electrical Service, Inc. today.
Why You Need Commercial Electrical Contractors
First, we'll touch on why you need to hire commercial electrical contractors for your business. When you do everything for your business, you can add electrical work to that list, right? However, you should never do an electrician's work yourself. While you can change light fixtures and some electrical devices, you need to call a professional for more difficult jobs.
Exposed electrical wiring is dangerous if you don't know how to handle it, so don't mess around with your electrical components. Instead, call an electrician in Southold, NY. They have the essential job training and know the licensing requirements that states require.
Plus, commercial electrical contractors follow the national electrical code, ensuring they do all electrical work safely. If you want to ensure your commercial building stays safe, call an electrician.
Ask Other Businesses Around You
If you need to find a master electrician, ask other businesses in Suffolk County. They most likely have hired commercial electrical contractors, so ask who they went with.
Would they recommend their work? Did they help design and install their electrical system? No one knows good commercial electricians in Southold, NY like the other businesses around you, so ask around.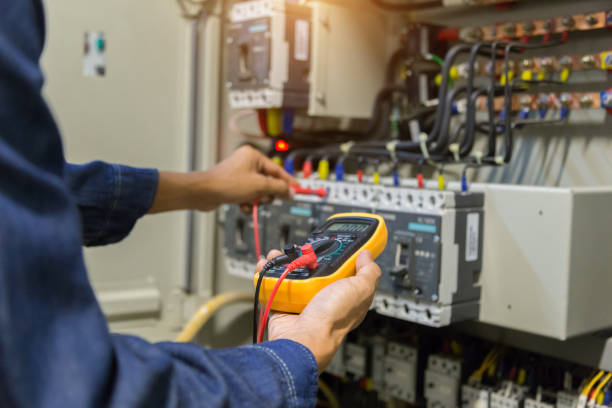 Interview Contractors
Now that you hopefully have a list of potential Suffolk County commercial electrical contractors, you should interview a few of them. You don't have to choose an electrician before asking them any questions. You should create a list of questions and ask them before hiring an electrician. That way, you know for sure that you made the right choice.
Find One Within Your Cost and Time Budget
Finally, you should look for an electrician in Southold, NY that is within your cost and time budget.
You don't have a lot of time and money to spend, especially when you don't expect these electrical issues. Therefore, decide on a budget before looking for an electrician. Also, determine how quickly you need the job done. This will help you find the perfect electrician.
When you need to hire an electrician in Suffolk County that has gone through apprenticeship programs and has had the proper job training, call Absolute Electrical Service, Inc. at 631-567-1500. We can repair your electrical components and get your commercial building working again before you know it.
---
Some information about Southold, NY
The Town of Southold is one of ten towns in Suffolk County, New York, United States. It is located in the northeastern tip of the county, on the North Fork of Long Island. The population was 21,968 at the 2010 census. The town also contains a hamlet named Southold, which was settled in 1640.
Algonquian-speaking tribes, related to those in New England across Long Island Sound, lived in eastern Long Island before European colonization. The western portion of the island was occupied by bands of Lenape, whose language was also one of the Algonquian languages.
In surrounding areas, the Dutch colonists had established early settlements to the northwest: on the upper Hudson River was Fort Orange, founded in 1615 (later renamed Albany by the English); and New Amsterdam (later renamed Manhattan) in 1625. Lion Gardiner established a manor on Gardiners Island in East Hampton in 1639. Just across from Long Island, the Connecticut Colony, or Connecticut River Colony, was established in 1636. The Puritans established New Haven Colony separately in 1638, even though it was largely surrounded by Connecticut Colony. New Haven Colony was a theocracy, governed only by church members.
English Puritans from New Haven Colony settled in Southold on October 21, 1640. They had purchased the land in the summer of 1640 from the group of Indians related to the Pequot of New England, who lived in the territory they called Corchaug (now Cutchogue). Settlers spelled the Indian name of what became Southold as Yennicott. In most histories Southold is reported as the first English settlement on Long Island in the future New York State. Under the leadership of the Reverend John Youngs, with Peter Hallock, the settlement consisted of the families of Barnabas Horton, John Budd, John Conklin, John Swazy, William Wells, and John Tuthill.
Useful links for Southold, NY
Directions from Southold, NY to Absolute Electrical Service, Inc.
---
Here are some electrician-related links: