Electrician in Southampton, NY 11901
Find Commercial Electrical Contractors in Southampton, NY
If you run your own business, you know how important electricity is to making everything work. Unfortunately, your workers can't do their job properly when electrical devices don't work. Whether it's lighting, computers, or other electrical devices, power is almost essential for all businesses.
That's why all businesses need to hire commercial electrical contractors. While you may know how essential it is to find a Southampton, NY electrician, how do you find one? There are so many electricians out there that it's hard to know who to choose. Luckily, that's why Absolute Electrical Service, Inc. is here.
We can help you find the perfect commercial electrical contractors for your Suffolk County business. Below, we have some tips for finding the best electrician near you. And when you're ready to hire a qualified electrician, call Absolute Electrical Service, Inc. today.
Why You Need Commercial Electrical Contractors
First, we'll touch on why you need to hire commercial electrical contractors for your business. When you do everything for your business, you can add electrical work to that list, right? However, you should never do an electrician's work yourself. While you can change light fixtures and some electrical devices, you need to call a professional for more difficult jobs.
Exposed electrical wiring is dangerous if you don't know how to handle it, so don't mess around with your electrical components. Instead, call an electrician in Southampton, NY. They have the essential job training and know the licensing requirements that states require.
Plus, commercial electrical contractors follow the national electrical code, ensuring they do all electrical work safely. If you want to ensure your commercial building stays safe, call an electrician.
Ask Other Businesses Around You
If you need to find a master electrician, ask other businesses in Suffolk County. They most likely have hired commercial electrical contractors, so ask who they went with.
Would they recommend their work? Did they help design and install their electrical system? No one knows good commercial electricians in Southampton, NY like the other businesses around you, so ask around.
Interview Contractors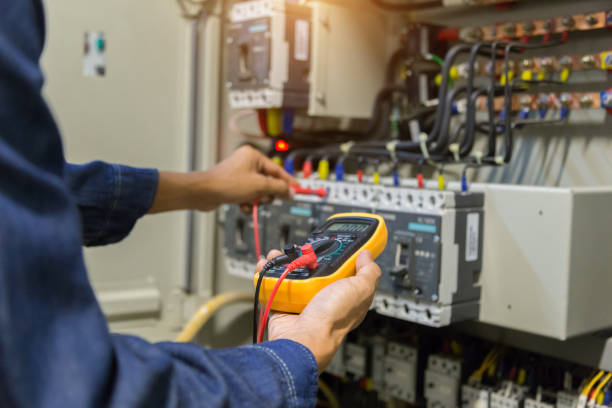 Now that you hopefully have a list of potential Suffolk County commercial electrical contractors, you should interview a few of them. You don't have to choose an electrician before asking them any questions. You should create a list of questions and ask them before hiring an electrician. That way, you know for sure that you made the right choice.
Find One Within Your Cost and Time Budget
Finally, you should look for an electrician in Southampton, NY that is within your cost and time budget.
You don't have a lot of time and money to spend, especially when you don't expect these electrical issues. Therefore, decide on a budget before looking for an electrician. Also, determine how quickly you need the job done. This will help you find the perfect electrician.
When you need to hire an electrician in Suffolk County that has gone through apprenticeship programs and has had the proper job training, call Absolute Electrical Service, Inc. at 631-567-1500. We can repair your electrical components and get your commercial building working again before you know it.
---
Some information about Southampton, NY
Southampton, officially the Town of Southampton, is a town in southeastern Suffolk County, New York, United States, partly on the South Fork of Long Island. As of the 2010 United States Census, the town had a population of 56,790. Southampton is included in the stretch of shoreline prominently known as The Hamptons.
The town was founded in 1640, when settlers from Lynn, Massachusetts established residence on lands obtained from local Shinnecock Indian Nation. The first settlers included eight men, one woman, and a boy who came ashore at Conscience Point. These men were Thomas Halsey, Edward Howell, Edmond Farrington, Allen Bread, Edmund Needham, Abraham Pierson the Elder, Thomas Sayre, Josiah Stanborough, George Welbe, Henry Walton and Job Sayre. By July 7, 1640, they had determined the town boundaries. During the next few years (1640–43), Southampton gained another 43 families.
From 1644, the colonists established an organised whale fishery, significant in the history of whaling as the first in New England. They chased pilot whales ('blackfish') onto the shelving beaches for slaughter, a sort of dolphin drive hunting. They also processed drift whales they found on shore. They observed the Native Americans' hunting techniques, improved on their weapons and boats, and then went out to ocean hunting.
The first meeting house was on a hill that is the site of the current Southampton Hospital. The town's oldest existent house is the Halsey House at 249 Main Street, which was built by Thomas Halsey, one of the first Englishmen to trade with the Shinnecocks.
Useful links for Southampton, NY
Directions from Southampton, NY to Absolute Electrical Service, Inc.
---
Here are some electrician-related links: