Electrician in Selden, NY 11784
Why Should You Hire an Industrial Electrician in Selden, NY?
Industrial buildings are large and have a lot of moving parts that allow them to work properly. There's overhead lighting, machines, and plenty of workers moving around and working at almost all hours of the day. When so much happens at industrial buildings, it's no surprise that things can go wrong.
This is especially true when an electrical system stops working. Everything will come to a standstill if any aspect of this well-oiled machine stalls. That's why you'll need a Selden, NY electrician. Specifically, you need to hire an industrial electrician.
But why is it necessary to find an industrial electrician in Suffolk County for your industrial building? You don't want to risk your or your workers' safety by doing the electrical work yourself. After all, electrical devices can be unpredictable. So when you need an electrician, call Absolute Electrical Service, Inc..
We can help keep your industrial building safe so that your business can keep working as usual. So whether you need to change light fixtures, fix circuit breakers, or repair electrical devices, Absolute Electrical Service, Inc. can help. If you're still unsure, keep reading below to learn why you should hire an industrial electrician in Selden, NY.
Keeps Workers Safe
Most industrial locations are inside, and they may not have a lot of windows to bring in natural light. That's why overhead lighting is so important for this local building. However, this can make working in this building unsafe if the lighting stops working. As well, exposed electrical wiring can pose a safety hazard for your workers.
With so many electrical devices and machines hanging around, walking in the dark is a safety hazard. You can keep your employees safe by calling a Suffolk County qualified electrician when you need them to fix your lighting or other electrical components.
Helps With Productivity
Many machines in a Selden, NY industrial building require electricity to run; therefore, you need to hire a master electrician if you notice an electrical issue. When your machines stop working, you slow productivity. No one wants to deal with downtime, so call an industrial electrician to complete this electrical work as soon as possible.
You Can't Work Otherwise
As we mentioned, machines or lights not working can cause downtime. During downtime, you have to pay employees who stand around, waiting for the electricity to start working again. Whether you need electrical wiring fixed or other electrical devices repaired, you need an industrial electrician for your Selden, NY industrial building.
Find a Great Industrial Electrician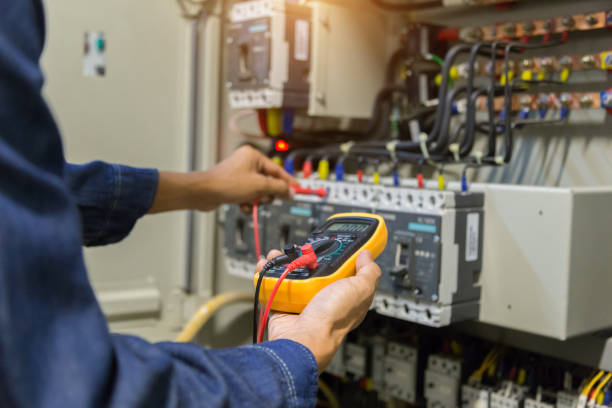 Now that you know you need a Suffolk County electrician, you need to find the best one for you. Look for an electrician who has taken the necessary apprenticeship programs and follows all licensing requirements.
Also, ensure they follow the national electrical code that all states require. This will ensure they keep your industrial building safe from harm.
When you need to find the best electrician in Selden, NY, call Absolute Electrical Service, Inc. at 631-567-1500. We can repair almost any electrical components you need to have fixed, so call us today, and ask what services we offer.
---
Some information about Selden, NY
Selden is a hamlet in the Town of Brookhaven in Suffolk County, New York, United States. The population was 19,851 at the 2010 census.
The farmers who first moved to what is now Selden in the mid-18th century referred to the area as 'Westfield' (or sometimes as Westfields). One of the better known early residents was Captain Daniel Roe (1740–1820), who fought in the French and Indian War and served as a captain in the Revolutionary War, and for whom Captain Daniel Roe Highway is named. Roe built a house in Selden along Middle Country Road before the Revolutionary War. Roe is buried in a small family cemetery south of Middle Country Road behind the Old Westfield shopping center.
From The Diary of Captain Daniel Roe, 1806–08 (1904), caption reads: 'School house near home of Capt. Daniel Roe. Near the tree, at the right, tradition says the Tory Captain Richard Miller fell from his horse in 1776.'
Roe sided with the Patriots in the lead-up to the Revolutionary War. In the fall of 1776, Roe was assigned to lead a raid against the Tory and Hessian detachment near Selden led by his cousin Richard Miller. Miller was a wanted man, and Roe himself had pledged 10 pounds of the bounty offered for Miller's capture. When Miller rode right by Roe's house in uniform, he was confronted by Roe's men and ordered to dismount. Instead, Miller fired his pistol and turned to flee, whereupon he was shot by the militiamen. Miller was then carried into Roe's house, where he died.
A school district for the Westfield area was first created in 1815, carved out of the districts for New Village (now Centereach) and Coram. Originally named District 25, it was renumbered as District 12 in 1842, which it remained until the formation of the Middle Country Central School District in 1957.
Useful links for Selden, NY
Directions from Selden, NY to Absolute Electrical Service, Inc.
---
Here are some electrician-related links: