Electrician in San Remo, NY 11754
Why Should You Hire an Industrial Electrician in San Remo, NY?
Industrial buildings are large and have a lot of moving parts that allow them to work properly. There's overhead lighting, machines, and plenty of workers moving around and working at almost all hours of the day. When so much happens at industrial buildings, it's no surprise that things can go wrong.
This is especially true when an electrical system stops working. Everything will come to a standstill if any aspect of this well-oiled machine stalls. That's why you'll need a San Remo, NY electrician. Specifically, you need to hire an industrial electrician.
But why is it necessary to find an industrial electrician in Suffolk County for your industrial building? You don't want to risk your or your workers' safety by doing the electrical work yourself. After all, electrical devices can be unpredictable. So when you need an electrician, call Absolute Electrical Service, Inc..
We can help keep your industrial building safe so that your business can keep working as usual. So whether you need to change light fixtures, fix circuit breakers, or repair electrical devices, Absolute Electrical Service, Inc. can help. If you're still unsure, keep reading below to learn why you should hire an industrial electrician in San Remo, NY.
Keeps Workers Safe
Most industrial locations are inside, and they may not have a lot of windows to bring in natural light. That's why overhead lighting is so important for this local building. However, this can make working in this building unsafe if the lighting stops working. As well, exposed electrical wiring can pose a safety hazard for your workers.
With so many electrical devices and machines hanging around, walking in the dark is a safety hazard. You can keep your employees safe by calling a Suffolk County qualified electrician when you need them to fix your lighting or other electrical components.
Helps With Productivity
Many machines in a San Remo, NY industrial building require electricity to run; therefore, you need to hire a master electrician if you notice an electrical issue. When your machines stop working, you slow productivity. No one wants to deal with downtime, so call an industrial electrician to complete this electrical work as soon as possible.
You Can't Work Otherwise
As we mentioned, machines or lights not working can cause downtime. During downtime, you have to pay employees who stand around, waiting for the electricity to start working again. Whether you need electrical wiring fixed or other electrical devices repaired, you need an industrial electrician for your San Remo, NY industrial building.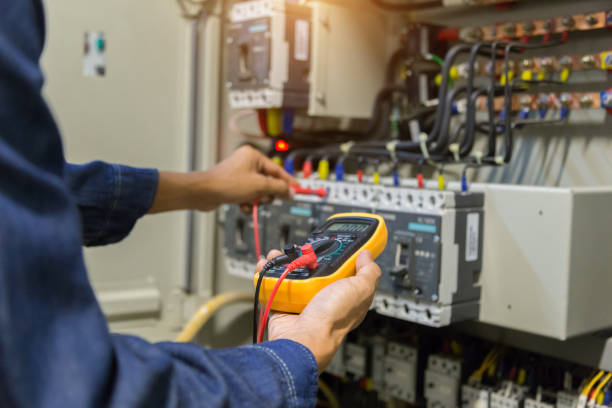 Find a Great Industrial Electrician
Now that you know you need a Suffolk County electrician, you need to find the best one for you. Look for an electrician who has taken the necessary apprenticeship programs and follows all licensing requirements.
Also, ensure they follow the national electrical code that all states require. This will ensure they keep your industrial building safe from harm.
When you need to find the best electrician in San Remo, NY, call Absolute Electrical Service, Inc. at 631-567-1500. We can repair almost any electrical components you need to have fixed, so call us today, and ask what services we offer.
---
Some information about San Remo, NY
San Remo is a neighborhood in the Town of Smithtown in Suffolk County, on Long Island, in New York, United States. It is located within the Smithtown CDP.
San Remo was originally established as a summer colony in the 1920s. It was developed by the New York City-based Smadbeck Corporation over land formerly occupied by farms and woodlands. The Smadbeck Corporation developed San Remo by the land into roughly 5,000 lots – each being approximately 20′ x 100′ in size; this lot size was typical at the time for subdivisions constructed in New York City. It was advertised heavily by the newspaper Corriere D' America (later Il Progresso) – especially to Italian-Americans. The newspaper partnered with the developers, offering subscriptions to those who purchased the land. The subscription lengths varied by the number of lots purchased (i.e.: those who purchased 1 lot would receive a 1-year subscription, etc.).
During the years and decades following World War II, the summer colony began to see residents settle permanently, and many expanded their summer cottages in order to live in them year-round.
In the early 1950s, the San Remo Property Owner's Association (the local civic association) erected a clubhouse for the residents of the community.
Useful links for San Remo, NY
Directions from San Remo, NY to Absolute Electrical Service, Inc.
---
Here are some electrician-related links: