Electrician in Saint James, NY 11780
Why Should You Hire an Industrial Electrician in Saint James, NY?
Industrial buildings are large and have a lot of moving parts that allow them to work properly. There's overhead lighting, machines, and plenty of workers moving around and working at almost all hours of the day. When so much happens at industrial buildings, it's no surprise that things can go wrong.
This is especially true when an electrical system stops working. Everything will come to a standstill if any aspect of this well-oiled machine stalls. That's why you'll need a Saint James, NY electrician. Specifically, you need to hire an industrial electrician.
But why is it necessary to find an industrial electrician in Suffolk County for your industrial building? You don't want to risk your or your workers' safety by doing the electrical work yourself. After all, electrical devices can be unpredictable. So when you need an electrician, call Absolute Electrical Service, Inc..
We can help keep your industrial building safe so that your business can keep working as usual. So whether you need to change light fixtures, fix circuit breakers, or repair electrical devices, Absolute Electrical Service, Inc. can help. If you're still unsure, keep reading below to learn why you should hire an industrial electrician in Saint James, NY.
Keeps Workers Safe
Most industrial locations are inside, and they may not have a lot of windows to bring in natural light. That's why overhead lighting is so important for this local building. However, this can make working in this building unsafe if the lighting stops working. As well, exposed electrical wiring can pose a safety hazard for your workers.
With so many electrical devices and machines hanging around, walking in the dark is a safety hazard. You can keep your employees safe by calling a Suffolk County qualified electrician when you need them to fix your lighting or other electrical components.
Helps With Productivity
Many machines in a Saint James, NY industrial building require electricity to run; therefore, you need to hire a master electrician if you notice an electrical issue. When your machines stop working, you slow productivity. No one wants to deal with downtime, so call an industrial electrician to complete this electrical work as soon as possible.
You Can't Work Otherwise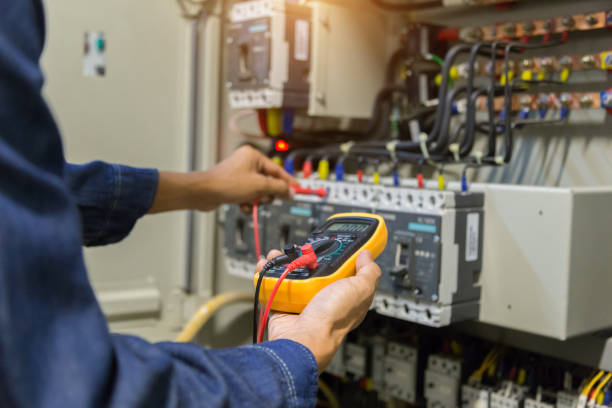 As we mentioned, machines or lights not working can cause downtime. During downtime, you have to pay employees who stand around, waiting for the electricity to start working again. Whether you need electrical wiring fixed or other electrical devices repaired, you need an industrial electrician for your Saint James, NY industrial building.
Find a Great Industrial Electrician
Now that you know you need a Suffolk County electrician, you need to find the best one for you. Look for an electrician who has taken the necessary apprenticeship programs and follows all licensing requirements.
Also, ensure they follow the national electrical code that all states require. This will ensure they keep your industrial building safe from harm.
When you need to find the best electrician in Saint James, NY, call Absolute Electrical Service, Inc. at 631-567-1500. We can repair almost any electrical components you need to have fixed, so call us today, and ask what services we offer.
---
Some information about Saint James, NY
St. James is a hamlet and census-designated place (CDP) in Suffolk County, New York, United States. The population of the CDP was 13,338 at the 2010 census.
St. James is part of the Town of Smithtown and is located on the North Shore of Long Island. The ZIP code is 11780.
In the early 20th century, St. James was a popular vacation spot for glitterati of the stage and screen. Summer residents included Lionel, Ethel, and John Barrymore, Buster Keaton, Myrna Loy, and Irving Berlin, among others. Noteworthy persons of the hamlet have included Stanford White, architect; William Jay Gaynor, New York State Supreme Court Justice and Mayor of New York City; Mick Foley, professional wrestler; Soledad O'Brien, television personality; John Miceli, drummer for Meat Loaf; and John Petrucci, lead guitar player for Dream Theater.
The St. James General Store, located on Moriches Road, is said to be the oldest continuously operating general store in the United States. It and a number of other historic structures were added to the National Register of Historic Places in 1973 as part of the Saint James District.
Many of these 19th-century structures are located along New York State Route 25A, otherwise known as North Country Road. Among them is Saint James Episcopal Church, the source of the hamlet's name during the 1850s. In 1873, St. James Rail Road Station was established. Although small, the historic station-house is the second-oldest on the Long Island Rail Road.
Useful links for Saint James, NY
Directions from Saint James, NY to Absolute Electrical Service, Inc.
---
Here are some electrician-related links: