Electrician in Saint Albans, NY 11412
An Electrician vs. An Electrical Technician in Saint Albans, NY: What's the Difference?
You've probably heard of a Saint Albans, NY electrician before, but have you ever heard of an electrical technician? If you've just come across the two names, you may think they're the same thing. However, there are some differences between the two in what they do, the training necessary, and their licensing requirements.
But what are the differences between an electrician and an electrical technician, and who should you choose if you need electrical components installed or repaired in your home or business? Call Absolute Electrical Service, Inc. to learn all about these two careers that work with your electrical system.
When you need an electrician, call Absolute Electrical Service, Inc.. And to learn more about the differences between a Queens County electrician and an electrical technician, keep reading below.
What's an Electrical Technician?
If you need to hire someone in Saint Albans, NY to repair electrical systems in your home, calling an electrical technician won't help. An electrical technician works with electrical engineers to design and install an electrical system. Electrical technicians usually work in the office and sometimes in the field. While they don't design the electrical system, they can work with engineers to create the perfect system and point out any potential flaws.
If someone wants to become an electrical technician in Saint Albans, NY, they will need either an associate's degree or a certificate. They learn everything through their schooling and job training.
What's an Electrician?
Now, we'll look into what a Queens County electrician does. If you have an issue with your circuit breakers or exposed electrical wiring, you should call an electrician. They can come to your residence and help install and maintain your electrical system. Many electricians can work in residential, commercial, and industrial locations.
Electricians typically don't have to go to secondary school, but they have to go through apprenticeship programs to become licensed electricians. They will go through three phases: apprentice, journeyman, and master electrician. They typically need certificates for each level to progress.
Who Should You Hire?
So who should you hire if you need either a Saint Albans, NY electrician, or electrical technician? It depends on the work you need to have done. If you work with a commercial building that needs to have the electrical system designed, you should hire an electrical technician.
However, if you need electrical work done on your home or business's local building, call an electrician in Queens County. What's most important is you find an electrician that follows the national electrical code that all states require and have had the proper job training.
Now, you know the differences between an electrician and an electrical technician. It's important to remember that you should always call a professional whenever you need an electrician's work done. Never DIY anything with electrical devices, even if it's as simple as changing light fixtures. A qualified electrician has the proper power tools for the job.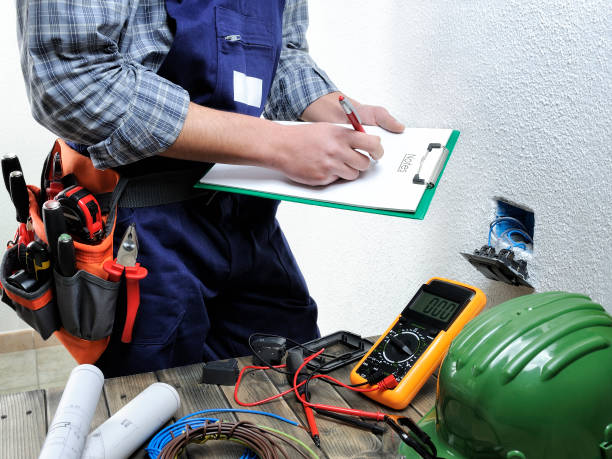 When you need to hire an electrician in Saint Albans, NY, call Absolute Electrical Service, Inc. at 718-229-9300. We can help with any electrical work you need to have done.
---
Some information about Saint Albans, NY
St. Albans is a residential neighborhood in the southeastern portion of the New York City borough of Queens. It is bordered by Jamaica to the northwest, Hollis to the north, Queens Village to the northeast, Cambria Heights to the east, Laurelton to the southeast, Springfield Gardens to the south, and South Jamaica to the southwest. St. Albans is centered on the intersection of Linden Boulevard and Farmers Boulevard, about two miles north of John F. Kennedy International Airport.
Part of a land grant to Dutch settlers from New Netherland Governor Peter Stuyvesant in 1655, the area, like much of Queens, remained farmland and forest for most of the next two centuries.
By the 1800s, the lands of four families—the Remsens, Everitts, Ludlums, and Hendricksons—formed the nucleus of this sprawling farm community in the eastern portion of the Town of Jamaica. In 1814, when the Village of Jamaica (the first village on Long Island) was incorporated, its (the village's) boundaries extended eastward to Freeman's Path (now Farmers Boulevard), and south to Lazy Lane (called Central Avenue in 1900, then Foch Boulevard in the 1920s, thus including parts of present-day St. Albans.In 1852, the old mill pond that is now at the center of Baisley Pond Park was acquired by the Brooklyn waterworks for use as a reservoir.
In 1872, the Long Island Rail Road's Cedarhurst Cut-off was built through the area, but no stop appears on the first timetables. In 1892, an area called Francis Farm was surveyed and developed for housing. There were numerous Francis families farming in the eastern portion of the Town of Jamaica in the 1880s.Francis Lewis Boulevard (named for a signer of the Declaration of Independence, from Queens), which does not yet appear on maps from 1909, nor in 1910, is now the eastern boundary of St. Albans.
Learn more about Saint Albans.
Useful links for Saint Albans, NY
Directions from Saint Albans, NY to Absolute Electrical Service, Inc.
---
Here are some electrician-related links: