Electrician in Sag Harbor, NY 11963
Why Should You Hire an Industrial Electrician in Sag Harbor, NY?
Industrial buildings are large and have a lot of moving parts that allow them to work properly. There's overhead lighting, machines, and plenty of workers moving around and working at almost all hours of the day. When so much happens at industrial buildings, it's no surprise that things can go wrong.
This is especially true when an electrical system stops working. Everything will come to a standstill if any aspect of this well-oiled machine stalls. That's why you'll need a Sag Harbor, NY electrician. Specifically, you need to hire an industrial electrician.
But why is it necessary to find an industrial electrician in Suffolk County for your industrial building? You don't want to risk your or your workers' safety by doing the electrical work yourself. After all, electrical devices can be unpredictable. So when you need an electrician, call Absolute Electrical Service, Inc..
We can help keep your industrial building safe so that your business can keep working as usual. So whether you need to change light fixtures, fix circuit breakers, or repair electrical devices, Absolute Electrical Service, Inc. can help. If you're still unsure, keep reading below to learn why you should hire an industrial electrician in Sag Harbor, NY.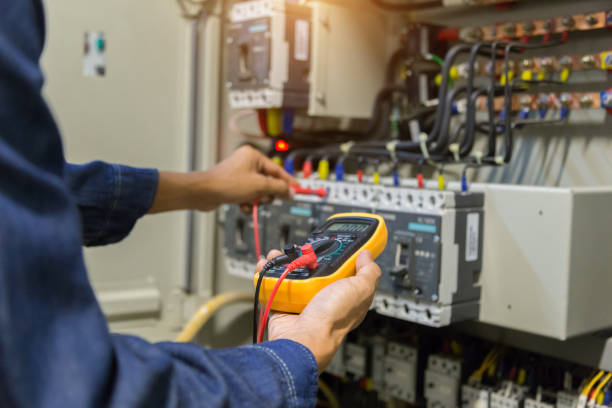 Keeps Workers Safe
Most industrial locations are inside, and they may not have a lot of windows to bring in natural light. That's why overhead lighting is so important for this local building. However, this can make working in this building unsafe if the lighting stops working. As well, exposed electrical wiring can pose a safety hazard for your workers.
With so many electrical devices and machines hanging around, walking in the dark is a safety hazard. You can keep your employees safe by calling a Suffolk County qualified electrician when you need them to fix your lighting or other electrical components.
Helps With Productivity
Many machines in a Sag Harbor, NY industrial building require electricity to run; therefore, you need to hire a master electrician if you notice an electrical issue. When your machines stop working, you slow productivity. No one wants to deal with downtime, so call an industrial electrician to complete this electrical work as soon as possible.
You Can't Work Otherwise
As we mentioned, machines or lights not working can cause downtime. During downtime, you have to pay employees who stand around, waiting for the electricity to start working again. Whether you need electrical wiring fixed or other electrical devices repaired, you need an industrial electrician for your Sag Harbor, NY industrial building.
Find a Great Industrial Electrician
Now that you know you need a Suffolk County electrician, you need to find the best one for you. Look for an electrician who has taken the necessary apprenticeship programs and follows all licensing requirements.
Also, ensure they follow the national electrical code that all states require. This will ensure they keep your industrial building safe from harm.
When you need to find the best electrician in Sag Harbor, NY, call Absolute Electrical Service, Inc. at 631-567-1500. We can repair almost any electrical components you need to have fixed, so call us today, and ask what services we offer.
---
Some information about Sag Harbor, NY
Sag Harbor is an incorporated village in Suffolk County, New York, United States, in the towns of Southampton and East Hampton on eastern Long Island. The village developed as a working port on Gardiner's Bay. The population was 2,169 at the 2010 census.
Sag Harbor was settled by English colonists sometime between 1707 and 1730. Many likely migrated from New England by water, as did other settlers on eastern Long Island. The first bill of lading to use the name 'Sag Harbor' was recorded in 1730.
While some accounts say the village was named for the neighboring settlement of Sagaponack, which at the time was called Sagg, historians say Sagaponack and Sag Harbor both were named after a tuber cultivated by the local Pequot people and used as a staple crop. In their Algonquian language, they called the vegetable sagabon. It was one of the first crops colonists sent to England. The tuber-producing vine is now known as the Apios americana.
During the American Revolutionary War, New York Patriots fled from the advancing British and Loyalist forces and departed from Sag Harbor by boat and ship for Connecticut. In 1777 American raiders under Return Jonathan Meigs attacked a British garrison at a fort on a hill in Sag Harbor, killing six and capturing 90 British soldiers in what was called Meigs Raid. The fort was dismantled after the war. The site has become known as the Old Burying Ground and is associated with the Old Whaler's Church.
Useful links for Sag Harbor, NY
Directions from Sag Harbor, NY to Absolute Electrical Service, Inc.
---
Here are some electrician-related links: