Electrician in Rochdale, NY 11434
Benefits of Finding a Residential Electrician in Rochdale, NY
When you think of hiring an electrician, you may think about businesses. After all, many business owners in Queens County don't have time to do their own electrical work. Therefore, they need to hire an electrician. But you don't need one for your home, right? The work isn't as large-scale, so you can do it yourself easily.
Unfortunately, that's not how it works. Whenever you need to repair electrical components, you should call a Rochdale, NY electrician. Most importantly, you should hire a residential electrician.
A qualified electrician can work on residential, commercial, and industrial locations, helping clients whenever they're needed. Absolute Electrical Service, Inc., for example, has electricians that can help no matter where you are in Queens County.
But how do you know you need a residential electrician? Below, Absolute Electrical Service, Inc. hopes to shed some light on the subject. Keep reading below to learn more.
When You Need a Residential Electrician
First, you may wonder when you need to hire a residential electrician in Rochdale, NY. There are many reasons you may need to hire an electrician, so it's easiest to say you should hire one whenever something is wrong with your electrical system. Whether your light fixtures flicker, your circuit breakers trip, or you have exposed electrical wiring, you should find an electrician.
How Can They Help Your Home?
You may wonder how a Queens County electrician can help your home. For one, they can keep your home safe. If you have exposed electrical wiring, you shouldn't mess with it without having the proper job training. You may find yourself making a mistake that can cost you your home. Therefore, a residential electrician can keep you and your home safe from danger.
Also, they can complete the job quickly and for a reasonable price. While you may not want to spend the extra cash on a master electrician, it's better than spending hundreds of dollars on power tools.
Is It Better to DIY?
You may wonder if it's sometimes best to DIY your electrical work. Unfortunately, messing with electrical devices is dangerous, and you never know what can happen. An electrician has gone through apprenticeship programs, and they follow the licensing requirements that all states require. For example, they understand the national electrical code that keeps clients safe from harm.
If you haven't sat through these training sessions, you may make a grave mistake. So even if it seems easy, step away from the electrical devices and leave the electrician's work to the professionals.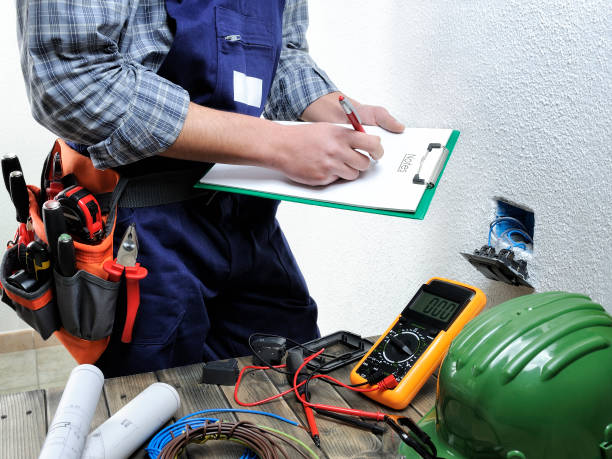 Who Should You Call?
So who should you call if you need to hire a Rochdale, NY residential electrician? There are many electrician companies out there, so finding the perfect one may seem difficult. First, you should find a company that can install and maintain electrical devices in homes. Always choose an electrician that can work with residential electrical systems.
Also, you should find an electrician with raving reviews. While reviews don't always mean anything, they can point you to an excellent residential electrician.
To learn more about our work, call Absolute Electrical Service, Inc. at 718-229-9300 today.
---
Some information about Rochdale, NY
Rochdale Village is a housing cooperative and neighborhood in the southeastern corner of the New York City borough of Queens. Located in Community District 12, Rochdale Village is grouped as part of Greater Jamaica, corresponding to the former Town of Jamaica. It is adjacent to four other Queens neighborhoods: St. Albans to the east, South Jamaica to the west, Locust Manor to the north, and Springfield Gardens to the south across the Belt Parkway. Rochdale is about 2 miles (3.2 km) off the Queens/Nassau border and about 1 mile (1.6 km) north of the John F. Kennedy International Airport.
Rochdale Village was named after the English town of Rochdale, Greater Manchester, where the Rochdale Pioneers developed the Rochdale Principles of cooperation. The architect's concept of Rochdale Village was an attractive community covering 122 blocks that would provide the residents with a park-like setting and facilities of suburbia, within the limits of the Urban Jamaica Area. Rochdale Village was designed to be a 'city within a city' when it was planned beginning in 1939, in order to boost tourism to the surrounding area also including Springfield Gardens, Rosedale, and Laurelton.
The property is the former site of Jamaica Race Course, which was the area's only tourist site and was operated by the Metropolitan Jockey Club and its successor, the Greater New York Association (now the New York Racing Association.) When the NYRA decided to renovate Greater Jamaica's other track, Aqueduct Racetrack (in South Ozone Park), it also decided to close Jamaica Race Course when the Aqueduct Racetrack's improvements were finished. Jamaica Race Course was shut down in 1959 and demolished. Rochdale Village was developed under the Mitchell-Lama Housing Program to provide affordable housing for low- and middle-income families. The architect, Herman Jessor, was inspired by the Le Corbusier model. Construction soon proceeded at a rapid pace on the new community in Queens. When Rochdale Village opened, it was the largest private cooperative housing complex in the world until Co-op City in the Bronx was completed in 1971.
Rochdale Village was originally between 10 and 20 percent African American and 80 to 90 percent white. This caused controversy before the start of construction, as black people could not participate in Rochdale Village's construction. The Rochdale Village complex was supposed to be the model for mixed-race housing in the U.S., but then became symbolic of the Civil Rights Movement, which was ongoing during the complex's construction; for instance, twenty-three protesters were detained for disrupting the construction in 1961, including William Booth, the future head of mayor John V. Lindsay's Human Rights Commission. About 10% of the units were given to blacks upon the complex's 1963 completion. As the years passed, more and more African Americans moved to Rochdale. It was between the late 1960s and mid-1970s that most white people moved from the community, owing to the white flight brought on by white perceptions of black people as dangerous, fears of lowered property value, and racist real estate practices such a block-busting. Soon, the complex became poorer and unable to provide for some basic utilities throughout the early 1980s, with many apartments remaining empty.
Useful links for Rochdale, NY
Directions from Rochdale, NY to Absolute Electrical Service, Inc.
---
Here are some electrician-related links: