Electrician in Ridge, NY 11961
Why Should You Hire an Industrial Electrician in Ridge, NY?
Industrial buildings are large and have a lot of moving parts that allow them to work properly. There's overhead lighting, machines, and plenty of workers moving around and working at almost all hours of the day. When so much happens at industrial buildings, it's no surprise that things can go wrong.
This is especially true when an electrical system stops working. Everything will come to a standstill if any aspect of this well-oiled machine stalls. That's why you'll need a Ridge, NY electrician. Specifically, you need to hire an industrial electrician.
But why is it necessary to find an industrial electrician in Suffolk County for your industrial building? You don't want to risk your or your workers' safety by doing the electrical work yourself. After all, electrical devices can be unpredictable. So when you need an electrician, call Absolute Electrical Service, Inc..
We can help keep your industrial building safe so that your business can keep working as usual. So whether you need to change light fixtures, fix circuit breakers, or repair electrical devices, Absolute Electrical Service, Inc. can help. If you're still unsure, keep reading below to learn why you should hire an industrial electrician in Ridge, NY.
Keeps Workers Safe
Most industrial locations are inside, and they may not have a lot of windows to bring in natural light. That's why overhead lighting is so important for this local building. However, this can make working in this building unsafe if the lighting stops working. As well, exposed electrical wiring can pose a safety hazard for your workers.
With so many electrical devices and machines hanging around, walking in the dark is a safety hazard. You can keep your employees safe by calling a Suffolk County qualified electrician when you need them to fix your lighting or other electrical components.
Helps With Productivity
Many machines in a Ridge, NY industrial building require electricity to run; therefore, you need to hire a master electrician if you notice an electrical issue. When your machines stop working, you slow productivity. No one wants to deal with downtime, so call an industrial electrician to complete this electrical work as soon as possible.
You Can't Work Otherwise
As we mentioned, machines or lights not working can cause downtime. During downtime, you have to pay employees who stand around, waiting for the electricity to start working again. Whether you need electrical wiring fixed or other electrical devices repaired, you need an industrial electrician for your Ridge, NY industrial building.
Find a Great Industrial Electrician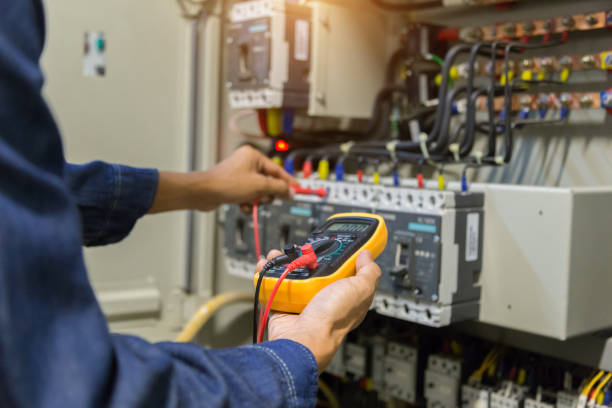 Now that you know you need a Suffolk County electrician, you need to find the best one for you. Look for an electrician who has taken the necessary apprenticeship programs and follows all licensing requirements.
Also, ensure they follow the national electrical code that all states require. This will ensure they keep your industrial building safe from harm.
When you need to find the best electrician in Ridge, NY, call Absolute Electrical Service, Inc. at 631-567-1500. We can repair almost any electrical components you need to have fixed, so call us today, and ask what services we offer.
---
Some information about Ridge, NY
Ridge is a hamlet and census-designated place (CDP) in the town of Brookhaven in Suffolk County, New York, United States. The population was 13,336 at the 2010 census.
In 1693, William 'Tangier' Smith, who owned a homestead in Setauket, was allowed to purchase a large tract of land on the South Shore of Long Island in recognition of his being mayor of Tangier in Africa. The land, called St. George's Manor, stretched from the Carmans River (then called the Connecticut River) in the west to the edge of of Southampton in the east with a northern border around present-day New York State Route 25, as much as 81,000 acres (330 km2) of land. He made his manor seat on the South Shore in present-day Mastic, and the northern part, now the south side of Ridge, was called 'The Swamp' or 'Longswamp'. A house wasn't built at Longswamp until after the American Revolution. In 1817, William Sydney Smith inhabited the house and changed the name to Longwood.
In 1955, what then remained of William Smith's original manor was primarily located in Ridge and was surrounded by the world growing up around it, in the form of the Brookhaven National Laboratory and the surrounding areas becoming increasingly populated. Longwood's 750 acres (300 ha) fell into the hands of Elbert Clayton Smith, who immediately moved his family from California to live there. He seems to have been very generous to his new community; his donations included 51 acres (21 ha) to the school board for the construction of Longwood High School and 6 acres (2.4 ha) to Middle Island Presbyterian Church. In 1967, Elbert Smith died, and the Longwood Estate was carved into housing developments and nearly destroyed until enough noise was made about preservation to have the house and 35 acres (14 ha) of land given to the Town of Brookhaven in 1974. The Smith Estate was added to the National Register of Historic Places in 1981.
In 1738, northern Ridge was settled by widower Samuel Randall of North Stonington, Connecticut; his only son Stephen Randall and his descendants farmed a 4,000-acre (1,600 ha) plot of ground that Samuel had always referred to as 'the Ridge' based on the geographical terrain. First called 'Randallville', Ridge was the name selected by its residents for postal delivery and remains the name for this hamlet to this day. The Randall burial plot near the William Floyd Parkway includes the grave of Lt. Stephen Randall (1736–1818), patriot of the American Revolution and a Suffolk County Militia veteran of the Battle of Long Island, August 27, 1776, as part of a company of Suffolk County Minutemen commanded by Captain Daniel Mulford. Graves of Randall's wife Elizabeth Swezey (1747–1834) and several descendants are also within the plot.
Useful links for Ridge, NY
Directions from Ridge, NY to Absolute Electrical Service, Inc.
---
Here are some electrician-related links: