Electrician in Richmond Hill, NY 11418
Benefits of Finding a Residential Electrician in Richmond Hill, NY
When you think of hiring an electrician, you may think about businesses. After all, many business owners in Queens County don't have time to do their own electrical work. Therefore, they need to hire an electrician. But you don't need one for your home, right? The work isn't as large-scale, so you can do it yourself easily.
Unfortunately, that's not how it works. Whenever you need to repair electrical components, you should call a Richmond Hill, NY electrician. Most importantly, you should hire a residential electrician.
A qualified electrician can work on residential, commercial, and industrial locations, helping clients whenever they're needed. Absolute Electrical Service, Inc., for example, has electricians that can help no matter where you are in Queens County.
But how do you know you need a residential electrician? Below, Absolute Electrical Service, Inc. hopes to shed some light on the subject. Keep reading below to learn more.
When You Need a Residential Electrician
First, you may wonder when you need to hire a residential electrician in Richmond Hill, NY. There are many reasons you may need to hire an electrician, so it's easiest to say you should hire one whenever something is wrong with your electrical system. Whether your light fixtures flicker, your circuit breakers trip, or you have exposed electrical wiring, you should find an electrician.
How Can They Help Your Home?
You may wonder how a Queens County electrician can help your home. For one, they can keep your home safe. If you have exposed electrical wiring, you shouldn't mess with it without having the proper job training. You may find yourself making a mistake that can cost you your home. Therefore, a residential electrician can keep you and your home safe from danger.
Also, they can complete the job quickly and for a reasonable price. While you may not want to spend the extra cash on a master electrician, it's better than spending hundreds of dollars on power tools.
Is It Better to DIY?
You may wonder if it's sometimes best to DIY your electrical work. Unfortunately, messing with electrical devices is dangerous, and you never know what can happen. An electrician has gone through apprenticeship programs, and they follow the licensing requirements that all states require. For example, they understand the national electrical code that keeps clients safe from harm.
If you haven't sat through these training sessions, you may make a grave mistake. So even if it seems easy, step away from the electrical devices and leave the electrician's work to the professionals.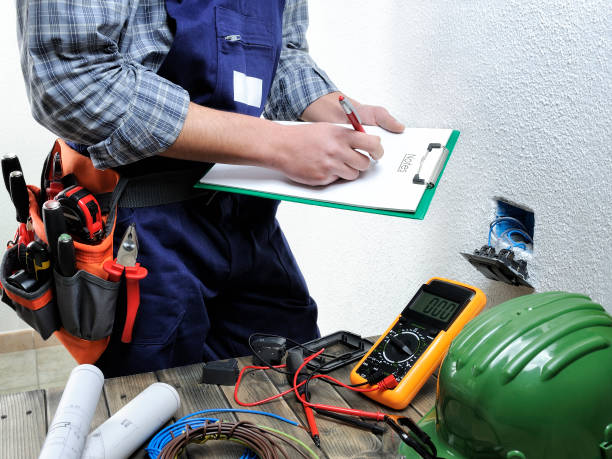 Who Should You Call?
So who should you call if you need to hire a Richmond Hill, NY residential electrician? There are many electrician companies out there, so finding the perfect one may seem difficult. First, you should find a company that can install and maintain electrical devices in homes. Always choose an electrician that can work with residential electrical systems.
Also, you should find an electrician with raving reviews. While reviews don't always mean anything, they can point you to an excellent residential electrician.
To learn more about our work, call Absolute Electrical Service, Inc. at 718-229-9300 today.
---
Some information about Richmond Hill, NY
Richmond Hill is a commercial and residential neighborhood located in the southwestern section of the borough of Queens, in New York City, New York, United States. The neighborhood is split between Queens Community Board 9 and 10. The area borders Kew Gardens and Forest Park to the north, Jamaica and South Jamaica to the east, South Ozone Park to the south, and Woodhaven and Ozone Park to the west.
The hill referred to as Richmond Hill is a moraine created by debris and rocks collected while glaciers advanced down North America during the Wisconsin glaciation. Prior to European colonization, the land was occupied by the Rockaway Native American group, for which the Rockaways were named. In 1660, the Welling family purchased land in what was then the western portion of the colonial town of Rustdorp. The land would become the Welling Farm, while Rustdorp would be renamed Jamaica under British rule in 1664. The Battle of Long Island, one of the bloodiest battles of the Revolutionary War, was fought in 1776 along the ridge in present-day Forest Park, near what is now the golf course clubhouse. Protected by its thickly wooded area, American riflemen used guerrilla warfare tactics to attack and defeat the advancing Hessians. One of the sites that would make up modern Richmond Hill, Lefferts Farm, was said to be the site of a Revolutionary War battle. In January 1853, a Farming community was established on the south side of Jamaica Avenue between 110th and 112th Streets, known as Clarenceville. This land was purchased from the Welling estate.
Richmond Hill's name was inspired either by a suburban town near London or by Edward Richmond, a landscape architect in the mid-19th century who designed much of the neighborhood. In 1868, Albon Platt Man, a successful Manhattan lawyer, purchased the Lefferts, Welling, and Bergen farms along with other plots amounting to 400 acres of land, and hired Richmond to lay out the community. The tract extended as far north as White Pot Road (now Kew Gardens Road) near modern Queens Boulevard. The area reminded Man of the London suburb, where his family resided. Man's sons would later found the nearby Kew Gardens neighborhood from the northern portion of the land.
Streets, schools, a church, and a railroad were built in Richmond Hill over the next decade, thus making the area one of the earliest residential communities on Long Island. The streets were laid down to match the geography of the area. The development of area was facilitated by the opening of two railroad stations. These were the Clarenceville station on the Brooklyn and Jamaica Railroad, at Atlantic Avenue and Greenwood Avenue (now 111th Street); and the Richmond Hill station at Park Street (now Hillside Avenue) near Jamaica and Lefferts Avenues on the Montauk railroad line between Long Island City and eastern Long Island. By 1872, a post office was established in the neighborhood, while the Clarenceville neighborhood was merged into Richmond Hill. Richmond Hill was incorporated as an independent village in 1894, by which time it had also absorbed the Morris Park neighborhood, which had been established in 1885. In 1898, Richmond Hill and the rest of Queens county were consolidated into the City of Greater New York.
Learn more about Richmond Hill.
Useful links for Richmond Hill, NY
Directions from Richmond Hill, NY to Absolute Electrical Service, Inc.
---
Here are some electrician-related links: