Electrician in Rego Park, NY 11374
Benefits of Finding a Residential Electrician in Rego Park, NY
When you think of hiring an electrician, you may think about businesses. After all, many business owners in Queens County don't have time to do their own electrical work. Therefore, they need to hire an electrician. But you don't need one for your home, right? The work isn't as large-scale, so you can do it yourself easily.
Unfortunately, that's not how it works. Whenever you need to repair electrical components, you should call a Rego Park, NY electrician. Most importantly, you should hire a residential electrician.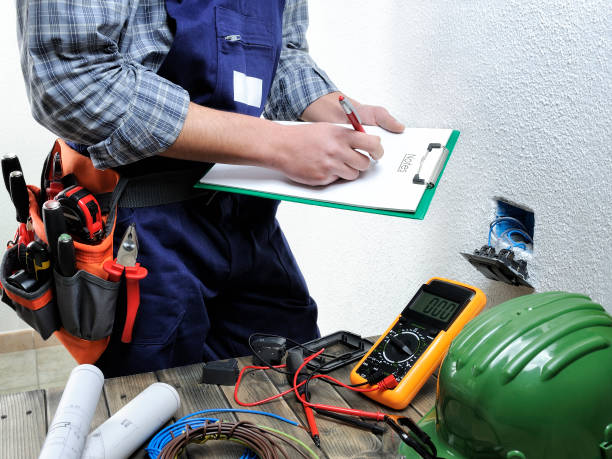 A qualified electrician can work on residential, commercial, and industrial locations, helping clients whenever they're needed. Absolute Electrical Service, Inc., for example, has electricians that can help no matter where you are in Queens County.
But how do you know you need a residential electrician? Below, Absolute Electrical Service, Inc. hopes to shed some light on the subject. Keep reading below to learn more.
When You Need a Residential Electrician
First, you may wonder when you need to hire a residential electrician in Rego Park, NY. There are many reasons you may need to hire an electrician, so it's easiest to say you should hire one whenever something is wrong with your electrical system. Whether your light fixtures flicker, your circuit breakers trip, or you have exposed electrical wiring, you should find an electrician.
How Can They Help Your Home?
You may wonder how a Queens County electrician can help your home. For one, they can keep your home safe. If you have exposed electrical wiring, you shouldn't mess with it without having the proper job training. You may find yourself making a mistake that can cost you your home. Therefore, a residential electrician can keep you and your home safe from danger.
Also, they can complete the job quickly and for a reasonable price. While you may not want to spend the extra cash on a master electrician, it's better than spending hundreds of dollars on power tools.
Is It Better to DIY?
You may wonder if it's sometimes best to DIY your electrical work. Unfortunately, messing with electrical devices is dangerous, and you never know what can happen. An electrician has gone through apprenticeship programs, and they follow the licensing requirements that all states require. For example, they understand the national electrical code that keeps clients safe from harm.
If you haven't sat through these training sessions, you may make a grave mistake. So even if it seems easy, step away from the electrical devices and leave the electrician's work to the professionals.
Who Should You Call?
So who should you call if you need to hire a Rego Park, NY residential electrician? There are many electrician companies out there, so finding the perfect one may seem difficult. First, you should find a company that can install and maintain electrical devices in homes. Always choose an electrician that can work with residential electrical systems.
Also, you should find an electrician with raving reviews. While reviews don't always mean anything, they can point you to an excellent residential electrician.
To learn more about our work, call Absolute Electrical Service, Inc. at 718-229-9300 today.
---
Some information about Rego Park, NY
Rego Park is a neighborhood in the borough of Queens in New York City. Rego Park is bordered to the north by Elmhurst and Corona, to the east and south by Forest Hills, and to the west by Middle Village. Rego Park's boundaries include Queens Boulevard, the Long Island Expressway, Woodhaven Boulevard, and Yellowstone Boulevard. There is a large Jewish population in the neighborhood, which features high-rise apartment buildings and detached houses, as well as a large commercial zone.
Rego Park is built on lands originally part of the Leni Lenape Nation. Possibly inhabited by members of the Canarsee band. By 1653, though, English and Dutch farmers moved into the area and founded a community called Whitepot, which was a part of the Township of Newtown. Whitepot is believed to be so named because Dutch settlers named the area 'Whiteput', or 'hollow creek'; later, English settlers Anglicized the name. The Remsen family created a burial ground, which is still located on Alderton Street near Metropolitan Avenue. The colonists also founded the Whitepot School, which operated until the late 19th century.
The area turned out to be good for farming, the colonists cultivated hay, straw, rye, corn, oats, and vegetables. The original Dutch, English, and German farmers sold their produce in Manhattan; by the end of the 19th century, though, Chinese farmers moved in and sold their goods exclusively to Chinatown.
The settlement was renamed Rego Park after the Real Good Construction Company, which began development of the area in 1925. 'Rego' comes from the first two letters of the first two words of the company's name. The company built 525 eight-room houses costing $8,000 each. Stores were built in 1926 on Queens Boulevard and 63rd Drive, and apartment buildings were built in 1927–1928. In 1930, the Independent Subway System began work on eight IND Queens Boulevard Line stations in the area, at a cost of $5 million. The subway extension was concurrent with the Real Good Construction Company's completion of apartment buildings near Queens Boulevard and one-family homes throughout the rest of the neighborhood.
Useful links for Rego Park, NY
Directions from Rego Park, NY to Absolute Electrical Service, Inc.
---
Here are some electrician-related links: