Electrician in Red Creek, NY 11970
Qualities To Look for in a Certified Electrician in Red Creek, NY
Finding a Red Creek, NY electrician can feel overwhelming because there are so many qualified electricians all over the internet. How do you know you found the best electrician? How can you know that this company is the best one? Do the reviews always tell the truth?
Window shopping for a certified electrician is difficult, which is why Absolute Electrical Service, Inc. is here to help. There are a few things you should look for in the electrician you want to work with: their communication skills, their licenses, their reputation, and whether they can answer all your questions.
There's nothing wrong with interviewing the potential electrician companies in Suffolk County, so don't be afraid to talk to them before choosing who you want to go with. When you need an electrician's work done on your home or business's local building, call Absolute Electrical Service, Inc. today.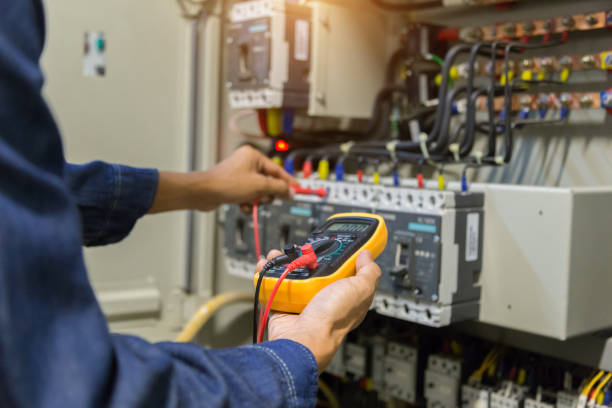 They Have Great Communication Skills
First, you want to ensure that the Red Creek, NY certified electrician has great communication skills. Your electrician will have to communicate with several people: you, their fellow electricians, your builders (if you're building a house), and more. Therefore, they need to have excellent communication skills.
If you choose an electrician without considering their ability to communicate, you may find yourself signing up for things you didn't expect because the electrician didn't communicate them to you. Protect yourself and your budget by ensuring that the electrician has great communication skills.
They Have the Proper Licensing Requirements
Next, you will need to ensure the Suffolk County electrician has all the proper licensing requirements. It takes a lot of work to become an electrician, and many go through apprenticeship programs and learn through job training.
You need to ensure the electrician has these licenses that states require. Also, make sure they follow the national electrical code, ensuring the certified electrician keeps you and your home safe.
They Can Answer All Your Questions
You don't want to choose an electrician who can't answer your questions. You most likely have a list of questions that you want to ask your potential electrician. How long will it take? How much will it cost? Why did my electrical system stop working? These are all questions to ask your master electrician.
However, if the electrician can't answer these questions, run the other way. You may find yourself wasting your time and money if your Suffolk County electrician can't, or won't, answer your questions.
They Have a Good Reputation
Finally, you should ensure the certified electrician has a good reputation. Ask those around you who have hired electricians before. Did they like the company? Did they help repair their electrical components? Did the electrical work go quickly and painlessly? These are all important questions to ask to get an idea of the company's reputation.
These are all essential qualities to look for in a certified electrician in Red Creek, NY. Whether you need to replace light fixtures or repair electrical wiring, you need to find a qualified electrician. Choose Absolute Electrical Service, Inc. if you want an electrician that can install and maintain your electrical system or repair electrical devices.
An electrician's work can be difficult, but it doesn't have to be. Call us at 631-567-1500 today to learn more about the services we offer.
---
Some information about Red Creek, NY
Red Creek is a village in Wayne County, New York, United States. The population was 532 at the 2010 census.
The village was permanently settled circa 1811 and was originally called 'Jacksonville' after Andrew Jackson. The name was changed to 'Red Creek' in approximately 1836.
The name change was attributed to the creek which passes through its entirety. Originally, Big Red and Little Red Creeks were believed to be named from the waters color, which was tainted from passing over iron ore that richly runs throughout the water bed.
Local lore explains the origin of the name Red Creek. At one time, a tannery occupied the spot on the north side of the falls. As part of the tanning process, dye was used to tan skins. Dye was disposed of in the pond which then flowed over the dam's falls, coloring it red.
Useful links for Red Creek, NY
Directions from Red Creek, NY to Absolute Electrical Service, Inc.
---
Here are some electrician-related links: