Electrician in Queens, NY 11101
Benefits of Finding a Residential Electrician in Queens, NY
When you think of hiring an electrician, you may think about businesses. After all, many business owners in Queens County don't have time to do their own electrical work. Therefore, they need to hire an electrician. But you don't need one for your home, right? The work isn't as large-scale, so you can do it yourself easily.
Unfortunately, that's not how it works. Whenever you need to repair electrical components, you should call a Queens, NY electrician. Most importantly, you should hire a residential electrician.
A qualified electrician can work on residential, commercial, and industrial locations, helping clients whenever they're needed. Absolute Electrical Service, Inc., for example, has electricians that can help no matter where you are in Queens County.
But how do you know you need a residential electrician? Below, Absolute Electrical Service, Inc. hopes to shed some light on the subject. Keep reading below to learn more.
When You Need a Residential Electrician
First, you may wonder when you need to hire a residential electrician in Queens, NY. There are many reasons you may need to hire an electrician, so it's easiest to say you should hire one whenever something is wrong with your electrical system. Whether your light fixtures flicker, your circuit breakers trip, or you have exposed electrical wiring, you should find an electrician.
How Can They Help Your Home?
You may wonder how a Queens County electrician can help your home. For one, they can keep your home safe. If you have exposed electrical wiring, you shouldn't mess with it without having the proper job training. You may find yourself making a mistake that can cost you your home. Therefore, a residential electrician can keep you and your home safe from danger.
Also, they can complete the job quickly and for a reasonable price. While you may not want to spend the extra cash on a master electrician, it's better than spending hundreds of dollars on power tools.
Is It Better to DIY?
You may wonder if it's sometimes best to DIY your electrical work. Unfortunately, messing with electrical devices is dangerous, and you never know what can happen. An electrician has gone through apprenticeship programs, and they follow the licensing requirements that all states require. For example, they understand the national electrical code that keeps clients safe from harm.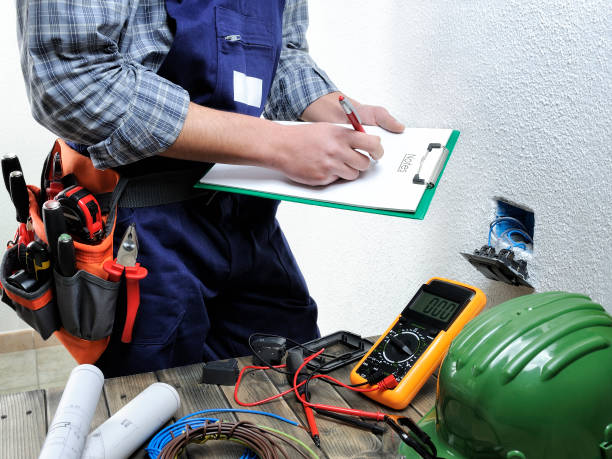 If you haven't sat through these training sessions, you may make a grave mistake. So even if it seems easy, step away from the electrical devices and leave the electrician's work to the professionals.
Who Should You Call?
So who should you call if you need to hire a Queens, NY residential electrician? There are many electrician companies out there, so finding the perfect one may seem difficult. First, you should find a company that can install and maintain electrical devices in homes. Always choose an electrician that can work with residential electrical systems.
Also, you should find an electrician with raving reviews. While reviews don't always mean anything, they can point you to an excellent residential electrician.
To learn more about our work, call Absolute Electrical Service, Inc. at 718-229-9300 today.
---
Some information about Queens, NY
Queens is a borough of New York City, coextensive with Queens County, in the U.S. state of New York. It is the largest borough of New York City in area and is adjacent to the borough of Brooklyn at the western end of Long Island, with Nassau County to the east. Queens also shares water borders with the boroughs of Manhattan, the Bronx, and Staten Island.
The first European settlement in the region were the Dutch, who established the colony of New Netherland. The first settlements were established in 1635 followed by further settlement at Maspeth in 1642 (ultimately unsuccessful), and Vlissingen (now Flushing) in 1645. Other early settlements included Newtown (now Elmhurst) in 1652 and Jamaica in 1655. However, these towns were mostly inhabited by English settlers from New England via eastern Long Island (Suffolk County) who were subject to Dutch law. After the capture of the colony by the English and its subsequent renaming as New York in 1664, the area (and all of Long Island) became known as Yorkshire.
The Flushing Remonstrance signed by colonists in 1657 is considered a precursor to the United States Constitution's provision on freedom of religion in the Bill of Rights. The signers protested the Dutch colonial authorities' persecution of Quakers in what is today the borough of Queens.
Originally, Queens County included the adjacent area now comprising Nassau County. It was an original county of New York State, one of twelve created on November 1, 1683. The county is assumed to have been named after Catherine of Braganza, since she was queen of England at the time (she was Portugal's royal princess Catarina, daughter of King John IV of Portugal). The county was founded alongside Kings County (Brooklyn, which was named after her husband, King Charles II), and Richmond County (Staten Island, named after his illegitimate son, the 1st Duke of Richmond). However, the namesake is disputed. While Catherine's title seems the most likely namesake, no historical evidence of official declaration has been found. On October 7, 1691, all counties in the Colony of New York were redefined. Queens gained North and South Brother Islands as well as Huletts Island (today known as Rikers Island). On December 3, 1768, Queens gained other islands in Long Island Sound that were not already assigned to a county but that did not abut on Westchester County (today's Bronx County).
Useful links for Queens, NY
Directions from Queens, NY to Absolute Electrical Service, Inc.
---
Here are some electrician-related links: