Electrician in Plum Island, NY 11957
Qualities To Look for in a Certified Electrician in Plum Island, NY
Finding a Plum Island, NY electrician can feel overwhelming because there are so many qualified electricians all over the internet. How do you know you found the best electrician? How can you know that this company is the best one? Do the reviews always tell the truth?
Window shopping for a certified electrician is difficult, which is why Absolute Electrical Service, Inc. is here to help. There are a few things you should look for in the electrician you want to work with: their communication skills, their licenses, their reputation, and whether they can answer all your questions.
There's nothing wrong with interviewing the potential electrician companies in Suffolk County, so don't be afraid to talk to them before choosing who you want to go with. When you need an electrician's work done on your home or business's local building, call Absolute Electrical Service, Inc. today.
They Have Great Communication Skills
First, you want to ensure that the Plum Island, NY certified electrician has great communication skills. Your electrician will have to communicate with several people: you, their fellow electricians, your builders (if you're building a house), and more. Therefore, they need to have excellent communication skills.
If you choose an electrician without considering their ability to communicate, you may find yourself signing up for things you didn't expect because the electrician didn't communicate them to you. Protect yourself and your budget by ensuring that the electrician has great communication skills.
They Have the Proper Licensing Requirements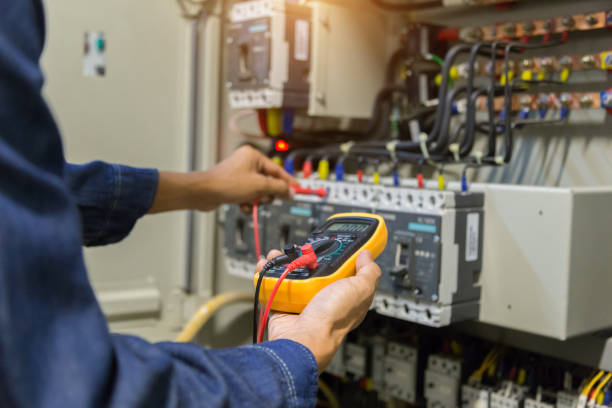 Next, you will need to ensure the Suffolk County electrician has all the proper licensing requirements. It takes a lot of work to become an electrician, and many go through apprenticeship programs and learn through job training.
You need to ensure the electrician has these licenses that states require. Also, make sure they follow the national electrical code, ensuring the certified electrician keeps you and your home safe.
They Can Answer All Your Questions
You don't want to choose an electrician who can't answer your questions. You most likely have a list of questions that you want to ask your potential electrician. How long will it take? How much will it cost? Why did my electrical system stop working? These are all questions to ask your master electrician.
However, if the electrician can't answer these questions, run the other way. You may find yourself wasting your time and money if your Suffolk County electrician can't, or won't, answer your questions.
They Have a Good Reputation
Finally, you should ensure the certified electrician has a good reputation. Ask those around you who have hired electricians before. Did they like the company? Did they help repair their electrical components? Did the electrical work go quickly and painlessly? These are all important questions to ask to get an idea of the company's reputation.
These are all essential qualities to look for in a certified electrician in Plum Island, NY. Whether you need to replace light fixtures or repair electrical wiring, you need to find a qualified electrician. Choose Absolute Electrical Service, Inc. if you want an electrician that can install and maintain your electrical system or repair electrical devices.
An electrician's work can be difficult, but it doesn't have to be. Call us at 631-567-1500 today to learn more about the services we offer.
---
Some information about Plum Island, NY
Plum Island is an island in the town of Southold in Suffolk County, New York, in the United States. The island is situated in Gardiners Bay, east of Orient Point, off the eastern end of the North Fork coast of Long Island. It is about 3 miles (4.8 km) long and 1 mile (1.6 km) wide at its widest point.
Plum Island was called 'Manittuwond' by the Native American Pequot Nation. It was probably first seen by Europeans in 1614 when Adriaen Block, a Dutchman employed by the Dutch West India Company, charted the area. The island was named from the beach plums that grow along the shores, and an old Dutch map made about 1640 shows the name 'Pruym Eyelant' (Plum Island). In 1659, the island was purchased by Samuel Wyllys III (Samuel Willis III), son of the Governor of Connecticut, from Wyandanch, the ruling local Indian Chieftain of Long Island, for a coat, a barrel of biscuits and 100 fishhooks.
On August 11, 1775, General David Wooster dispatched 120 soldiers to the island, then known as Plumb Island, who were immediately fired upon by the British. After firing a single return volley, the soldiers retreated back to Long Island. Although no casualties were reported, this brief skirmish is believed to have represented at least one American military 'first': the first amphibious assault by an American army.
The historic Plum Island Lighthouse is located at the west end of the island. The original lighthouse on Plum Island was constructed in 1827; the current structure was built in 1869. The light marks the east side of 'Plum Gut', a mile-wide entrance to Long Island Sound with extremely strong tidal currents. The light aided navigation near the entrance to Long Island Sound, especially through the 'Plum Gut' channel between Orient Point and Plum Island.
Useful links for Plum Island, NY
Directions from Plum Island, NY to Absolute Electrical Service, Inc.
---
Here are some electrician-related links: