Electrician in Oakdale, NY 11769
Qualities To Look for in a Certified Electrician in Oakdale, NY
Finding a Oakdale, NY electrician can feel overwhelming because there are so many qualified electricians all over the internet. How do you know you found the best electrician? How can you know that this company is the best one? Do the reviews always tell the truth?
Window shopping for a certified electrician is difficult, which is why Absolute Electrical Service, Inc. is here to help. There are a few things you should look for in the electrician you want to work with: their communication skills, their licenses, their reputation, and whether they can answer all your questions.
There's nothing wrong with interviewing the potential electrician companies in Suffolk County, so don't be afraid to talk to them before choosing who you want to go with. When you need an electrician's work done on your home or business's local building, call Absolute Electrical Service, Inc. today.
They Have Great Communication Skills
First, you want to ensure that the Oakdale, NY certified electrician has great communication skills. Your electrician will have to communicate with several people: you, their fellow electricians, your builders (if you're building a house), and more. Therefore, they need to have excellent communication skills.
If you choose an electrician without considering their ability to communicate, you may find yourself signing up for things you didn't expect because the electrician didn't communicate them to you. Protect yourself and your budget by ensuring that the electrician has great communication skills.
They Have the Proper Licensing Requirements
Next, you will need to ensure the Suffolk County electrician has all the proper licensing requirements. It takes a lot of work to become an electrician, and many go through apprenticeship programs and learn through job training.
You need to ensure the electrician has these licenses that states require. Also, make sure they follow the national electrical code, ensuring the certified electrician keeps you and your home safe.
They Can Answer All Your Questions
You don't want to choose an electrician who can't answer your questions. You most likely have a list of questions that you want to ask your potential electrician. How long will it take? How much will it cost? Why did my electrical system stop working? These are all questions to ask your master electrician.
However, if the electrician can't answer these questions, run the other way. You may find yourself wasting your time and money if your Suffolk County electrician can't, or won't, answer your questions.
They Have a Good Reputation
Finally, you should ensure the certified electrician has a good reputation. Ask those around you who have hired electricians before. Did they like the company? Did they help repair their electrical components? Did the electrical work go quickly and painlessly? These are all important questions to ask to get an idea of the company's reputation.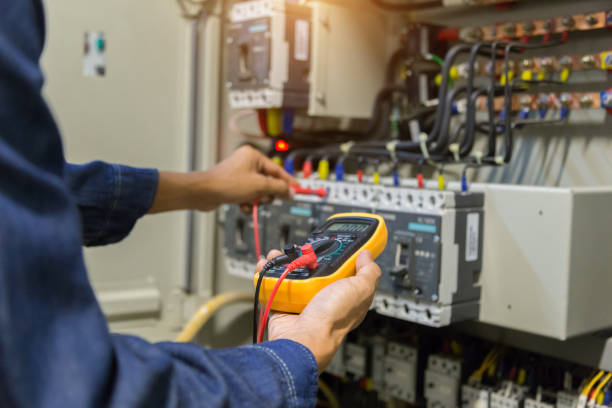 These are all essential qualities to look for in a certified electrician in Oakdale, NY. Whether you need to replace light fixtures or repair electrical wiring, you need to find a qualified electrician. Choose Absolute Electrical Service, Inc. if you want an electrician that can install and maintain your electrical system or repair electrical devices.
An electrician's work can be difficult, but it doesn't have to be. Call us at 631-567-1500 today to learn more about the services we offer.
---
Some information about Oakdale, NY
Oakdale is a hamlet in Suffolk County, New York, United States. The population was 7,974 at the 2010 census. Oakdale is in the Town of Islip. It has been home to Gilded Age mansions, the South Side Sportsmen's Club, and the main campus of Dowling College. It is now home to Connetquot River State Park Preserve.
Oakdale was founded around two Native American trade routes, where Sunrise Highway and Montauk Highway currently lie. Oakdale was part of the royal land grant given to William Nicoll, who founded Islip Town in 1697. Local historian Charles P. Dickerson wrote in 1975 that Oakdale's name appeared to come from a Nicoll descendant in the mid-19th century. The community includes: St. John's Episcopal Church, built in 1765, is the third oldest church on Long Island.
The community originated with a tavern owned by Eliphalet (Liff) Snedecor in what is now Connetquot River State Park Preserve. Soon after its founding in 1820, Snedecor's Tavern began drawing New York bluebloods and business barons who wined and dined in remote joy when they weren't fishing and hunting nearby. 'Liff's food is as good as his creek', a magazine writer declared in 1839 referring to the food and Connetquot River. The writer added: 'and the two are only second to his mint juleps and champagne punch; whoever gainsays either fact deserves hanging without benefit of clergy.'
In 1866, as the railroad reached the area, Liff's wealthy patrons formed the South Side Sportsmen's Club, and soon the race was on to see who could create the most superb spread in the thick forests adjoining Great South Bay. The most prominent were built by William K. Vanderbilt, grandson of railroad magnate Cornelius Vanderbilt; Frederick G. Bourne, president of the Singer Sewing Machine Co., and Christopher Robert II, an eccentric heir to a sugar fortune. Meanwhile, William Bayard Cutting, a lawyer, financier and railroad man, built his estate next door in Great River, New York which had once been west Oakdale.
Useful links for Oakdale, NY
Directions from Oakdale, NY to Absolute Electrical Service, Inc.
---
Here are some electrician-related links: