Electrician in Neponsit, NY 11694
Benefits of Finding a Residential Electrician in Neponsit, NY
When you think of hiring an electrician, you may think about businesses. After all, many business owners in Queens County don't have time to do their own electrical work. Therefore, they need to hire an electrician. But you don't need one for your home, right? The work isn't as large-scale, so you can do it yourself easily.
Unfortunately, that's not how it works. Whenever you need to repair electrical components, you should call a Neponsit, NY electrician. Most importantly, you should hire a residential electrician.
A qualified electrician can work on residential, commercial, and industrial locations, helping clients whenever they're needed. Absolute Electrical Service, Inc., for example, has electricians that can help no matter where you are in Queens County.
But how do you know you need a residential electrician? Below, Absolute Electrical Service, Inc. hopes to shed some light on the subject. Keep reading below to learn more.
When You Need a Residential Electrician
First, you may wonder when you need to hire a residential electrician in Neponsit, NY. There are many reasons you may need to hire an electrician, so it's easiest to say you should hire one whenever something is wrong with your electrical system. Whether your light fixtures flicker, your circuit breakers trip, or you have exposed electrical wiring, you should find an electrician.
How Can They Help Your Home?
You may wonder how a Queens County electrician can help your home. For one, they can keep your home safe. If you have exposed electrical wiring, you shouldn't mess with it without having the proper job training. You may find yourself making a mistake that can cost you your home. Therefore, a residential electrician can keep you and your home safe from danger.
Also, they can complete the job quickly and for a reasonable price. While you may not want to spend the extra cash on a master electrician, it's better than spending hundreds of dollars on power tools.
Is It Better to DIY?
You may wonder if it's sometimes best to DIY your electrical work. Unfortunately, messing with electrical devices is dangerous, and you never know what can happen. An electrician has gone through apprenticeship programs, and they follow the licensing requirements that all states require. For example, they understand the national electrical code that keeps clients safe from harm.
If you haven't sat through these training sessions, you may make a grave mistake. So even if it seems easy, step away from the electrical devices and leave the electrician's work to the professionals.
Who Should You Call?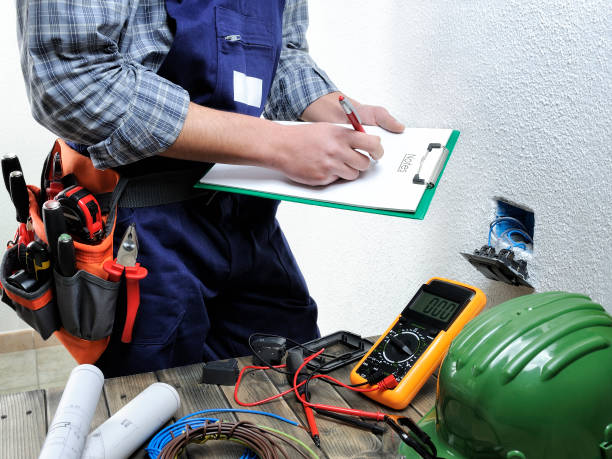 So who should you call if you need to hire a Neponsit, NY residential electrician? There are many electrician companies out there, so finding the perfect one may seem difficult. First, you should find a company that can install and maintain electrical devices in homes. Always choose an electrician that can work with residential electrical systems.
Also, you should find an electrician with raving reviews. While reviews don't always mean anything, they can point you to an excellent residential electrician.
To learn more about our work, call Absolute Electrical Service, Inc. at 718-229-9300 today.
---
Some information about Neponsit, NY
Neponsit is a small affluent neighborhood located on the western half of the Rockaway Peninsula, the southernmost area of the New York City borough of Queens. The area starts at Beach 142nd Street and ends at Beach 149th Street. It borders the neighborhood of Belle Harbor to the east and Jacob Riis Park on the west. Jamaica Bay and the Atlantic Ocean are the northern and southern borders. The neighborhood is part of Queens Community Board 14. As of January 1, 2007, the neighborhood's population reached just over 2,000, making it one of the smallest communities on the peninsula and in the entire borough of Queens.
Neponsit is a Native American name meaning 'the place between waters', the waters of the Atlantic Ocean and of Jamaica Bay or Rockaway Inlet.
The present community's character has persisted since it was established. In January 1910, the Neponsit Realty Company purchased the land for the development of an exclusive community. It forbade the construction of any homes that were inexpensive, and the homes were built in order to withstand the beach weather and geography of the narrow peninsula. The entrance to the area was originally marked by a massive ornamental gateway. More recently, a stretch of tree-dotted islands, called 'the malls', situated along Rockaway Beach Boulevard, was a distinguishing feature. It extended through Belle Harbor. By the 1930s, high quality homes were dominant in Neponsit.
The first transatlantic flight departed from Neponsit on May 8, 1919, when four United States Navy-Curtis model seaplanes took off from what is now Beach Channel Drive in Neponsit to Newfoundland, Canada, the Azores Islands, and Lisbon in Portugal. On May 31, 1919, a single plane piloted by Lt. Commander Albert C. Read arrived in Plymouth, England.
Useful links for Neponsit, NY
Directions from Neponsit, NY to Absolute Electrical Service, Inc.
---
Here are some electrician-related links: