Electrician in Munsey Park, NY 11030
How To Find Electrical Companies Near Me in Munsey Park, NY
When you need to search for an electrician in Munsey Park, NY, you may find yourself overwhelmed by the many options available. It's not as simple as searching "find electrical companies near me," choosing one, calling them, and fixing your electrical devices.
A lot of thought and consideration goes into choosing the right electrician for you and your needs, and you may struggle to find the best one if you don't know what questions you need to ask. That's why Absolute Electrical Service, Inc. is here to help you look for the right master electrician.
Things are even more complicated when looking for electrical companies near me. What job do you need to have done? Do you need someone to fit circuit breakers or fix light fixtures? Whatever you need, Absolute Electrical Service, Inc. can help you. Keep reading to learn how to find electrical companies in Nassau County.
Look at the Electricians They Hire
The most important part of hiring an electrical company is to look at the electricians they have. Just because you talked to someone on the phone doesn't mean they will be the one to work on your electrical system. Before deciding to go with the company, ask who will be working on your home.
There are several reasons you should know who will work on your house or local building for your business, which we will discuss below.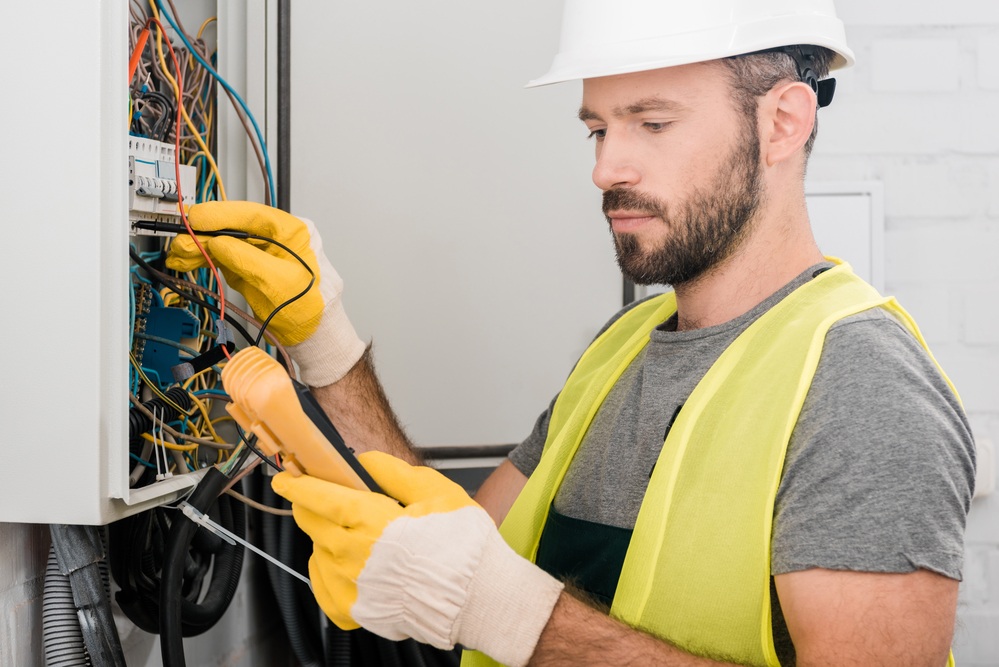 Do All Electricians Have the Proper Licenses?
First, you need to ensure all the electricians under the Munsey Park, NY electrical company have the proper licenses. You can't assume that everyone will have completed the necessary job training just because the company hired them.
Before signing any contracts, ask if the electricians within the company follow all the licensing requirements that most states require.
Do All Electricians Have Insurance?
Next, you need to make sure that all the electricians at the Nassau County electrical company have insurance. A lot can go wrong during electrician work, and you need to ensure the qualified electrician has insurance in case something goes wrong. You don't want to be liable if you, your home, or the electrician are at risk at any point.
Don't just ask if the company itself has insurance. Make sure you ask if every electrician working in the Munsey Park, NY company falls under that insurance.
Do They Have Special Training?
Finally, you must ask if the electricians have had any special training. Not every electrician in Nassau County specializes in the same thing. Some can repair electrical devices, while others specialize in electrical wiring repairs. Also, others can install and maintain your electrical system with the right power tools. You can't assume that the company will employ electricians that can do it all.
Ensure they have gone through job training or apprenticeship programs for their specialty as well. You don't want someone inexperienced to work on your electrical components. As we mentioned, electrical work can be dangerous. Be careful with who you choose.
When you want to find a great electrician and stop searching "find electrical companies near me," call Absolute Electrical Service, Inc. at 516-520-4700.
---
Some information about Munsey Park, NY
Munsey Park is a village in Nassau County, on the North Shore of Long Island, in New York, United States. It is considered part of the Greater Manhasset area, which is anchored by Manhasset. The population was 2,693 at the 2010 census.
The village was first developed in the 1920s on North Shore land previously owned by wealthy publisher Frank Munsey as a commuter town and 'model, restricted community' taking advantage of the Manhasset LIRR station. The land was bequeathed by Munsey to The Metropolitan Museum of Art in 1925, which developed the planned community under the leadership of museum president Robert W. DeForest. It was developed featuring Colonial-style houses and streets named for American artists. Much of the original landscaping was designed by the Olmsted Brothers.
In 1928, Munsey Park's first model home opened.
In 1930, residents voted to incorporate their community as a village, with its own municipal government and zoning ability. Residents incorporated after learning about the creation of a sewer district serving Greater Manhasset; the proposal led to a significant amount of concern amongst many of the locals, who were opposed to sewering the area.
Useful links for Munsey Park, NY
Directions from Munsey Park, NY to Absolute Electrical Service, Inc.
---
Here are some electrician-related links: