Electrician in Miller Place, NY 11764
Is an Emergency Electrician Necessary in Miller Place, NY?
No one likes it when their electrical system breaks down suddenly. Whether your lights go out or your circuit breakers trip, you may roll your eyes and sigh as you start to search the phone book to find a Miller Place, NY electrician.
However, many people may wonder if you need to hire an emergency electrician whenever something goes wrong with their Suffolk County home? You may not necessarily need to hire an electrician, but there are a few things to consider before skipping that call. That's why Absolute Electrical Service, Inc. is here to help.
Below, we'll discuss what you need to think about before calling an emergency electrician to repair your electrical components. If you determine that you need to hire an electrician, call Absolute Electrical Service, Inc. so that we can get your home's electrical system back on track. Keep reading below to learn when to hire an emergency electrician in Miller Place, NY.
How Much Work Do You Need To Do?
The first thing you should ask is how much work you need to have done with your electrical issue. Say your lights go out. If all you need to do is head to your circuit breakers and flick a switch, you don't need to call an electrician to your Suffolk County home.
However, if you need to diagnose an issue and repair it, you can't do that work by yourself. You should call a qualified electrician who can repair the electrical components quickly and safely.
Can You Survive Without It?
What is the problem that you may need to call an electrician for? Do you need to repair the issue right away, or can you survive with it for a while? As long as the problem won't pose any safety risks if you ignore it, you can hold off on calling an electrician to your Miller Place, NY house.
For example, if you need to replace a few light fixtures if they stop working, you can probably hold off on repairing those electrical devices.
Is Ignoring the Issue Dangerous?
However, as we mentioned, you should never ignore issues if they pose safety risks. For instance, you should never avoid calling an electrician if you notice exposed or broken electrical wiring. This is especially true if there is water around that area.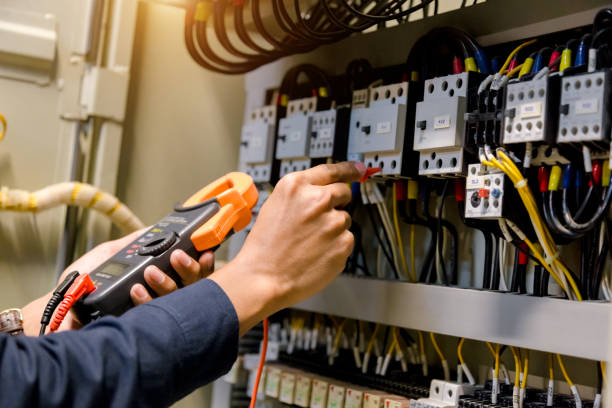 Your safety is always the first priority, so call a master electrician if you fear that your safety is at risk.
Call an Emergency Electrician
If you need to call an emergency electrician, call Absolute Electrical Service, Inc. at 631-567-1500. Our electricians have taken the proper apprenticeship programs and have the necessary job training to ensure they can diagnose, install, and maintain your electrical components.
If you need electrical work done, you need to find a qualified electrician in Suffolk County who will follow the national electrical code that all states require. Plus, you need an electrician who can finish the job quickly. After all, you want an emergency electrician to fix your problem so that you can move on with your day. When you need an emergency electrician for your home or local building in Miller Place, NY, call us today.
---
Some information about Miller Place, NY
Miller Place is a hamlet and census-designated place (CDP) in Suffolk County, New York, United States, on the North Shore of Long Island. Miller Place has been inhabited since the 17th century and is named for the Miller family that included many of its initial settlers. For most of its history, the community functioned as an agriculture-based society. Despite preserving much of its historic identity, changes in the 20th century have transitioned the hamlet into a desirable and densely populated suburban area. The population was 11,723 at the 2020 census.
The land that Miller Place occupies was purchased from the native Setalcott tribe in 1664 by settlers of Setauket. The parcel also included what would become Mount Sinai, New York, an adjacent community of similar character with which Miller Place would share a variety of functions throughout its history.
The first known dwelling in the area was constructed in the 1660s by Captain John Scott, an important figure in Long Island's early history. This house was named Braebourne and features on a map of the New England region credited to Scott, who served as a royal advisor and cartographer among other occupations. This abode, on the eastern side of Mount Sinai Harbor, was one of three houses John Scott commissioned, and the actual occupier is unknown.
The William Miller House, with sections dating from 1720 to 1816
While the original settler of Miller Place is unknown, the settling of the region is largely accredited to the original Miller family. In 1679, an East Hampton settler named Andrew Miller purchased a 30-acre (120,000 m2) plot. Miller was a cooper by profession, and records indicate that he had emigrated from either Maidstone, England or Craigmillar, Scotland.
Learn more about Miller Place.
Useful links for Miller Place, NY
Directions from Miller Place, NY to Absolute Electrical Service, Inc.
---
Here are some electrician-related links: