Electrician in Maspeth, NY 11378
Benefits of Finding a Residential Electrician in Maspeth, NY
When you think of hiring an electrician, you may think about businesses. After all, many business owners in Queens County don't have time to do their own electrical work. Therefore, they need to hire an electrician. But you don't need one for your home, right? The work isn't as large-scale, so you can do it yourself easily.
Unfortunately, that's not how it works. Whenever you need to repair electrical components, you should call a Maspeth, NY electrician. Most importantly, you should hire a residential electrician.
A qualified electrician can work on residential, commercial, and industrial locations, helping clients whenever they're needed. Absolute Electrical Service, Inc., for example, has electricians that can help no matter where you are in Queens County.
But how do you know you need a residential electrician? Below, Absolute Electrical Service, Inc. hopes to shed some light on the subject. Keep reading below to learn more.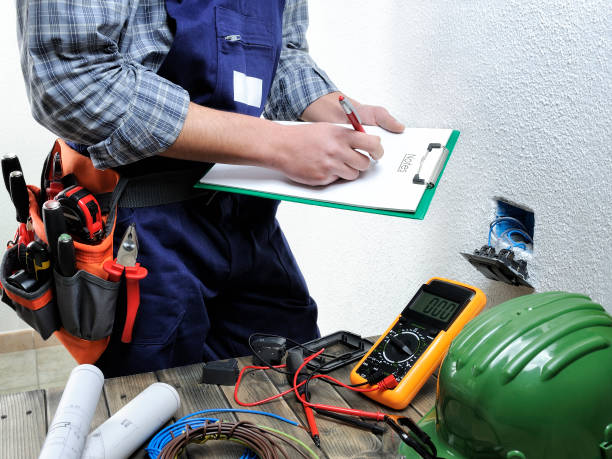 When You Need a Residential Electrician
First, you may wonder when you need to hire a residential electrician in Maspeth, NY. There are many reasons you may need to hire an electrician, so it's easiest to say you should hire one whenever something is wrong with your electrical system. Whether your light fixtures flicker, your circuit breakers trip, or you have exposed electrical wiring, you should find an electrician.
How Can They Help Your Home?
You may wonder how a Queens County electrician can help your home. For one, they can keep your home safe. If you have exposed electrical wiring, you shouldn't mess with it without having the proper job training. You may find yourself making a mistake that can cost you your home. Therefore, a residential electrician can keep you and your home safe from danger.
Also, they can complete the job quickly and for a reasonable price. While you may not want to spend the extra cash on a master electrician, it's better than spending hundreds of dollars on power tools.
Is It Better to DIY?
You may wonder if it's sometimes best to DIY your electrical work. Unfortunately, messing with electrical devices is dangerous, and you never know what can happen. An electrician has gone through apprenticeship programs, and they follow the licensing requirements that all states require. For example, they understand the national electrical code that keeps clients safe from harm.
If you haven't sat through these training sessions, you may make a grave mistake. So even if it seems easy, step away from the electrical devices and leave the electrician's work to the professionals.
Who Should You Call?
So who should you call if you need to hire a Maspeth, NY residential electrician? There are many electrician companies out there, so finding the perfect one may seem difficult. First, you should find a company that can install and maintain electrical devices in homes. Always choose an electrician that can work with residential electrical systems.
Also, you should find an electrician with raving reviews. While reviews don't always mean anything, they can point you to an excellent residential electrician.
To learn more about our work, call Absolute Electrical Service, Inc. at 718-229-9300 today.
---
Some information about Maspeth, NY
Maspeth is a residential and commercial community in the borough of Queens in New York City. It was founded in the early 17th century by Dutch and English settlers. Neighborhoods sharing borders with Maspeth are Woodside to the north; Sunnyside to the northwest; Greenpoint, Brooklyn to the west; East Williamsburg, Brooklyn to the southwest; Fresh Pond and Ridgewood to the south; and Middle Village and Elmhurst to the east.
The name 'Maspeth' is derived from the name of Mespeatches Indians, one of the 13 main Indian tribes that inhabited Long Island. It is translated to mean 'at the bad waterplace' relating to the many stagnant swamps that existed in the area.
The area known today as Maspeth was chartered by New Netherlanders and British settlers in the early 17th century. The Dutch had purchased land in the area known today as Queens in 1635, and within a few years began chartering towns. In 1642, they settled Maspat, under a charter granted to Rev. Francis Doughty, making Maspeth the first English settlement in Queens; the deed that was signed between the Native Americans and the settlers was the first one signed on Long Island. As part of the deed's signature, the 'Newtown Patent' granted 13,000 acres (5,300 ha) to settlers. Conflicts with the Maspat tribe forced many settlers to move to what is now Elmhurst in 1643. The settlement was leveled the following year in an attack by Native Indians, and the surviving settlers returned to Manhattan.
In 1652, settlers ventured back to the area, settling an area slightly inland from the previous Maspat location. This new area was called Middleburg, and eventually developed into what is now Elmhurst, bordering Maspeth. Originally, 28 English Quakers had founded the village of Maspeth, which had sizable water and milling industries along Newtown Creek and Maspeth Creek. Two storekeepers, Nathanial Hazard and Francis T. White, sold food and clothes at the Maspeth Town Docks, at what is now 56th Terrace and Rust Street, by the late 18th century. After the American Revolutionary War, villagers repaved roads with crushed oyster shells or wooden planks.
Useful links for Maspeth, NY
Directions from Maspeth, NY to Absolute Electrical Service, Inc.
---
Here are some electrician-related links: