Electrician in Lake Grove, NY 11755
Do You Need an Electric Service Near Me in Lake Grove, NY?
Whenever something starts to go wrong with your Suffolk County electrical system, you may groan. Circuit breakers tripping or broken electrical wiring can cause unexpected issues, dipping into your savings account if you need to call for help. However, how do you know when to search for someone for an electric service near me?
Do you need a Lake Grove, NY electrician whenever you have problems with your electrical components? While you don't need to call an electrician every time your lights flicker, it will help to know when you need to start searching for an electric service near me. And when you need one, call Absolute Electrical Service, Inc. at 631-567-1500.
It's important to note that if you don't have experience with an electrician's work, you should always err on the side of caution and call an electrician. Messing with exposed electrical wires is dangerous, so always take care of yourself and call Absolute Electrical Service, Inc. to keep yourself and your home safe. To learn about when you need an electric service, keep reading below.
How Major Is the Work?
The first question you must ask yourself is how major the work is. Do you need to change light fixtures but don't want to redesign and install your electrical system? If so, you probably don't need to hire an electrician. If it's a simple job that you know you can do yourself, you should be OK.
However, if you need to repair electrical components or mess with your electrical wiring with power tools, you should call an electrician in Suffolk County. As soon as electrical work includes a risk of injury, you should call someone else to do the job.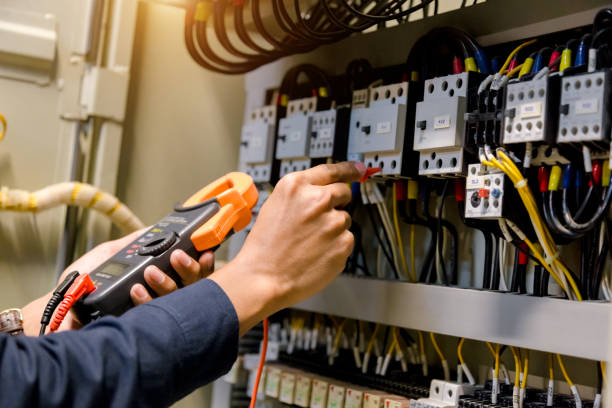 Will the Project Take a While?
Next, you should ask how long the project will take. If you only need to work for a day, you may not need to search for an electric service near me. However, you should call a Lake Grove, NY electrician if the electrician's work will take days, weeks, or even months to complete.
Long projects leave a lot of room for error, so choose a master electrician because they have the proper job training to complete the project.
Are There Electrical Problems?
Finally, consider if there are any electrical problems present. As we mentioned, electrical work can be dangerous if you haven't taken apprenticeship programs and don't follow the national electrical code that all states require. This code ensures that everyone and everything stays safe during an electrician's work. If you don't know these codes or don't have the necessary licensing requirements, you may not know how to handle these problems.
If you need to mess with broken or damaged electrical devices, you shouldn't do this job yourself. Find a qualified electrician in Suffolk County who can repair electrical components.
Who You Should Call
Now that you know when to find an electrician in Lake Grove, NY, you need to know who to call. Call Absolute Electrical Service, Inc. at 631-567-1500 when you need an electrician. We have the proper job training to keep you and your home safe, no matter what job you need to have done.
---
Some information about Lake Grove, NY
Lake Grove is a village in the town of Brookhaven, Suffolk County, New York, United States. The population was 11,163 at the 2010 census. The village is officially known as the Incorporated Village of Lake Grove.
The area of Lake Grove was settled in the early 18th century along Middle Country Road, which was then part of the Old Kings Highway, originally a Native American footpath. The community's first church building, built in 1818, was the First Congregational Church of New Village. Placed on the National Register of Historic Places in 2002, the building has been preserved and is depicted on the village seal. In 1870, Lake Grove established its first post office, which carried the mail to and from Lakeland station (discontinued in 1883) by horse and wagon. The area was variously called Lakeland, Lakeville, New Village, Ronkonkoma or West Middle Island until it settled on the name Lake Grove in mid-19th century, after the groves of trees near Lake Ronkonkoma.
During the early 20th century Lake Ronkonkoma became a popular area for recreation, which prompted many small summer houses built on private roads of Lake Grove. In 1921, a new post office was erected in the eastern part of the area and given the name of . The next significant housing development built in Lake Grove was called Brook Lawn and was located on Stony Brook Road, which later grew into Stony Brook. More developments followed and the population of Lake Grove increased rapidly. In 1954, newly built Nesconset Highway created a major commercial crossroad in Lake Grove, which prompted the construction of the Smith Haven Mall in 1968, which made the local residents become concerned about the impact of new businesses and increased traffic in their community. In order to gain local control of the zoning and planning, Lake Grove was incorporated by a vote of 552 to 332 on September 9, 1968.
Useful links for Lake Grove, NY
Directions from Lake Grove, NY to Absolute Electrical Service, Inc.
---
Here are some electrician-related links: