Electrician in Jackson Heights, NY 11372
Why You Must Hire a Licensed Electrician in Jackson Heights, NY
When something goes wrong with your Queens County electrical system, it's tempting to want to do the job yourself. However, without the proper job training, you can risk causing damage to your electrical devices, home, and yourself. That's why you must always hire a licensed electrician whenever something is off with your electricity.
But at Absolute Electrical Service, Inc., we understand that isn't enough to convince everyone to call a Jackson Heights, NY electrician. That's why we're here to tell you why you need to hire a licensed electrician instead of doing the job yourself.
Below, we'll discuss several important reasons to call a qualified electrician. When you need electrical help, call Absolute Electrical Service, Inc.. We follow the national electrical code that all states require, so you know we'll keep your home safe. Read on below if you need more convincing.
They Have the Right Tools
First, you should hire a licensed electrician in Queens County because they have the right power tools. You can't fix your electrical wiring with only a hammer and a screwdriver. The chances are unless you've gone through the proper apprenticeship programs, you don't know what tools you need to repair electrical problems.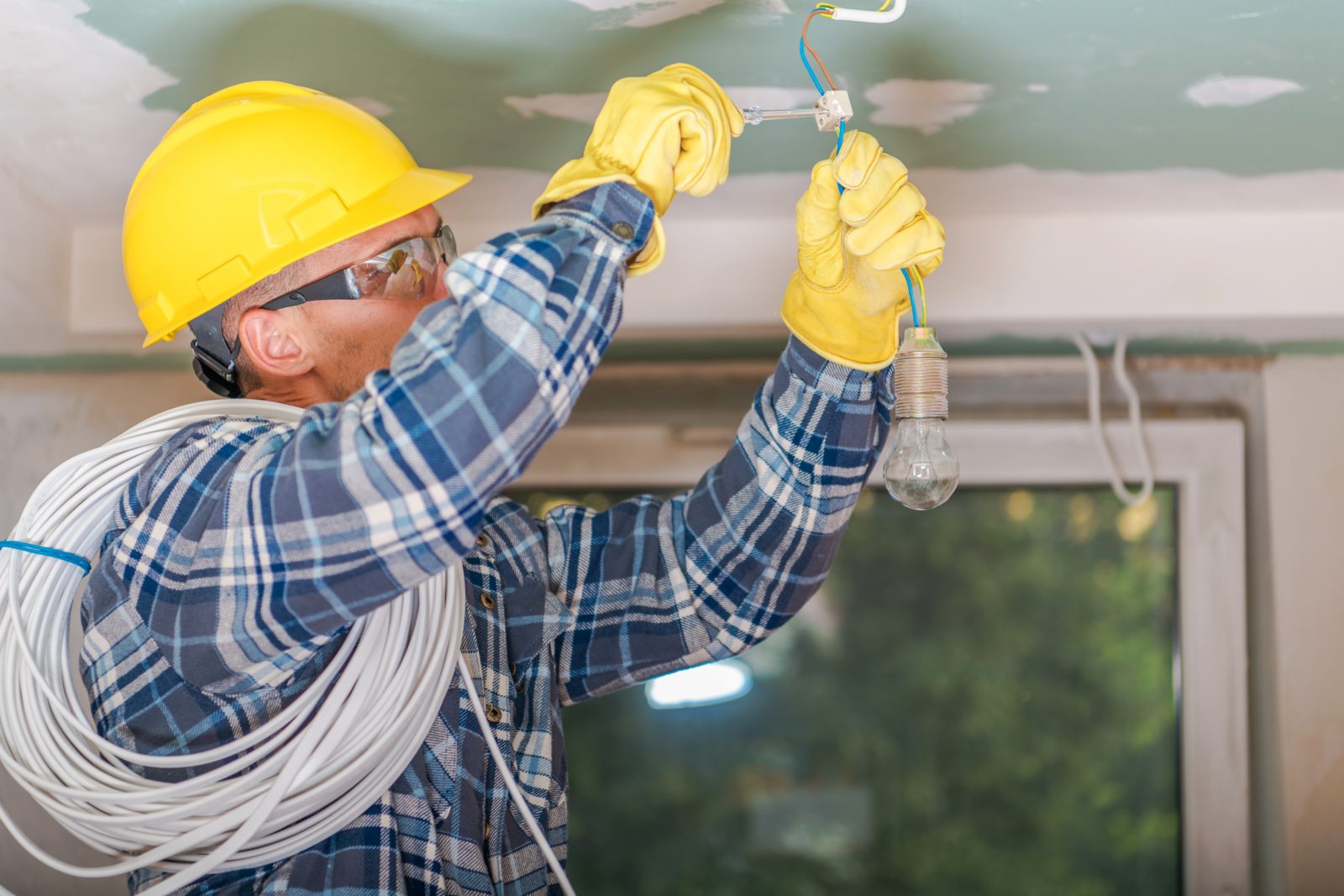 A full kit of power tools that electricians use can cost hundreds of dollars, so the DIY job may cost you more money upfront anyway. So leave the circuit breakers alone and call a Jackson Heights, NY electrician.
They Received Training
Next, you should hire a master electrician because they have all the necessary training. Would you ever walk into a hospital and tell the doctor to leave? No, because the doctor knows better than you. They went through years of specialized training to ensure they could help their patients.
The same goes for electricians. They have gone through programs and have followed all the licensing requirements to keep their clients safe. You haven't learned the ins and outs of electrical work the way an electrician has, so don't try to steal their job.
They'll Keep Your Home Safe
Because a Queens County electrician knows everything about electrician work, they know how to keep your home safe. Electrical components are tricky, whether you need to install and maintain light fixtures or fix broken wires. If you don't know what to do, you may make a mistake.
Unfortunately, electrical mistakes aren't forgiving. When you choose a licensed electrician in Jackson Heights, NY, you know that they'll do everything they can to keep your home or local building for your business safe.
They'll Save You Money
When you try to design or install electrical work, you may make mistakes. Unfortunately, you'll need to call an electrician to fix your mistakes. That will result in you spending more money than you have to.
It's always easier to call an electrician than to try to do the job yourself and fail. There are some jobs you should never DIY, and electrical work is one of them.
Call Absolute Electrical Service, Inc. at 718-229-9300 today if you want a quality licensed electrician who can keep your home and electrical components safe. Don't gamble with electrical work; call us today.
---
Some information about Jackson Heights, NY
Jackson Heights is a neighborhood in the northwestern portion of the borough of Queens in New York City. Jackson Heights is neighbored by North Corona to the east, Elmhurst to the south, Woodside to the west, northern Astoria (Ditmars-Steinway) to the northwest, and East Elmhurst to the northeast. Jackson Heights has an ethnically diverse community, with half the population having been foreign-born since the 2000s. According to the 2010 United States Census, the neighborhood has a population of 108,152.
From colonial times to the 1900s, the area now known as Jackson Heights was a vast marsh named Trains Meadow. Urbanization at the turn of the century was creating a New York City housing shortage and urban sprawl. In 1909, Edward A. MacDougall's Queensboro Corporation bought 325 acres (132 ha) of undeveloped land and farms and christened them Jackson Heights after John C. Jackson, a descendant of one of the original Queens families and a respected Queens County entrepreneur. Northern Boulevard, a major thoroughfare that bisects the neighborhood, was also originally named Jackson Avenue; the name of this road is still retained in a short stretch between Queens Plaza and Queens–Midtown Tunnel in Long Island City. Though the land was not especially known for its elevation, the addition of the term 'Heights' echoed the prestige of the neighborhood of Brooklyn Heights and indicated that Jackson Heights was meant to be an exclusive neighborhood. At that time the area could most easily be reached via a ferry from Manhattan or the Brooklyn Bridge; more direct access came with the Queensboro Bridge in 1909, followed by the elevated IRT Flushing Line—the present-day 7 train, just 20 minutes from Midtown Manhattan—in 1917, and the Fifth Avenue Coach Company double-decker coaches in 1922.
Jackson Heights was conceived as a planned development for middle- to upper-middle income workers looking to escape an overcrowded Manhattan. Inspired by Sir Ebenezer Howard's garden city movement, it was laid out by Edward MacDougall's Queensboro Corporation in 1916 and began attracting residents after the arrival of the Flushing Line in 1917. The Queensboro Corporation coined the name 'garden apartment' to convey the concept of apartments built around private parks. Although land for churches was provided, the apartments themselves were limited to White Anglo-Saxon Protestants, excluding Jews, Blacks, and perhaps Greeks and Italians.
Several of the buildings in Jackson Heights were built by the Queensboro Corporation as part of a planned community located a few blocks off of the Flushing Line between Northern Boulevard and 37th Avenue. Targeted toward the middle class, these multi-story apartment buildings designed in the Colonial Revival and neo-Tudor styles were based on similar ones in Berlin. They were to share garden spaces, have ornate exteriors and features such as fireplaces, parquet floors, sun rooms, and built-in bathtubs with showers; and be cooperatively owned. In addition, the corporation divided the land into blocks and building lots, as well as installed streets, sidewalks, and power, water, and sewage lines. The Laurel apartment building on 82nd Street at Northern Boulevard was the first of the Queensboro Corporation buildings in Jackson Heights, completed in 1914 with a small courtyard. The Greystones on either side of 80th Street between 37th and 35th avenues were completed in 1918 with a design by architect George H. Wells. There was leftover unused space, which was converted to parks, gardens, and recreational areas, including a golf course; much of this leftover space, including the golf course, no longer exists. This was followed by the 1919 construction of the Andrew J. Thomas–designed Linden Court, a 10-building complex between 84th Street, 85th Street, 37th Avenue, and Roosevelt Avenue. The two sets of 5 buildings each, separated by a gated garden with linden trees and two pathways, included parking spaces with single-story garages accessed via narrow driveways, the first Jackson Heights development to do so; gaps at regular intervals in the perimeter wall; a layout that provided light and ventilation to the apartments, as well as fostered a sense of belonging to a community; the area's first co-op; and now-prevalent private gardens surrounded by the building blocks.
Learn more about Jackson Heights.
Useful links for Jackson Heights, NY
Directions from Jackson Heights, NY to Absolute Electrical Service, Inc.
---
Here are some electrician-related links: