Electrician in Islip, NY 11702
When Would You Need a Commercial Electrician in Islip, NY?
Whether you own an office building, restaurant, retail store, or other local building, you know how essential electricity is to making everything work. You can't serve your customers and help your employees thrive if you don't have an electrical system to support your building. If you notice issues with your electrical components, you need to call a Islip, NY electrician.
If you're a new business owner, you may not know when you need to hire a commercial electrician and why they're so important. A commercial electrician in Suffolk County can help with large-scale issues, installing electrical systems, planning for new constructions, and more. Absolute Electrical Service, Inc. has commercial electricians that can help design and install electrical systems and more. When you need a qualified electrician, you must call Absolute Electrical Service, Inc..
Keep reading below to learn more about when you need a commercial electrician and what they can do to help your business.
There's a Large-Scale Issue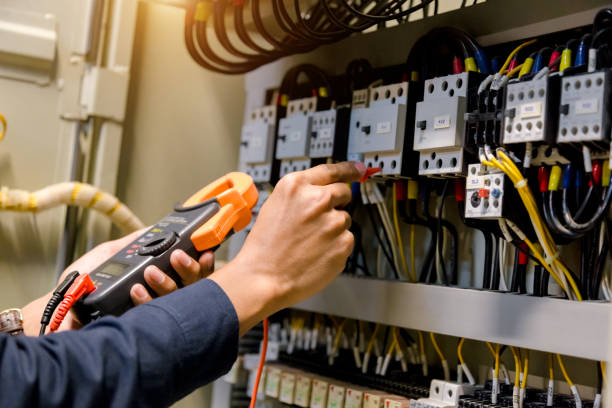 You may wonder if you need to hire a specialized electrician in Islip, NY when you need electrical work done in your business's building. Commercial buildings are usually much larger than homes. Even if you own a small boutique, you may need more extensive work done on your electrical components. That's why you need a commercial electrician.
Commercial electricians in Suffolk County have had the proper job training and apprenticeship programs, so they know everything they need to know about working on commercial buildings. You can't choose just any electrician for your business, so ensure you find the best.
Installing Electrical Systems
A commercial electrician in Islip, NY can also design and install electrical systems. When you need someone to install and maintain the electrical components, such as light fixtures, for your business's building, you should hire a commercial electrician.
Planning for New Construction
Also, you can hire an electrician who has experience with commercial work when you want to work on new construction. A master electrician can create blueprints for the new building so that everything lines up. They can also install light fixtures and other necessary electrical devices. You want the electricity in your business to work, so you must find an electrician who has taken the proper apprenticeship programs and can care for your business as if it were their own.
Should You Do the Work Yourself?
If you enjoy taking on DIY projects, you may want to do the electrician's work yourself. However, you should always call a Suffolk County electrician rather than doing it yourself. Electrical work can be dangerous. After all, a lot can go wrong if you mess with electrical wiring and circuit breakers.
You put a lot of time, work, and money into your business; the last thing you want is to worry about your business catching fire because you failed to DIY an electrical job. That's why you should always turn to an electrician in Islip, NY.
A commercial electrician has all the power tools they need to do the job right, and they follow the national electrical code that all states require.
When you need to find an electrician, call Absolute Electrical Service, Inc. at 631-567-1500. We provide electrical work to many other businesses in Suffolk County, so let us keep your business's electrical systems working!
---
Some information about Islip, NY
Islip is one of ten towns in Suffolk County, New York. Located on the south shore of Long Island, the town population was 335,543 at the 2010 census, it is the fourth most populous City or Town in the state.
Matthias Nicoll relocated to New York from Islip, Northamptonshire, England, in 1664.His son, William Nicoll, became a royal patentee of the east end of what is now the Town of Islip, and his domain reached from East Islip to Bayport and included Sayville, West Sayville, Oakdale, Great River, Islip Terrace, Central Islip, Hauppauge, Holbrook, Bohemia, Brentwood, Holtsville and a portion of Ronkonkoma. All of this land was bought from Winne-quaheagh, Sachem (chief) of Connetquot in 1683. The yearly fee paid to Governor Thomas Dongan of New York was five bushels of quality winter wheat or 25 shillings. Other early land patentees were Andrew Gibb (Islip Hamlet), John Mowbray (Bay Shore, originally Awixa), Stephan Van Cortlandt (Sagtikos Manor), and Thomas Willets (West Islip).
By 1710, the colonial government passed an act to enable the precinct of Islip in the County of Suffolk to elect two assessors, a collector, a constable and a supervisor. The people had a voice. Growth, however, remained at a standstill until the Revolutionary War ended when, in the 17 years that followed, there was more progress than in the 50 years preceding. This activity was partly due to the impact of American shipping.
By 1825, it was necessary to install a Fire Island light across the Great South Bay and regular ferry service between Bay Shore and Fire Island began in 1862. In 1867[?] the Long Island Rail Road came to Islip and the first depot was built. People were discovering Islip and the tourist trade soon took hold.
Useful links for Islip, NY
Directions from Islip, NY to Absolute Electrical Service, Inc.
---
Here are some electrician-related links: