Electrician in Howard Beach, NY 11414
Why You Must Hire a Licensed Electrician in Howard Beach, NY
When something goes wrong with your Queens County electrical system, it's tempting to want to do the job yourself. However, without the proper job training, you can risk causing damage to your electrical devices, home, and yourself. That's why you must always hire a licensed electrician whenever something is off with your electricity.
But at Absolute Electrical Service, Inc., we understand that isn't enough to convince everyone to call a Howard Beach, NY electrician. That's why we're here to tell you why you need to hire a licensed electrician instead of doing the job yourself.
Below, we'll discuss several important reasons to call a qualified electrician. When you need electrical help, call Absolute Electrical Service, Inc.. We follow the national electrical code that all states require, so you know we'll keep your home safe. Read on below if you need more convincing.
They Have the Right Tools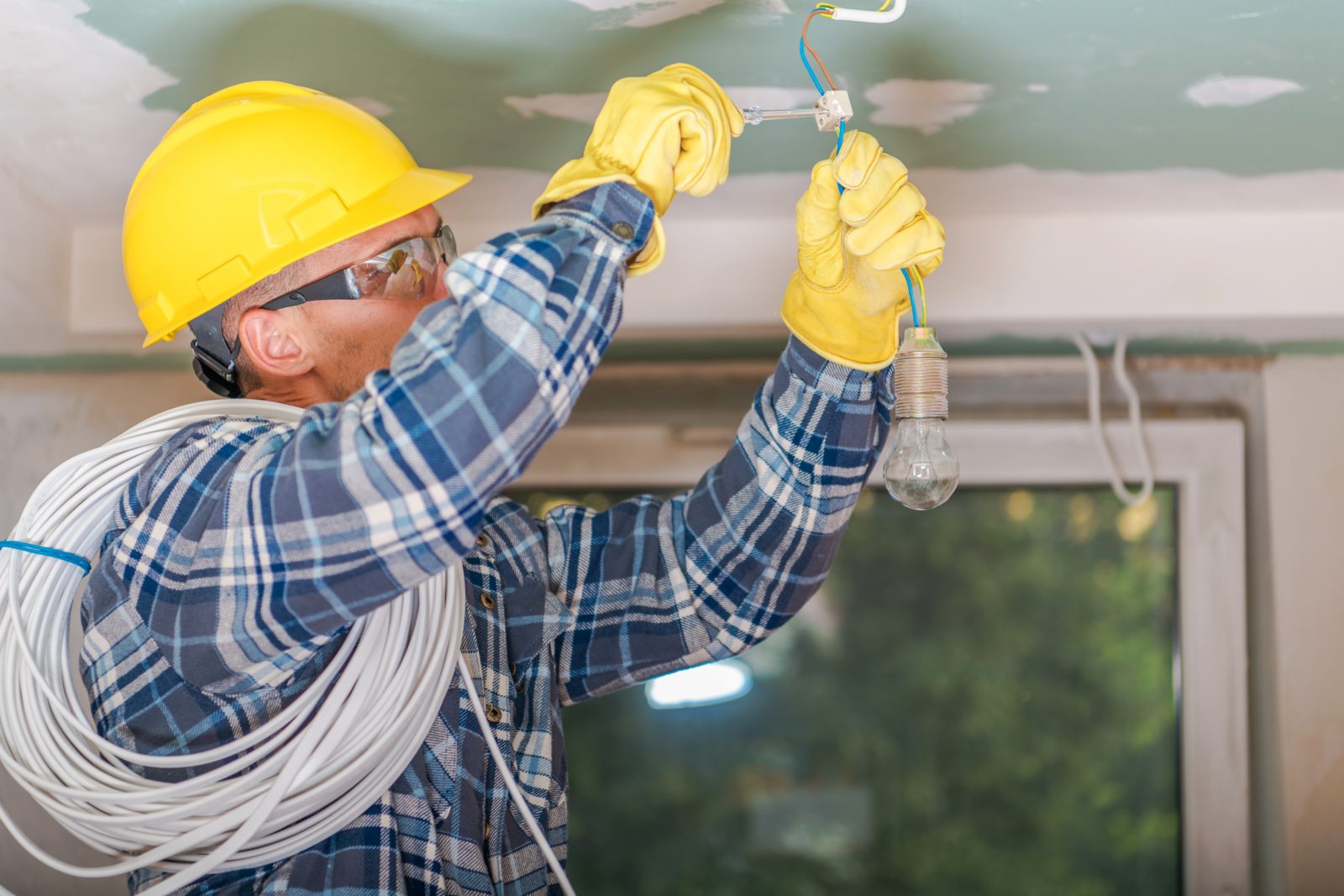 First, you should hire a licensed electrician in Queens County because they have the right power tools. You can't fix your electrical wiring with only a hammer and a screwdriver. The chances are unless you've gone through the proper apprenticeship programs, you don't know what tools you need to repair electrical problems.
A full kit of power tools that electricians use can cost hundreds of dollars, so the DIY job may cost you more money upfront anyway. So leave the circuit breakers alone and call a Howard Beach, NY electrician.
They Received Training
Next, you should hire a master electrician because they have all the necessary training. Would you ever walk into a hospital and tell the doctor to leave? No, because the doctor knows better than you. They went through years of specialized training to ensure they could help their patients.
The same goes for electricians. They have gone through programs and have followed all the licensing requirements to keep their clients safe. You haven't learned the ins and outs of electrical work the way an electrician has, so don't try to steal their job.
They'll Keep Your Home Safe
Because a Queens County electrician knows everything about electrician work, they know how to keep your home safe. Electrical components are tricky, whether you need to install and maintain light fixtures or fix broken wires. If you don't know what to do, you may make a mistake.
Unfortunately, electrical mistakes aren't forgiving. When you choose a licensed electrician in Howard Beach, NY, you know that they'll do everything they can to keep your home or local building for your business safe.
They'll Save You Money
When you try to design or install electrical work, you may make mistakes. Unfortunately, you'll need to call an electrician to fix your mistakes. That will result in you spending more money than you have to.
It's always easier to call an electrician than to try to do the job yourself and fail. There are some jobs you should never DIY, and electrical work is one of them.
Call Absolute Electrical Service, Inc. at 718-229-9300 today if you want a quality licensed electrician who can keep your home and electrical components safe. Don't gamble with electrical work; call us today.
---
Some information about Howard Beach, NY
Howard Beach is a neighborhood in the southwestern portion of the New York City borough of Queens. It is bordered to the north by the Belt Parkway and Conduit Avenue in Ozone Park, to the south by Jamaica Bay in Broad Channel, to the east by 102nd–104th Streets in South Ozone Park, and to the west by 75th Street in East New York, Brooklyn. The area consists mostly of low-rise single-family houses.
Howard Beach was established in 1897 by William J. Howard, a Brooklyn glove manufacturer who operated a 150-acre (0.61 km²) goat farm on meadow land near Aqueduct Racetrack as a source of skin for kid gloves. In 1897, he bought more land and filled it in and the following year, built 18 cottages and opened a hotel near the water, which he operated until it was destroyed by fire in October 1907. He gradually bought more land and formed the Howard Estates Development Company in 1909. He dredged and filled the land until he was able to accumulate 500 acres (2 km²) by 1914. He laid out several streets, water mains and gas mains, and built 35 houses that were priced in the $2,500–$5,000 range.
The Long Island Rail Road established a station named Ramblersville in 1905 and a Post Office by the same name opened soon thereafter. A casino, beach, and fishing pier were added in 1915 and the name of the neighborhood was changed to Howard Beach on April 6, 1916. Development continued and ownership was expanded to a group of investors who sold lots for about $690 each starting in 1922. Development, however, was limited to the areas east of Cross Bay Boulevard near the LIRR station now known as Bernard Coleman Memorial Square (then Lilly Place). The rest of Howard Beach consisted of empty marsh land except for the area to the south of Coleman Square, centered around Russell St. and 102nd St., which consisted of many small fishing bungalows that dotted alongside Hawtree Creek and Jamaica Bay. This area of Howard Beach would retain the name 'Ramblersville.' Despite its close proximity to the Howard Beach station at Coleman Square, the LIRR would establish a station a quarter of a mile south down the line at Hamilton Beach in 1919.
After World War II, Queens and Long Island went through a major suburban building boom leading to the marsh land west of Cross Bay Boulevard to be filled in. This led to the development of many Cape-Cod and High-Ranch style houses on 50 and 60 x 100 lots. This area was developed as 'Rockwood Park' to the north and 'Spring Park' to the south, together comprising what would be known as 'New Howard Beach', while the area east of the boulevard became known as 'Old Howard Beach.' In the early 1950s farm land north of Rockwood Park was developed with the building of many red-bricked two-story garden style cooperative apartments along with some six-story co-op and condo apartment buildings. A number of private two-family houses were also built in this neighborhood, which was named Lindenwood. The various neighborhoods continued to be developed through the 1960s and 1970s as Cross Bay Boulevard became the area's main shopping district. During the 1990s and 2000s, there was further high-scale development as many of the area's old houses were torn down and replaced with upscale million-dollar mini-mansions.
Learn more about Howard Beach.
Useful links for Howard Beach, NY
Directions from Howard Beach, NY to Absolute Electrical Service, Inc.
---
Here are some electrician-related links: