Electrician in Holtsville, NY 11742
When Would You Need a Commercial Electrician in Holtsville, NY?
Whether you own an office building, restaurant, retail store, or other local building, you know how essential electricity is to making everything work. You can't serve your customers and help your employees thrive if you don't have an electrical system to support your building. If you notice issues with your electrical components, you need to call a Holtsville, NY electrician.
If you're a new business owner, you may not know when you need to hire a commercial electrician and why they're so important. A commercial electrician in Suffolk County can help with large-scale issues, installing electrical systems, planning for new constructions, and more. Absolute Electrical Service, Inc. has commercial electricians that can help design and install electrical systems and more. When you need a qualified electrician, you must call Absolute Electrical Service, Inc..
Keep reading below to learn more about when you need a commercial electrician and what they can do to help your business.
There's a Large-Scale Issue
You may wonder if you need to hire a specialized electrician in Holtsville, NY when you need electrical work done in your business's building. Commercial buildings are usually much larger than homes. Even if you own a small boutique, you may need more extensive work done on your electrical components. That's why you need a commercial electrician.
Commercial electricians in Suffolk County have had the proper job training and apprenticeship programs, so they know everything they need to know about working on commercial buildings. You can't choose just any electrician for your business, so ensure you find the best.
Installing Electrical Systems
A commercial electrician in Holtsville, NY can also design and install electrical systems. When you need someone to install and maintain the electrical components, such as light fixtures, for your business's building, you should hire a commercial electrician.
Planning for New Construction
Also, you can hire an electrician who has experience with commercial work when you want to work on new construction. A master electrician can create blueprints for the new building so that everything lines up. They can also install light fixtures and other necessary electrical devices. You want the electricity in your business to work, so you must find an electrician who has taken the proper apprenticeship programs and can care for your business as if it were their own.
Should You Do the Work Yourself?
If you enjoy taking on DIY projects, you may want to do the electrician's work yourself. However, you should always call a Suffolk County electrician rather than doing it yourself. Electrical work can be dangerous. After all, a lot can go wrong if you mess with electrical wiring and circuit breakers.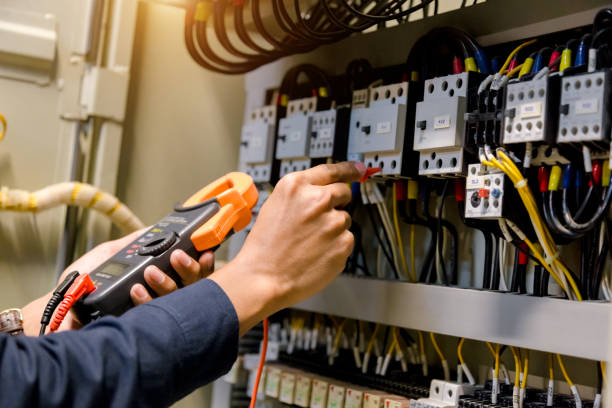 You put a lot of time, work, and money into your business; the last thing you want is to worry about your business catching fire because you failed to DIY an electrical job. That's why you should always turn to an electrician in Holtsville, NY.
A commercial electrician has all the power tools they need to do the job right, and they follow the national electrical code that all states require.
When you need to find an electrician, call Absolute Electrical Service, Inc. at 631-567-1500. We provide electrical work to many other businesses in Suffolk County, so let us keep your business's electrical systems working!
---
Some information about Holtsville, NY
Holtsville is a hamlet and census-designated place (CDP) in Suffolk County, New York, United States. The population was 19,714 at the 2010 census.
The hamlet known today as Holtsville included only a few farmhouses in the late 18th century. In 1843, the Long Island Rail Road opened its Waverly station. Maps from that period label the area as Waverly, and a stagecoach line ran north–south along present day Waverly Avenue. As another post office named Waverly already existed in New York, the name of the hamlet was changed to Holtsville in 1860, in honor of U.S. Postmaster General Joseph Holt. As of 1874, Holtsville consisted of 15 houses, a school, and a general store. The train station retained the name 'Waverly' for some time, but was eventually also changed to Holtsville, probably in the 1890s, after farmers complained about their shipments going upstate by mistake. In 1916, the Suffolk County Tuberculosis Sanatorium opened on land that was considered Holtsville at the time, but is now part of the hamlet of Selden. The site later became the location of the main campus of Suffolk County Community College.
The Internal Revenue Service opened a large processing center on a 67-acre (270,000 m2) site in the hamlet in 1972.
The rail era in Holtsville ended in 1998, when a number of LIRR stations closed due to low ridership. Holtsville commuters were advised to use Medford and Ronkonkoma stations; more use Ronkonkoma because, except for a few peak-hour trains terminating in Mineola or Hicksville, boarding at Medford would require transfer to an electric train at Ronkonkoma anyway.
Useful links for Holtsville, NY
Directions from Holtsville, NY to Absolute Electrical Service, Inc.
---
Here are some electrician-related links: