Electrician in Hauppauge, NY 11749
When Would You Need a Commercial Electrician in Hauppauge, NY?
Whether you own an office building, restaurant, retail store, or other local building, you know how essential electricity is to making everything work. You can't serve your customers and help your employees thrive if you don't have an electrical system to support your building. If you notice issues with your electrical components, you need to call a Hauppauge, NY electrician.
If you're a new business owner, you may not know when you need to hire a commercial electrician and why they're so important. A commercial electrician in Suffolk County can help with large-scale issues, installing electrical systems, planning for new constructions, and more. Absolute Electrical Service, Inc. has commercial electricians that can help design and install electrical systems and more. When you need a qualified electrician, you must call Absolute Electrical Service, Inc..
Keep reading below to learn more about when you need a commercial electrician and what they can do to help your business.
There's a Large-Scale Issue
You may wonder if you need to hire a specialized electrician in Hauppauge, NY when you need electrical work done in your business's building. Commercial buildings are usually much larger than homes. Even if you own a small boutique, you may need more extensive work done on your electrical components. That's why you need a commercial electrician.
Commercial electricians in Suffolk County have had the proper job training and apprenticeship programs, so they know everything they need to know about working on commercial buildings. You can't choose just any electrician for your business, so ensure you find the best.
Installing Electrical Systems
A commercial electrician in Hauppauge, NY can also design and install electrical systems. When you need someone to install and maintain the electrical components, such as light fixtures, for your business's building, you should hire a commercial electrician.
Planning for New Construction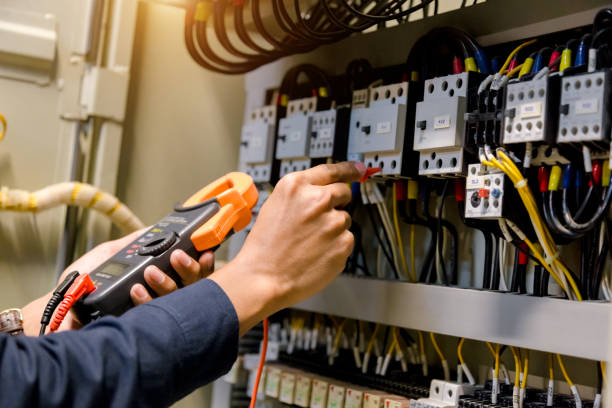 Also, you can hire an electrician who has experience with commercial work when you want to work on new construction. A master electrician can create blueprints for the new building so that everything lines up. They can also install light fixtures and other necessary electrical devices. You want the electricity in your business to work, so you must find an electrician who has taken the proper apprenticeship programs and can care for your business as if it were their own.
Should You Do the Work Yourself?
If you enjoy taking on DIY projects, you may want to do the electrician's work yourself. However, you should always call a Suffolk County electrician rather than doing it yourself. Electrical work can be dangerous. After all, a lot can go wrong if you mess with electrical wiring and circuit breakers.
You put a lot of time, work, and money into your business; the last thing you want is to worry about your business catching fire because you failed to DIY an electrical job. That's why you should always turn to an electrician in Hauppauge, NY.
A commercial electrician has all the power tools they need to do the job right, and they follow the national electrical code that all states require.
When you need to find an electrician, call Absolute Electrical Service, Inc. at 631-567-1500. We provide electrical work to many other businesses in Suffolk County, so let us keep your business's electrical systems working!
---
Some information about Hauppauge, NY
Hauppauge is a hamlet and census-designated place (CDP) in the towns of Islip and Smithtown in Suffolk County, New York, United States. The population was 20,882 at the time of the 2010 census.
The first house in greater Hauppauge, according to historian Simeon Wood, dates as far back as 1731, being located on what would be the Arbuckle Estate, and later the southeast corner of the Hauppauge Industrial Park, near the intersection of Motor Parkway and Old Willets Path. The settlement of Hauppauge proper commenced with the family of Thomas Wheeler prior to 1753, at the present-day location of the Wave gas station between Townline and Wheeler Road. The locale would take the Wheelers' name as its own until the 1860s when the name Hauppauge was restored. On March 13, 1806, 'a meeting of the male members of the Methodist Society of the 'Haupogues' was convened at the School House agreeable to public notice for the express purpose of Incorporating and Electing Trustees for said Society.' The first trustees elected at the meeting presided by Timothy Wheeler and Issac Wheeler were Issac Nichols, Elkanah Wheeler, George Wheeler, and Samuel Brush. They were known as the 'Trustees of the Methodist Episcopal Church and Congregation of the Haupogues'. In 1812 the Hauppauge Methodist Church that stands today was constructed on land donated by the Wheeler family.
Hauppauge gained significance as a waypoint on the King's Highway, laid out by the colonial legislature of New York in 1702. The present-day right of way departs westward from Route 111 as Conklin's Road or Half Mile Road, passing St. Thomas More Roman Catholic Church before terminating at the border between Smithtown and Islip. Hauppauge was effectively split between the towns of Smithtown and Islip in 1798 with the survey of New Highway, or what is now known as Townline Road (County Route 76).
Useful links for Hauppauge, NY
Directions from Hauppauge, NY to Absolute Electrical Service, Inc.
---
Here are some electrician-related links: