Electrician in Hampton Bays, NY 11946
When Would You Need a Commercial Electrician in Hampton Bays, NY?
Whether you own an office building, restaurant, retail store, or other local building, you know how essential electricity is to making everything work. You can't serve your customers and help your employees thrive if you don't have an electrical system to support your building. If you notice issues with your electrical components, you need to call a Hampton Bays, NY electrician.
If you're a new business owner, you may not know when you need to hire a commercial electrician and why they're so important. A commercial electrician in Suffolk County can help with large-scale issues, installing electrical systems, planning for new constructions, and more. Absolute Electrical Service, Inc. has commercial electricians that can help design and install electrical systems and more. When you need a qualified electrician, you must call Absolute Electrical Service, Inc..
Keep reading below to learn more about when you need a commercial electrician and what they can do to help your business.
There's a Large-Scale Issue
You may wonder if you need to hire a specialized electrician in Hampton Bays, NY when you need electrical work done in your business's building. Commercial buildings are usually much larger than homes. Even if you own a small boutique, you may need more extensive work done on your electrical components. That's why you need a commercial electrician.
Commercial electricians in Suffolk County have had the proper job training and apprenticeship programs, so they know everything they need to know about working on commercial buildings. You can't choose just any electrician for your business, so ensure you find the best.
Installing Electrical Systems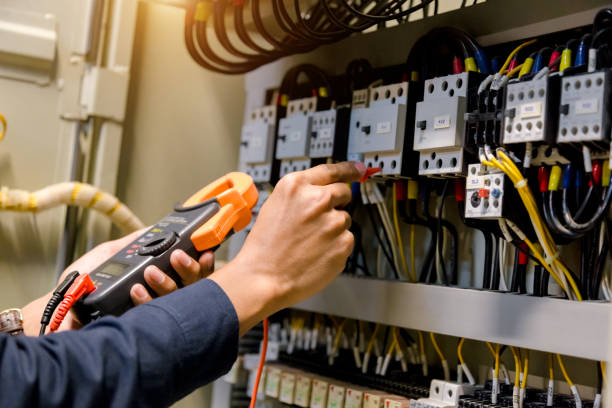 A commercial electrician in Hampton Bays, NY can also design and install electrical systems. When you need someone to install and maintain the electrical components, such as light fixtures, for your business's building, you should hire a commercial electrician.
Planning for New Construction
Also, you can hire an electrician who has experience with commercial work when you want to work on new construction. A master electrician can create blueprints for the new building so that everything lines up. They can also install light fixtures and other necessary electrical devices. You want the electricity in your business to work, so you must find an electrician who has taken the proper apprenticeship programs and can care for your business as if it were their own.
Should You Do the Work Yourself?
If you enjoy taking on DIY projects, you may want to do the electrician's work yourself. However, you should always call a Suffolk County electrician rather than doing it yourself. Electrical work can be dangerous. After all, a lot can go wrong if you mess with electrical wiring and circuit breakers.
You put a lot of time, work, and money into your business; the last thing you want is to worry about your business catching fire because you failed to DIY an electrical job. That's why you should always turn to an electrician in Hampton Bays, NY.
A commercial electrician has all the power tools they need to do the job right, and they follow the national electrical code that all states require.
When you need to find an electrician, call Absolute Electrical Service, Inc. at 631-567-1500. We provide electrical work to many other businesses in Suffolk County, so let us keep your business's electrical systems working!
---
Some information about Hampton Bays, NY
Hampton Bays is a hamlet and census-designated place (CDP) in the Town of Southampton in Suffolk County, on Long Island, in New York, United States. It is considered as part of the region of Long Island known as The Hamptons. The population was 13,603 at the 2010 census.
The hamlet was settled in 1740 as 'Good Ground', which became the main hamlet of eleven in the immediate area. The area where Main Street, also known as Montauk Highway, is located today, was the approximate area of the original hamlet.
There were ten other hamlets in the area. They were called Canoe Place, East Tiana, Newtown, Ponquogue, Rampasture, Red Creek, Squiretown, Southport, Springville, and West Tiana. Most of these hamlets were settled by one or two families and had their own school house. Many of the names from the former hamlets are still featured as local street names today.
As a result of the growth of the surrounding hamlets and villages in the Hamptons and increased tourism from New York City, the eleven hamlets, although generally called 'Good Ground' collectively by the early part of the 20th century, amalgamated under the name 'Hampton Bays' in 1922. The motive behind the name change was for the hamlet to benefit from the 'Hamptons' trade that the community's neighbors were experiencing.
Learn more about Hampton Bays.
Useful links for Hampton Bays, NY
Directions from Hampton Bays, NY to Absolute Electrical Service, Inc.
---
Here are some electrician-related links: