Electrician in Great Neck Plaza, NY 11021
How To Find an Electrician Near Me in Great Neck Plaza, NY
Working with electricity is no joke. Whether you're building a house from scratch or your power stopped working, you should never do this work on your own. That's why you need to find a Great Neck Plaza, NY electrician. After all, you need the right power tools and job training to do the job right. If you have never taken apprenticeship programs, you may make a dangerous mistake.
That's why you need to go online and search "how to find an electrician near me." However, you may feel overwhelmed by the many results that come up. That's why Absolute Electrical Service, Inc. is here with some tips for finding the best electrician in Nassau County. Keep reading below to learn how to find a qualified electrician for your home or local building.
When You May Need an Electrician
Many people want to DIY to save money, but how do you know you need an electrician rather than doing the job yourself? Can you change light figures on your own? What electrical work should you always hire an electrician for?
Some jobs that may require an electrician include tripped circuit breakers, exposed electrical wiring, loose electrical contacts, and a rising electricity bill. All these signs show that something is wrong with your electrical components. Therefore, you need to hire someone to repair electrical devices.
Also, you will need to hire an electrician if you are custom building a home. You want to ensure everything works together, so you need to hire a Great Neck Plaza, NY electrician to install and maintain your electrical system.
Check That They Have Licenses and Insurance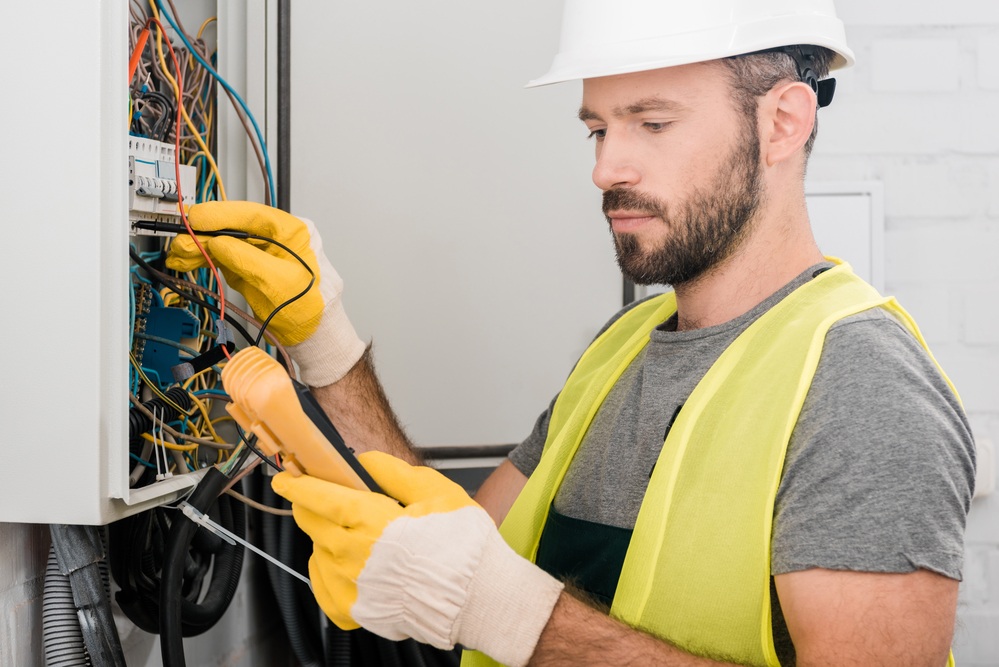 First, you want to ensure the master electrician you want to choose has the proper licenses and insurance. The electrician must follow the national electrical code, which is a set of standards to keep everyone safe when working with electricity.
Most states require electricians to have a license to work, so ensure they have taken the proper job training and courses before hiring them. The last thing you want is to find yourself in a sticky situation.
You also want to ensure the Nassau County electrician has insurance. If something goes wrong, you don't want to be reliable for it. Also, check that their licenses and insurance haven't expired. Just because they have a card doesn't mean it's still accurate.
Ask for Referrals
Next, you should ask for electrician referrals around Great Neck Plaza, NY. For example, if you work in a local building with other businesses that use electricians, ask who they use. If you are building a home, ask your contractors for referrals. They can help you find the best Nassau County electrician for your home.
What Services Do They Provide?
Finally, ask what services the electrician provides. A qualified electrician, like Absolute Electrical Service, Inc., may work with residential, commercial, and industrial locations. However, not every electrician does everything. Before choosing someone to do your electrician work, ensure they can work with your home or business.
These are a few tips to find an electrician near me in Great Neck Plaza, NY. Ensure they have the right licensing requirements, ask for referrals, check the services they do, and more. If you want to stop searching, "Find an electrician near me in Nassau County," call Absolute Electrical Service, Inc. at 516-520-4700 today.
---
Some information about Great Neck Plaza, NY
Great Neck Plaza is a village on the Great Neck Peninsula in the Town of North Hempstead, in Nassau County, on the North Shore of Long Island, in New York, United States. The population was 6,707 at the 2010 census.
The Village of Great Neck Plaza was incorporated on May 3, 1930.
In 1866, the New York and Flushing Railroad extended their main line into Great Neck through a subsidiary called the North Shore Railroad, thus transforming it from a farming community into a commuter town. The NY&F was consolidated into the Flushing and North Side Railroad in 1869, only to be merged into the Flushing, North Shore, and Central Railroad in 1874 and leased in 1876 by the LIRR. Throughout much of the late 19th Century, Great Neck was the terminus of what is today the Port Washington Branch of the LIRR. The village was incorporated in 1930, even as the station that led to its existence was being reconstructed. In addition to the railroad station, Great Neck Plaza contains other historic structures, such as the local post office and the Grace and Thomaston Buildings.
Great Neck Plaza encompasses a busy commercial district, two parks, as well as a residential section with many multiple dwellings and private homes. Although geographically the Village measures only a third of a square mile, it boasts a vibrant downtown including the Great Neck LIRR station, over 250 retail stores and service establishments, almost 90 multiple-family apartment buildings, 148 single family homes, approximately 40 office buildings, 2 four-star hotels, a nursing home, a senior independent living facility, and one assisted-care living facility.
Learn more about Great Neck Plaza.
Useful links for Great Neck Plaza, NY
Directions from Great Neck Plaza, NY to Absolute Electrical Service, Inc.
---
Here are some electrician-related links: