Electrician in Gordon Heights, NY 11763
What Are Residential Electricians Near Me in Gordon Heights, NY?
When you hear the word "electrician," your first thought is probably a residential electrician in Gordon Heights, NY. But is there a difference between residential electricians near me and other types of electricians, like commercial or industrial? Each electrical worker deals with different tasks and has unique specialties.
So you may ask yourself, "What are residential electricians near me, and what do I need them for?" Whether you need to have your electrical wiring fixed, repair your circuit breakers, or fix your light fixtures, you may benefit from an electrician in Suffolk County. When you need an electrician, call Absolute Electrical Service, Inc..
Our electricians have the proper job training that states require to keep your home safe. When you choose Absolute Electrical Service, Inc., you can stop searching for electricians in Gordon Heights, NY.
If you're still not sure when you need a residential electrician, keep reading below. We'll explain when it's time to hire an electrician.
Design Blueprints
Many people nowadays choose to build their houses from the ground up. When you custom designs your home, you also need an electrician to design and install your electrical system for the house. You don't want to live in the dark in your new home, so you need a Suffolk County electrician to design the blueprints for your house. Find a master electrician to help you design the perfect electrical system for your home.
Install Electrical Systems
Next, you will need an electrician in Gordon Heights, NY to install these electrical systems they designed. The electrician you hired will show up with all the necessary power tools to set up everything.
They can do everything, from installing light fixtures to connecting electricity from one room to another. You need to find a qualified electrician for this job since you want to ensure they do the job right. To find a qualified electrician, ensure you find one that has taken all the necessary apprenticeship programs and follows the national electrical code.
Diagnose Problems
You may also need an electrician even if you aren't building your house. Whenever you notice an issue with your electrical system, you should call a Suffolk County electrician. An electrician can show up at your home and diagnose the issue with your electrical components.
This can save you a lot of time that you would have spent messing with your electrical system. You never want to do an electrician's work on your own because you could potentially damage your home or harm yourself.
Maintain and Repair Electrical Components
Finally, a residential electrician can install and maintain your electrical system. Once they diagnose the issue with your system, they can repair any electrical components necessary. They have the proper licensing requirements to repair your electrical components. Before you know it, you can go back to relaxing in your home without concern.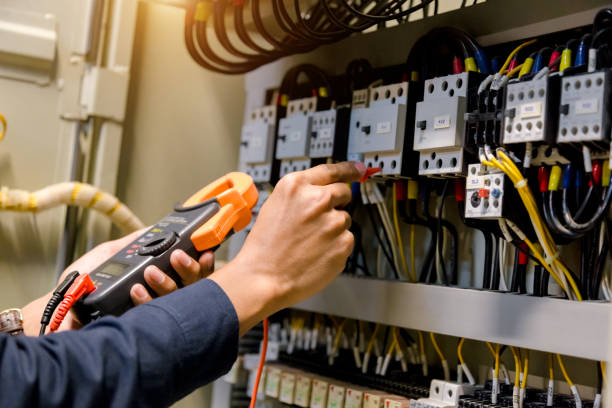 It's time to stop searching for residential electricians near me. When you need to hire an electrician in Suffolk County, call Absolute Electrical Service, Inc. at 631-567-1500. We can get your home back in working order quickly.
---
Some information about Gordon Heights, NY
Gordon Heights is a hamlet and census-designated place (CDP) in the Town of Brookhaven, Suffolk County, Long Island, New York, United States. The population was 4,042 at the 2010 census.
Gordon Heights had its beginnings in the early 1920s, when developer Louis Fife went to Black neighborhoods in New York City (Harlem, Brooklyn, and The Bronx) with the offer of land and a better life on Long Island. Land was offered as low as $10 down and $10 monthly or $10 weekly.
Promoted as a place that would be a solid, close-knit community of small farms, the pilgrimage to Long Island began in 1927. Gordon Heights was named after 'Pop' Gordon, a man who had previously owned most of the land that became part of the new community.
A civic association was formed to address the need of area residents. It would later become known as the Gordon Heights Progressive Association, which was founded in 1945. This group was the parent body of the Gordon Heights Fire Department.
Learn more about Gordon Heights.
Useful links for Gordon Heights, NY
Directions from Gordon Heights, NY to Absolute Electrical Service, Inc.
---
Here are some electrician-related links: