Electrician in Fort Salonga, NY 11768
What Are Residential Electricians Near Me in Fort Salonga, NY?
When you hear the word "electrician," your first thought is probably a residential electrician in Fort Salonga, NY. But is there a difference between residential electricians near me and other types of electricians, like commercial or industrial? Each electrical worker deals with different tasks and has unique specialties.
So you may ask yourself, "What are residential electricians near me, and what do I need them for?" Whether you need to have your electrical wiring fixed, repair your circuit breakers, or fix your light fixtures, you may benefit from an electrician in Suffolk County. When you need an electrician, call Absolute Electrical Service, Inc..
Our electricians have the proper job training that states require to keep your home safe. When you choose Absolute Electrical Service, Inc., you can stop searching for electricians in Fort Salonga, NY.
If you're still not sure when you need a residential electrician, keep reading below. We'll explain when it's time to hire an electrician.
Design Blueprints
Many people nowadays choose to build their houses from the ground up. When you custom designs your home, you also need an electrician to design and install your electrical system for the house. You don't want to live in the dark in your new home, so you need a Suffolk County electrician to design the blueprints for your house. Find a master electrician to help you design the perfect electrical system for your home.
Install Electrical Systems
Next, you will need an electrician in Fort Salonga, NY to install these electrical systems they designed. The electrician you hired will show up with all the necessary power tools to set up everything.
They can do everything, from installing light fixtures to connecting electricity from one room to another. You need to find a qualified electrician for this job since you want to ensure they do the job right. To find a qualified electrician, ensure you find one that has taken all the necessary apprenticeship programs and follows the national electrical code.
Diagnose Problems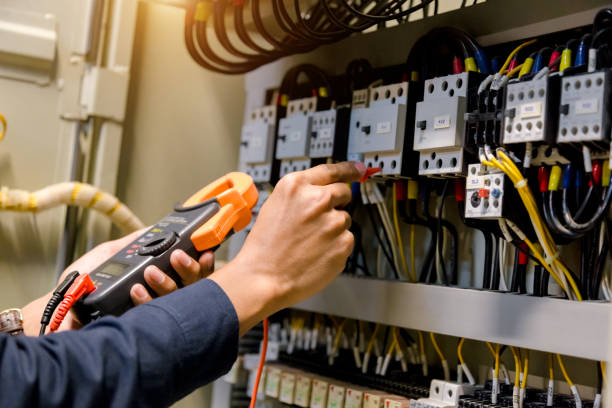 You may also need an electrician even if you aren't building your house. Whenever you notice an issue with your electrical system, you should call a Suffolk County electrician. An electrician can show up at your home and diagnose the issue with your electrical components.
This can save you a lot of time that you would have spent messing with your electrical system. You never want to do an electrician's work on your own because you could potentially damage your home or harm yourself.
Maintain and Repair Electrical Components
Finally, a residential electrician can install and maintain your electrical system. Once they diagnose the issue with your system, they can repair any electrical components necessary. They have the proper licensing requirements to repair your electrical components. Before you know it, you can go back to relaxing in your home without concern.
It's time to stop searching for residential electricians near me. When you need to hire an electrician in Suffolk County, call Absolute Electrical Service, Inc. at 631-567-1500. We can get your home back in working order quickly.
---
Some information about Fort Salonga, NY
Fort Salonga is a hamlet and census-designated place (CDP) in Suffolk County, New York on the North Shore of Long Island. At the 2010 census, the CDP population was 10,008. The name evolved from the Revolutionary War-era British Fort Salonga, or Fort Slongo, once located near the border of the towns of Huntington and Smithtown, overlooking Long Island Sound.
One night during the Revolutionary War, Colonial forces landed on the beach in nearby Crab Meadow, and moving down the beach overtook the fort.
In the post-Civil War era the rich red clay deposits gave birth to a successful brickworks as well as other trade. Barges loaded with manure swept from the streets of New York City would arrive, and farmers from nearby towns would come to get the manure for fertilizer. The emptied barges were then loaded with bricks for the trip back to the city. One of the brick companies to operate there in the late 19th century was owned by the Brown family, whose bricks bore the initials BBB for Brown's Best Bricks. The family home on the top of the hill on Breeze Hill Road has served as the clubhouse for the Indian Hills Country Club since 1963.
Learn more about Fort Salonga.
Useful links for Fort Salonga, NY
Directions from Fort Salonga, NY to Absolute Electrical Service, Inc.
---
Here are some electrician-related links: