Electrician in East Northport, NY 11731
Jobs That Require Electricians in My Area in East Northport, NY
Whenever you have problems with your circuit boards or electrical wiring, you need to call a East Northport, NY electrician. You never want to handle electrical work yourself because you can harm yourself, your home, or others. However, how do you know when a job requires you to search for "electricians in my area?"
Whether you need an electrician for residential, commercial, or industrial jobs, an electrician like Absolute Electrical Service, Inc. can help. Each job requires a different set of skills, so read here to learn more about each job and the Suffolk County electrician you need.
Once you decide to hire an electrician, call Absolute Electrical Service, Inc.. We have the proper licensing requirements and job training to keep your home or business safe.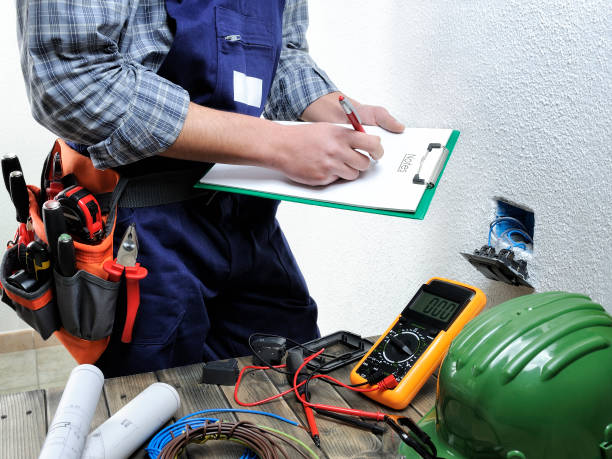 Residential Jobs
Do you need the light fixtures changed in your house, or do you need to repair your electrical devices? If so, you should call a East Northport, NY electrician that specializes in residential jobs. Residential jobs apply to any job related to a home.
An electrician can diagnose a problem with your electrical system and fix it without any worry. So you don't need to go a day without power when you search for electricians in my area.
Commercial Jobs
Do you run your own business in a local building in Suffolk County? If so, you need to hire an electrician. Business owners have a lot to maintain, and they shouldn't have to worry about electrician work on top of that.
When they have a large electrical issue that needs addressing immediately, they need to hire a master electrician. They can help with everything from setting up light fixtures, designing and installing electrical systems, and keeping everything in the building working. Ensure you find an electrician who follows the national electrical code that all states require.
Industrial Jobs
Industrial locations can be dangerous, especially if electricity doesn't work. That's why you need an industrial electrician in East Northport, NY if you work in an industrial location.
A qualified electrician can diagnose issues, design and install electrical systems, and keep your industrial site safe in case power goes down. You need an electrician who can repair electrical wiring. Additionally, you must find a company that follows the proper licensing requirements and has gone through apprenticeship programs.
Call Absolute Electrical Service, Inc.
There are many electricians in East Northport, NY, and their specialties can vary. Luckily, though, you can find an electrician, no matter what job you need to have done. Whether you need a residential, commercial, or industrial electrician in Suffolk County, you can call Absolute Electrical Service, Inc.. Our electricians have plenty of experience, so no matter what you need to have done, we can help.
So you can stop searching for electricians in my area. Call us today at 631-567-1500, and we can help you keep your home safe. Whether you have tripping circuit breakers, broken electrical wiring, or any other issues with electrical components, you can find an electrician who can help you.
---
Some information about East Northport, NY
East Northport is a hamlet and census-designated place (CDP) in the town of Huntington in Suffolk County, New York, United States. The population was 20,217 at the 2010 census.
Soon after the establishment of a village in the Huntington area, English settlers sought to further expand their territory. On July 30, 1656, land was purchased from Chief Asharoken, head of the Matinecocks Native American tribe, part of which consisted of the land that is today known as East Northport.
Two distinct communities formed in the area now known as East Northport. The more populous settlement known as Larkfield was located on the northern side, near Vernon Valley (now part of Northport). Larkfield originally developed near the location of Genola Cemetery, just north of the modern-day junction of Larkfield Road, Vernon Valley Road, and Laurel Road. A second community located on the southern side was known as Clay Pitts, named for its vast deposits of red clay. This clay which had been used by Native Americans to form pottery was used by the Europeans to form bricks for construction. The land between Larkfield and Clay Pitts was well suited for agriculture, and the region prospered in the late 18th century as a thriving farming community by supplying produce to markets in New York City and Brooklyn.
In 1868 the Long Island Rail Road opened a station within the village of Northport. However, just a few years later the LIRR decided to move the Northport station to a new location in Larkfield to facilitate further railway extension to Port Jefferson. The new railway station located at Larkfield Road and Bellerose Avenue opened on January 13, 1873. Although the station retained the name of Northport, train conductors would refer to it as 'East of Northport', because the station was located east of the railway junction which used to direct trains north to the old station located in the village of Northport. Despite the fact that East Northport is primarily south of Northport, the area became known thereafter as East Northport. The Larkfield Post Office formally changed its name to East Northport in 1910. The East Northport, New York post office building was renamed the Jerome Anthony Ambro, Jr. Post Office Building in 1998.
Learn more about East Northport.
Useful links for East Northport, NY
Directions from East Northport, NY to Absolute Electrical Service, Inc.
---
Here are some electrician-related links: