Electrician in East Marion, NY 11939
Jobs That Require Electricians in My Area in East Marion, NY
Whenever you have problems with your circuit boards or electrical wiring, you need to call a East Marion, NY electrician. You never want to handle electrical work yourself because you can harm yourself, your home, or others. However, how do you know when a job requires you to search for "electricians in my area?"
Whether you need an electrician for residential, commercial, or industrial jobs, an electrician like Absolute Electrical Service, Inc. can help. Each job requires a different set of skills, so read here to learn more about each job and the Suffolk County electrician you need.
Once you decide to hire an electrician, call Absolute Electrical Service, Inc.. We have the proper licensing requirements and job training to keep your home or business safe.
Residential Jobs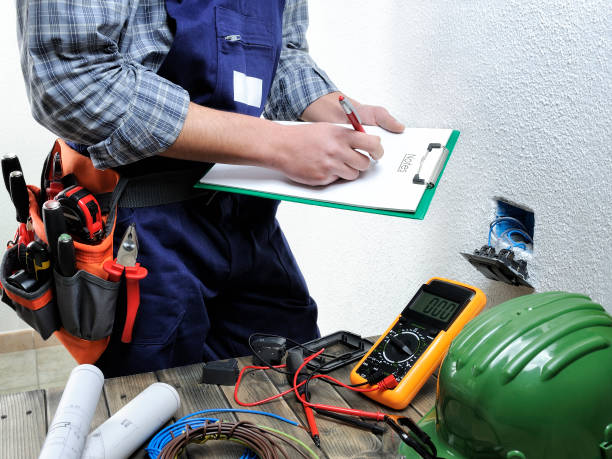 Do you need the light fixtures changed in your house, or do you need to repair your electrical devices? If so, you should call a East Marion, NY electrician that specializes in residential jobs. Residential jobs apply to any job related to a home.
An electrician can diagnose a problem with your electrical system and fix it without any worry. So you don't need to go a day without power when you search for electricians in my area.
Commercial Jobs
Do you run your own business in a local building in Suffolk County? If so, you need to hire an electrician. Business owners have a lot to maintain, and they shouldn't have to worry about electrician work on top of that.
When they have a large electrical issue that needs addressing immediately, they need to hire a master electrician. They can help with everything from setting up light fixtures, designing and installing electrical systems, and keeping everything in the building working. Ensure you find an electrician who follows the national electrical code that all states require.
Industrial Jobs
Industrial locations can be dangerous, especially if electricity doesn't work. That's why you need an industrial electrician in East Marion, NY if you work in an industrial location.
A qualified electrician can diagnose issues, design and install electrical systems, and keep your industrial site safe in case power goes down. You need an electrician who can repair electrical wiring. Additionally, you must find a company that follows the proper licensing requirements and has gone through apprenticeship programs.
Call Absolute Electrical Service, Inc.
There are many electricians in East Marion, NY, and their specialties can vary. Luckily, though, you can find an electrician, no matter what job you need to have done. Whether you need a residential, commercial, or industrial electrician in Suffolk County, you can call Absolute Electrical Service, Inc.. Our electricians have plenty of experience, so no matter what you need to have done, we can help.
So you can stop searching for electricians in my area. Call us today at 631-567-1500, and we can help you keep your home safe. Whether you have tripping circuit breakers, broken electrical wiring, or any other issues with electrical components, you can find an electrician who can help you.
---
Some information about East Marion, NY
East Marion is a census-designated place (CDP) that roughly corresponds to the hamlet by the same name in the town of Southold in Suffolk County, New York, United States. The CDP population was 926 at the 2010 census.
The first inhabitants were the Orient Focus People, Native Americans who lived in the area about 1000 BC. They vanished long before the arrival in about 900 AD of the Corchaugs, who called the area Poquatuc. The Corchaugs were still present when six English families settled in 1661. The new residents called the area Oysterponds because of the abundant shellfish that they began to gather and sell to nearby communities. While farming remained the principal occupation, trading vessels began operating out of the sheltered harbor during the colonial period.
British troops landed in 1776 during the American Revolutionary War. Many families fled to Connecticut, and the Redcoats periodically plundered the farms they left behind. After Benedict Arnold switched sides, he organized raids on Connecticut from Oysterponds. The British returned during the War of 1812, setting up what turned out to be a porous blockade against American ships sailing to New York City. In 1814 Commodore Stephen Decatur anchored his American squadron off Trumans Beach but never engaged the British. After the war, renewed farming and fishing brought prosperity to Oysterponds. By 1840 more than 30 schooners were operating out of the harbor, carrying fish and produce.
Orient and East Marion originally were called Oysterponds Lower Neck and Oysterponds Upper Neck, respectively. In 1836, the two communities went their separate ways with new names. Orient was chosen to reflect the area's easternmost position on the North Fork of Long Island. East Marion was named for Gen. Francis Marion, the 'Swamp Fox' of the Revolutionary War. 'East' was tacked on because of an existing town of Marion upstate.
Useful links for East Marion, NY
Directions from East Marion, NY to Absolute Electrical Service, Inc.
---
Here are some electrician-related links: