Electrician in East Hampton, NY 11930
Jobs That Require Electricians in My Area in East Hampton, NY
Whenever you have problems with your circuit boards or electrical wiring, you need to call a East Hampton, NY electrician. You never want to handle electrical work yourself because you can harm yourself, your home, or others. However, how do you know when a job requires you to search for "electricians in my area?"
Whether you need an electrician for residential, commercial, or industrial jobs, an electrician like Absolute Electrical Service, Inc. can help. Each job requires a different set of skills, so read here to learn more about each job and the Suffolk County electrician you need.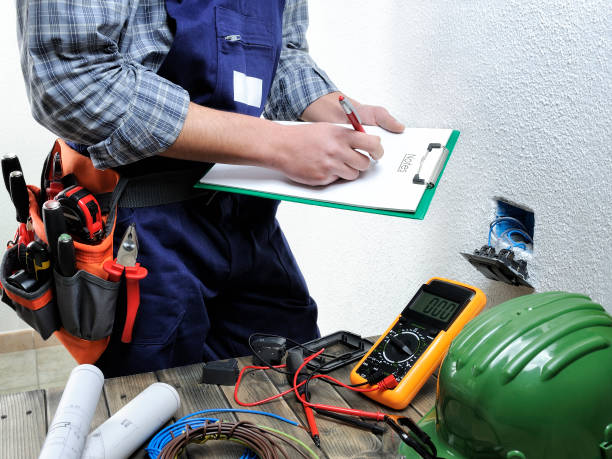 Once you decide to hire an electrician, call Absolute Electrical Service, Inc.. We have the proper licensing requirements and job training to keep your home or business safe.
Residential Jobs
Do you need the light fixtures changed in your house, or do you need to repair your electrical devices? If so, you should call a East Hampton, NY electrician that specializes in residential jobs. Residential jobs apply to any job related to a home.
An electrician can diagnose a problem with your electrical system and fix it without any worry. So you don't need to go a day without power when you search for electricians in my area.
Commercial Jobs
Do you run your own business in a local building in Suffolk County? If so, you need to hire an electrician. Business owners have a lot to maintain, and they shouldn't have to worry about electrician work on top of that.
When they have a large electrical issue that needs addressing immediately, they need to hire a master electrician. They can help with everything from setting up light fixtures, designing and installing electrical systems, and keeping everything in the building working. Ensure you find an electrician who follows the national electrical code that all states require.
Industrial Jobs
Industrial locations can be dangerous, especially if electricity doesn't work. That's why you need an industrial electrician in East Hampton, NY if you work in an industrial location.
A qualified electrician can diagnose issues, design and install electrical systems, and keep your industrial site safe in case power goes down. You need an electrician who can repair electrical wiring. Additionally, you must find a company that follows the proper licensing requirements and has gone through apprenticeship programs.
Call Absolute Electrical Service, Inc.
There are many electricians in East Hampton, NY, and their specialties can vary. Luckily, though, you can find an electrician, no matter what job you need to have done. Whether you need a residential, commercial, or industrial electrician in Suffolk County, you can call Absolute Electrical Service, Inc.. Our electricians have plenty of experience, so no matter what you need to have done, we can help.
So you can stop searching for electricians in my area. Call us today at 631-567-1500, and we can help you keep your home safe. Whether you have tripping circuit breakers, broken electrical wiring, or any other issues with electrical components, you can find an electrician who can help you.
---
Some information about East Hampton, NY
The Town of East Hampton is located in southeastern Suffolk County, New York, at the eastern end of the South Shore of Long Island. It is the easternmost town in the state of New York. At the time of the United States 2010 Census, it had a total population of 21,457.
This area had been inhabited for thousands of years by wandering tribes of indigenous peoples. At the time of European contact, East Hampton was home to the Pequot people, part of the culture that also occupied territory on the northern side of Long Island Sound, in what is now Connecticut of southern New England. They belong to the large Algonquian-speaking language family. Bands on Long Island were identified by their geographic locations. The historical people known to the colonists as the Montaukett, who were Pequot, controlled most of the territory at the east end of Long Island.
Indians inhabiting the western part of Long Island were part of the Lenape nation, whose language is also in the Algonquian family. Their territory extended to lower New York, western Connecticut and the mid-Atlantic coastal areas into New Jersey and Pennsylvania. Their bands were also known by the names of their geographic locations but did not constitute distinct peoples.
In the late-17th century Chief Wyandanch of the Montaukett negotiated with English colonists for the land in the East Hampton area. The differing concepts held by the Montaukett and English about land and its use contributed to the Montaukett losing most of their lands over the ensuing centuries. Wyandanch's elder brother, the grand sachem Poggaticut, sold an island to English colonist Lion Gardiner for 'a large black dog, some powder and shot, and a few Dutch blankets.' The next trade involved the land extending from present-day Southampton to the foot of the bluffs, at what is now Hither Hills State Park, for 24 hatchets, 24 coats, 20 looking glasses and 100 muxes.
Learn more about East Hampton.
Useful links for East Hampton, NY
Directions from East Hampton, NY to Absolute Electrical Service, Inc.
---
Here are some electrician-related links: