Electrician in East Garden City, NY 11530
How To Find an Electrician Near Me in East Garden City, NY
Working with electricity is no joke. Whether you're building a house from scratch or your power stopped working, you should never do this work on your own. That's why you need to find a East Garden City, NY electrician. After all, you need the right power tools and job training to do the job right. If you have never taken apprenticeship programs, you may make a dangerous mistake.
That's why you need to go online and search "how to find an electrician near me." However, you may feel overwhelmed by the many results that come up. That's why Absolute Electrical Service, Inc. is here with some tips for finding the best electrician in Nassau County. Keep reading below to learn how to find a qualified electrician for your home or local building.
When You May Need an Electrician
Many people want to DIY to save money, but how do you know you need an electrician rather than doing the job yourself? Can you change light figures on your own? What electrical work should you always hire an electrician for?
Some jobs that may require an electrician include tripped circuit breakers, exposed electrical wiring, loose electrical contacts, and a rising electricity bill. All these signs show that something is wrong with your electrical components. Therefore, you need to hire someone to repair electrical devices.
Also, you will need to hire an electrician if you are custom building a home. You want to ensure everything works together, so you need to hire a East Garden City, NY electrician to install and maintain your electrical system.
Check That They Have Licenses and Insurance
First, you want to ensure the master electrician you want to choose has the proper licenses and insurance. The electrician must follow the national electrical code, which is a set of standards to keep everyone safe when working with electricity.
Most states require electricians to have a license to work, so ensure they have taken the proper job training and courses before hiring them. The last thing you want is to find yourself in a sticky situation.
You also want to ensure the Nassau County electrician has insurance. If something goes wrong, you don't want to be reliable for it. Also, check that their licenses and insurance haven't expired. Just because they have a card doesn't mean it's still accurate.
Ask for Referrals
Next, you should ask for electrician referrals around East Garden City, NY. For example, if you work in a local building with other businesses that use electricians, ask who they use. If you are building a home, ask your contractors for referrals. They can help you find the best Nassau County electrician for your home.
What Services Do They Provide?
Finally, ask what services the electrician provides. A qualified electrician, like Absolute Electrical Service, Inc., may work with residential, commercial, and industrial locations. However, not every electrician does everything. Before choosing someone to do your electrician work, ensure they can work with your home or business.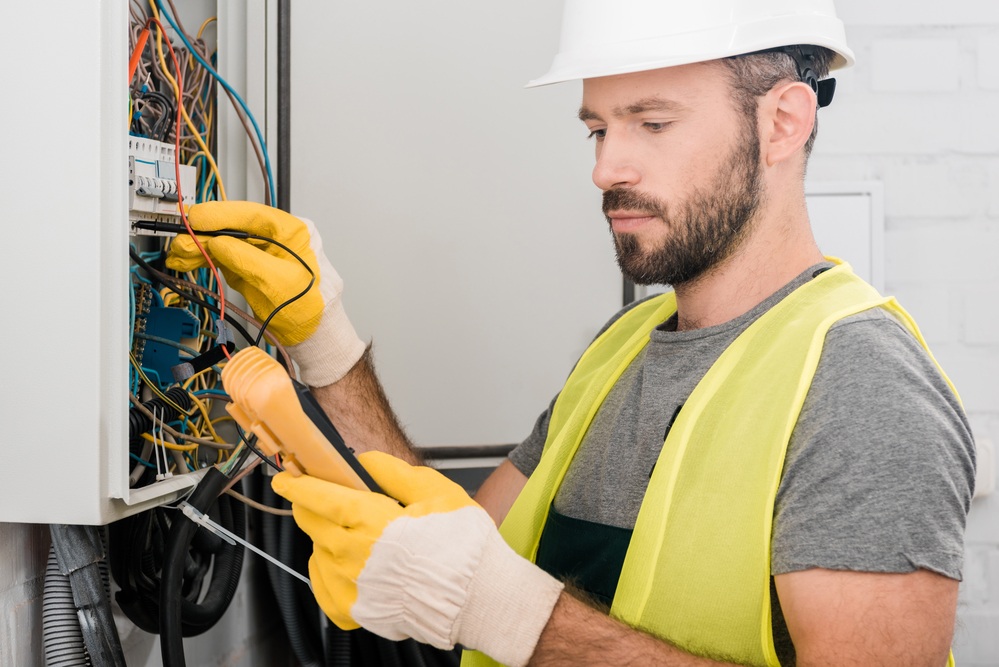 These are a few tips to find an electrician near me in East Garden City, NY. Ensure they have the right licensing requirements, ask for referrals, check the services they do, and more. If you want to stop searching, "Find an electrician near me in Nassau County," call Absolute Electrical Service, Inc. at 516-520-4700 today.
---
Some information about East Garden City, NY
East Garden City was a census-designated place (CDP) in the northeast part of the Town of Hempstead, in the central part of Nassau County, New York, along the Hempstead/North Hempstead town line. The population was 6,208 at the 2010 census, when it was listed as a CDP. Since then, it is now included in the Uniondale CDP.
East Garden City was located at 40°43′51″N 73°35′53″W / 40.73083°N 73.59806°W (40.730790, -73.598050).
Beginning on its northern border and proceeding clockwise, East Garden City was bordered on the North by Carle Place and the Village of Westbury in the Town of North Hempstead (the Hempstead/North Hempstead town line); on the East by East Meadow; on the South by Uniondale and the Village of Hempstead; and, on the West by the Village of Hempstead and the Village of Garden City.
East Garden City was one of many areas on Long Island where none of the places in the community have the hamlet name as part of their mailing address: places in East Garden City have either a 'Garden City, NY 11530', a 'Westbury, NY 11590', a 'Uniondale, NY 11553' or a 'Hempstead, NY 11550' mailing address.
Learn more about East Garden City.
Useful links for East Garden City, NY
Directions from East Garden City, NY to Absolute Electrical Service, Inc.
---
Here are some electrician-related links: