Electrician in Coram, NY 11727
Jobs That Require Electricians in My Area in Coram, NY
Whenever you have problems with your circuit boards or electrical wiring, you need to call a Coram, NY electrician. You never want to handle electrical work yourself because you can harm yourself, your home, or others. However, how do you know when a job requires you to search for "electricians in my area?"
Whether you need an electrician for residential, commercial, or industrial jobs, an electrician like Absolute Electrical Service, Inc. can help. Each job requires a different set of skills, so read here to learn more about each job and the Suffolk County electrician you need.
Once you decide to hire an electrician, call Absolute Electrical Service, Inc.. We have the proper licensing requirements and job training to keep your home or business safe.
Residential Jobs
Do you need the light fixtures changed in your house, or do you need to repair your electrical devices? If so, you should call a Coram, NY electrician that specializes in residential jobs. Residential jobs apply to any job related to a home.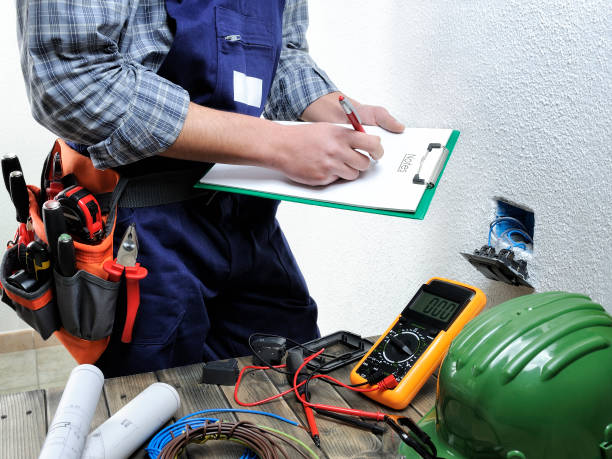 An electrician can diagnose a problem with your electrical system and fix it without any worry. So you don't need to go a day without power when you search for electricians in my area.
Commercial Jobs
Do you run your own business in a local building in Suffolk County? If so, you need to hire an electrician. Business owners have a lot to maintain, and they shouldn't have to worry about electrician work on top of that.
When they have a large electrical issue that needs addressing immediately, they need to hire a master electrician. They can help with everything from setting up light fixtures, designing and installing electrical systems, and keeping everything in the building working. Ensure you find an electrician who follows the national electrical code that all states require.
Industrial Jobs
Industrial locations can be dangerous, especially if electricity doesn't work. That's why you need an industrial electrician in Coram, NY if you work in an industrial location.
A qualified electrician can diagnose issues, design and install electrical systems, and keep your industrial site safe in case power goes down. You need an electrician who can repair electrical wiring. Additionally, you must find a company that follows the proper licensing requirements and has gone through apprenticeship programs.
Call Absolute Electrical Service, Inc.
There are many electricians in Coram, NY, and their specialties can vary. Luckily, though, you can find an electrician, no matter what job you need to have done. Whether you need a residential, commercial, or industrial electrician in Suffolk County, you can call Absolute Electrical Service, Inc.. Our electricians have plenty of experience, so no matter what you need to have done, we can help.
So you can stop searching for electricians in my area. Call us today at 631-567-1500, and we can help you keep your home safe. Whether you have tripping circuit breakers, broken electrical wiring, or any other issues with electrical components, you can find an electrician who can help you.
---
Some information about Coram, NY
Coram is a hamlet and census-designated place in the town of Brookhaven, Suffolk County, Long Island, New York, in the United States. As of the 2010 United States census, the CDP population was 39,113.
Coram is the oldest settlement in the central part of the town of Brookhaven. Its early name was 'Wincoram', perhaps the name of a Native American who lived in the area as late as 1703. The first European settler in the area was likely William Satterly, who sought permission to open a tavern to cater to travelers in 1677.
The NRHP-listed Lester H. Davis House on the northeast corner of Mount Sinai-Coram and Middle Country Roads.
During the American Revolutionary War, Benjamin Tallmadge with his contingent of Light Dragoons arrived and he with 12 Culper Ring men captured and burned 300 tons of hay the British were storing for winter to feed their horses. George Washington, on hearing the news, sent the following letter to Tallmadge:I have received with much pleasure the report of your successful enterprise upon fort St. George, and was pleased with the destruction of the hay at Coram, which must be severely felt by the enemy at this time. I beg you to accept my thanks for your spirited execution of this business. Annually Coram celebrates the event in October.
From 1784 to 1885, Coram served as the meeting place for the Town of Brookhaven government, using the Davis Town Meeting House for much of that period. The Davis House, built in the 1750s, was placed on the National Register of Historic Places in 2001 and is the oldest existing structure in Coram.
Useful links for Coram, NY
Directions from Coram, NY to Absolute Electrical Service, Inc.
---
Here are some electrician-related links: