Electrician in Cold Spring Harbor, NY 11724
What Makes a Master Electrician in Cold Spring Harbor, NY a Master?
Have you ever heard of the term master electrician? If so, you may wonder what makes a Cold Spring Harbor, NY electrician a master. Does it mean they can change light fixtures better than any other electrician in Suffolk County? Or can they design the perfect electrical system for your home? Is a master electrician and a qualified electrician the same thing?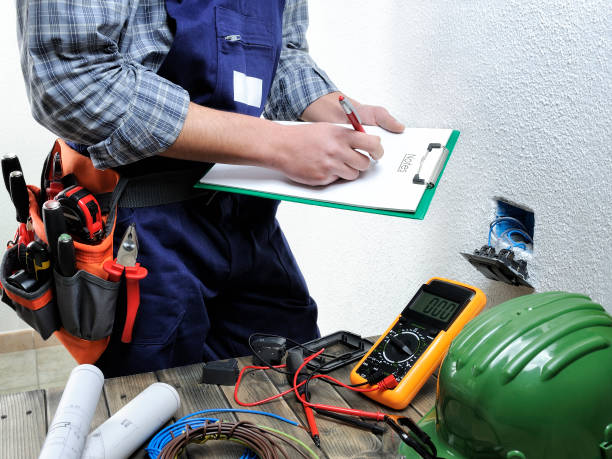 Absolute Electrical Service, Inc. is here to tell you what a master electrician is and what it means for you. Below, we'll discuss the differences between a journeyman and a master electrician, if it matters, and who you should call when you need electrical work done. Let Absolute Electrical Service, Inc. guide you through this journey.
Is It Just a Title?
So is "master electrician" just a title you give to a great electrician who can install and maintain electrical wiring? Master isn't just a title you can give to anyone; an electrician has to earn that title. However, they have to do a little more than being good at their job to reach that status.
Journeyman vs. Master Electrician
There are three phases of becoming an electrician in Cold Spring Harbor, NY: apprentice, journeyman, and master. First, the electrician will go through apprenticeship programs and receive the proper job training. After reaching enough hours, they can move up to a journeyman. After putting in more hours, they can become a master. Often, the electrician will need to receive certificates for each phase.
So how do journeymen and masters differ? A master electrician is the highest status one could get, so they can start their own business and hire contractors to work underneath them. Since masters have more job training and experience than journeymen, they can do more difficult jobs. For example, they can design an electrical system for a local building and oversee electrical projects.
Does It Matter Who You Choose?
So does it matter if you choose an electrician or a master electrician for your Cold Spring Harbor, NY home? It depends on what you need to have done. If you need someone to repair electrical wires or fix circuit breakers, you'll be fine with an electrician.
However, if you need an electrical system designed and installed in your Suffolk County home, you may need to call a master electrician. However, in most cases, you can choose either a journeyman or master electrician for your project.
Who To Call
When you need an electrician's work done in your Suffolk County home, you can't call just anyone. You need to find someone who will follow the national electrical code that all states require. As long as you find an electrician with the proper licensing requirements, you can ensure they'll do a good job.
Call Absolute Electrical Service, Inc. in 631-567-1500 when you need to repair electrical components in Cold Spring Harbor, NY. We have the experience and the necessary power tools to keep your home safe. Electrical work can be dangerous, so you should always leave it up to the professionals. Call us today to protect your house.
---
Some information about Cold Spring Harbor, NY
Cold Spring Harbor is a hamlet and census-designated place (CDP) in the Town of Huntington, in Suffolk County, on the North Shore of Long Island, in New York, United States. As of the 2010 United States census, the CDP population was 5,070.
Cold Spring Harbor was named after the naturally cold freshwater springs that flow in the area. Its economy mainly tied to milling and port activities, it rose in prominence as a whaling community in the mid-nineteenth century. After the decline of whaling in the 1860s, it became a resort town with several hotels. In the 20th century it became known as the site of Cold Spring Harbor Laboratory, although the laboratory itself is located in the adjacent village of Laurel Hollow in Nassau County, which was called Cold Spring before incorporation.
Today it is primarily a bedroom community of New York City, with a small central business area running along Route 25A, and is home to many educational and cultural organizations: the Cold Spring Harbor Whaling Museum, the Cold Spring Harbor Fish Hatchery and Aquarium, Dolan DNA Learning Center, the Uplands Farm Sanctuary (home of The Nature Conservancy's Long Island chapter), and a museum exhibition gallery run by Preservation Long Island.
Learn more about Cold Spring Harbor.
Useful links for Cold Spring Harbor, NY
Directions from Cold Spring Harbor, NY to Absolute Electrical Service, Inc.
---
Here are some electrician-related links: