Electrician in Cherry Grove, NY 11782
What Makes a Master Electrician in Cherry Grove, NY a Master?
Have you ever heard of the term master electrician? If so, you may wonder what makes a Cherry Grove, NY electrician a master. Does it mean they can change light fixtures better than any other electrician in Suffolk County? Or can they design the perfect electrical system for your home? Is a master electrician and a qualified electrician the same thing?
Absolute Electrical Service, Inc. is here to tell you what a master electrician is and what it means for you. Below, we'll discuss the differences between a journeyman and a master electrician, if it matters, and who you should call when you need electrical work done. Let Absolute Electrical Service, Inc. guide you through this journey.
Is It Just a Title?
So is "master electrician" just a title you give to a great electrician who can install and maintain electrical wiring? Master isn't just a title you can give to anyone; an electrician has to earn that title. However, they have to do a little more than being good at their job to reach that status.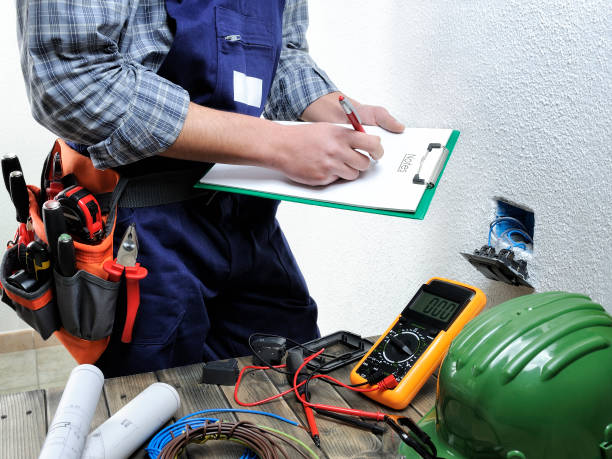 Journeyman vs. Master Electrician
There are three phases of becoming an electrician in Cherry Grove, NY: apprentice, journeyman, and master. First, the electrician will go through apprenticeship programs and receive the proper job training. After reaching enough hours, they can move up to a journeyman. After putting in more hours, they can become a master. Often, the electrician will need to receive certificates for each phase.
So how do journeymen and masters differ? A master electrician is the highest status one could get, so they can start their own business and hire contractors to work underneath them. Since masters have more job training and experience than journeymen, they can do more difficult jobs. For example, they can design an electrical system for a local building and oversee electrical projects.
Does It Matter Who You Choose?
So does it matter if you choose an electrician or a master electrician for your Cherry Grove, NY home? It depends on what you need to have done. If you need someone to repair electrical wires or fix circuit breakers, you'll be fine with an electrician.
However, if you need an electrical system designed and installed in your Suffolk County home, you may need to call a master electrician. However, in most cases, you can choose either a journeyman or master electrician for your project.
Who To Call
When you need an electrician's work done in your Suffolk County home, you can't call just anyone. You need to find someone who will follow the national electrical code that all states require. As long as you find an electrician with the proper licensing requirements, you can ensure they'll do a good job.
Call Absolute Electrical Service, Inc. in 631-567-1500 when you need to repair electrical components in Cherry Grove, NY. We have the experience and the necessary power tools to keep your home safe. Electrical work can be dangerous, so you should always leave it up to the professionals. Call us today to protect your house.
---
Some information about Cherry Grove, NY
Cherry Grove is a hamlet in the Town of Brookhaven, Suffolk County, New York, United States. It is located on Fire Island, a barrier island separated from the southern side of Long Island by the Great South Bay. The hamlet has approximately 300 houses on 41 acres (170,000 m2), a summer seasonal population of 2,000 and a year-round population of 15.
Cherry Grove dates its modern history to the 1868 purchase by Archer and Elizabeth Perkinson. They bought the land between Lone Hill (now Fire Island Pines) and the Cherry Grove Hotel from the ocean to the bay for 25 cents per acre and named the area for the black-cherry trees in the area. The Perkinsons opened a hotel in 1880. According to local legend Oscar Wilde stayed at the Perkinson Hotel.
In 1921, the Perkinson family sold all the land east of Duryea Walk to Lone Hill, and then divided what was left into 109 building lots. A lot 50 × 80 feet (24 m) could be purchased for $250 or less, and ocean-front lots cost no more than a dollar a front foot. Buildings from the newly deactivated Camp Upton in Yaphank, were ported over to form the core of the new colony. A post office was established in 1922 at the site of where 'Tides' (formerly 'The Monster') is today; the first boardwalks were built in 1929. In 1930, Duffy's Hotel replaced the original hotel and was the only place with electricity and a phone.
The 1938 Long Island Express Hurricane destroyed much of Cherry Grove and discouraged mainlanders from coming. In their stead a new generation started coming from Manhattan including Greta Garbo, Xavier Cugat, Paulette Goddard, Pola Negri, Arlene Francis, and Earl Blackwell Jr. (publisher of the International Celebrity Register).
Learn more about Cherry Grove.
Useful links for Cherry Grove, NY
Directions from Cherry Grove, NY to Absolute Electrical Service, Inc.
---
Here are some electrician-related links: