Electrician in Brookhaven, NY 11719
What Makes a Master Electrician in Brookhaven, NY a Master?
Have you ever heard of the term master electrician? If so, you may wonder what makes a Brookhaven, NY electrician a master. Does it mean they can change light fixtures better than any other electrician in Suffolk County? Or can they design the perfect electrical system for your home? Is a master electrician and a qualified electrician the same thing?
Absolute Electrical Service, Inc. is here to tell you what a master electrician is and what it means for you. Below, we'll discuss the differences between a journeyman and a master electrician, if it matters, and who you should call when you need electrical work done. Let Absolute Electrical Service, Inc. guide you through this journey.
Is It Just a Title?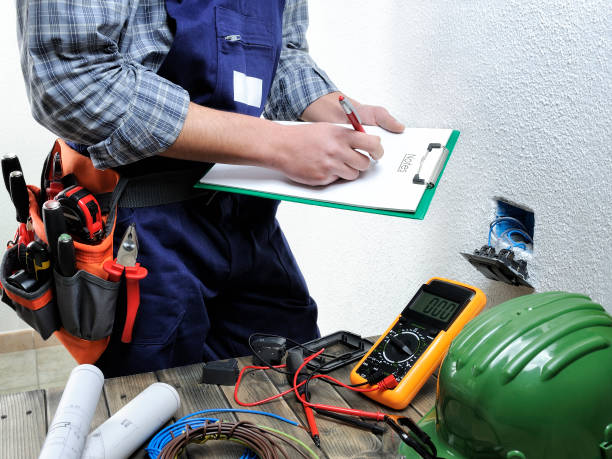 So is "master electrician" just a title you give to a great electrician who can install and maintain electrical wiring? Master isn't just a title you can give to anyone; an electrician has to earn that title. However, they have to do a little more than being good at their job to reach that status.
Journeyman vs. Master Electrician
There are three phases of becoming an electrician in Brookhaven, NY: apprentice, journeyman, and master. First, the electrician will go through apprenticeship programs and receive the proper job training. After reaching enough hours, they can move up to a journeyman. After putting in more hours, they can become a master. Often, the electrician will need to receive certificates for each phase.
So how do journeymen and masters differ? A master electrician is the highest status one could get, so they can start their own business and hire contractors to work underneath them. Since masters have more job training and experience than journeymen, they can do more difficult jobs. For example, they can design an electrical system for a local building and oversee electrical projects.
Does It Matter Who You Choose?
So does it matter if you choose an electrician or a master electrician for your Brookhaven, NY home? It depends on what you need to have done. If you need someone to repair electrical wires or fix circuit breakers, you'll be fine with an electrician.
However, if you need an electrical system designed and installed in your Suffolk County home, you may need to call a master electrician. However, in most cases, you can choose either a journeyman or master electrician for your project.
Who To Call
When you need an electrician's work done in your Suffolk County home, you can't call just anyone. You need to find someone who will follow the national electrical code that all states require. As long as you find an electrician with the proper licensing requirements, you can ensure they'll do a good job.
Call Absolute Electrical Service, Inc. in 631-567-1500 when you need to repair electrical components in Brookhaven, NY. We have the experience and the necessary power tools to keep your home safe. Electrical work can be dangerous, so you should always leave it up to the professionals. Call us today to protect your house.
---
Some information about Brookhaven, NY
The Town of Brookhaven is the most populous of the ten towns of Suffolk County, New York, United States. Part of the New York metropolitan area, it is located approximately 50 miles from Manhattan. It is the only town in the county that stretches from the north shore to the south shore of Long Island. It is the largest of New York State's 932 towns by area, and the second most populous after the Town of Hempstead.
The first known inhabitants were Algonquian-speaking Native Americans, of the Setauket and Unkechaug tribes. The first English settlers arrived around 1640. The latter founding year was recognized in 1976, when the Brookhaven Town Bicentennial Commission proposed setting the date on the seal to 1655 in line with this first deed of settlement of the town of Brookhaven at Setauket on April 14, 1655. Considering this founding year of 1655, Brookhaven is the fifth English township on Long Island following Southampton, Southold, Huntington, and East Hampton.
The Caroline Church in Setauket, was built in 1729 and is the oldest extant church in Brookhaven
The first English settlement was named 'Setauket' after the Native American tribe. The names 'Brookhaven' and 'Setauket' were initially used interchangeably to describe the village or the town. The verbal division between the smaller hamlet of Setauket and township of Brookhaven was not set until well into the 19th century. A point of confusion is the existence of the hamlet named Brookhaven, which was in fact named for the township in 1879. Other names used in the settlement's first decades were 'Ashford', after Ashford, Kent, in England, and 'Cromwell Bay', for English Protestant leader Oliver Cromwell.
The original purchase from the native Setalcott tribe that took place in 1655 encompassed the land making up present-day Setauket, Stony Brook, and Port Jefferson. A second purchase was made by Richard Woodhull in 1664 expanded this tract eastward along the North Shore to additionally include all lands from the Old Mans area (Mount Sinai and Miller Place) to Wading River. Richard Woodhull was the direct heir of Eustace de Vesci, a British noble who was a signator of the Magna Charta. Another land purchase in the same year expanded Brookhaven to the South Shore of Long Island.
Useful links for Brookhaven, NY
Directions from Brookhaven, NY to Absolute Electrical Service, Inc.
---
Here are some electrician-related links: