Electrician in Bohemia, NY 11716
What Makes a Master Electrician in Bohemia, NY a Master?
Have you ever heard of the term master electrician? If so, you may wonder what makes a Bohemia, NY electrician a master. Does it mean they can change light fixtures better than any other electrician in Suffolk County? Or can they design the perfect electrical system for your home? Is a master electrician and a qualified electrician the same thing?
Absolute Electrical Service, Inc. is here to tell you what a master electrician is and what it means for you. Below, we'll discuss the differences between a journeyman and a master electrician, if it matters, and who you should call when you need electrical work done. Let Absolute Electrical Service, Inc. guide you through this journey.
Is It Just a Title?
So is "master electrician" just a title you give to a great electrician who can install and maintain electrical wiring? Master isn't just a title you can give to anyone; an electrician has to earn that title. However, they have to do a little more than being good at their job to reach that status.
Journeyman vs. Master Electrician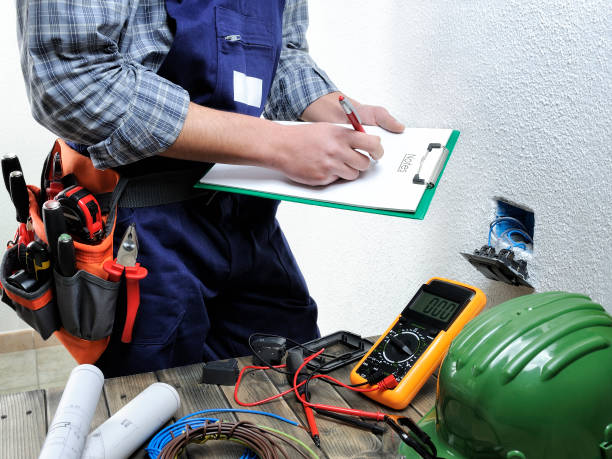 There are three phases of becoming an electrician in Bohemia, NY: apprentice, journeyman, and master. First, the electrician will go through apprenticeship programs and receive the proper job training. After reaching enough hours, they can move up to a journeyman. After putting in more hours, they can become a master. Often, the electrician will need to receive certificates for each phase.
So how do journeymen and masters differ? A master electrician is the highest status one could get, so they can start their own business and hire contractors to work underneath them. Since masters have more job training and experience than journeymen, they can do more difficult jobs. For example, they can design an electrical system for a local building and oversee electrical projects.
Does It Matter Who You Choose?
So does it matter if you choose an electrician or a master electrician for your Bohemia, NY home? It depends on what you need to have done. If you need someone to repair electrical wires or fix circuit breakers, you'll be fine with an electrician.
However, if you need an electrical system designed and installed in your Suffolk County home, you may need to call a master electrician. However, in most cases, you can choose either a journeyman or master electrician for your project.
Who To Call
When you need an electrician's work done in your Suffolk County home, you can't call just anyone. You need to find someone who will follow the national electrical code that all states require. As long as you find an electrician with the proper licensing requirements, you can ensure they'll do a good job.
Call Absolute Electrical Service, Inc. in 631-567-1500 when you need to repair electrical components in Bohemia, NY. We have the experience and the necessary power tools to keep your home safe. Electrical work can be dangerous, so you should always leave it up to the professionals. Call us today to protect your house.
---
Some information about Bohemia, NY
Bohemia is a hamlet in Suffolk County, New York, United States. The population was 10,180 at the 2010 census.
It is situated along the South Shore of Long Island in the Town of Islip, approximately 50 miles from New York City.
The earliest known inhabitants of what is today Bohemia were the Secatogue tribe of the Algonquian peoples.
The area was founded as Bohemia in 1855 by Slavic immigrants who were the first Europeans to settle there in large numbers. These migrants came from a mountainous village near Kadaň in the Central European Kingdom of Bohemia, which is the town's namesake (Kadaň is located in present-day Czech Republic). Their pilgrimage coincided with a wave of Bohemian nationals emigrating to the United States, many of whom embodied the free spirited and enlightened lifestyles synonymous with bohemianism. They had taken part in the widespread revolutions against autocratic rule that had shaken Europe in 1848 and came seeking a new life in the United States. Work was hard to come by in New York and many of the men tried to support themselves as street musicians. An important contribution they made to the development of Long Island was adding their rich Central European folklore to the local culture, a nice complement to the also rich oral tradition of the native people. Many of the first homes they built are located on the town's avenues and are distinguished by their cross gable roofs.
For 100 years, Bohemia remained a very small village most of whose residents were of Czech descent. With the development of all of Long Island after World War II, Bohemia also grew. At the time of the centennial in 1955, the population was about 3,000. Today there about 11,000 inhabitants from many national and ethnic backgrounds.
Useful links for Bohemia, NY
Directions from Bohemia, NY to Absolute Electrical Service, Inc.
---
Here are some electrician-related links: